Autumn requires a dahlia wedding
A bridal bouquet packed with dazzling symbolism
The best thing about getting married in autumn? We can sum it up in one word: dahlias. Let this seasonal flower bring floral style, colour and symbolism to your wedding day.
Yes, dahlias
The dahlia shines between August and the end of October, And how! The flower shows off its colours without inhibition, from white to pale yellow, salmon pink, orange, purple, red, bright pink, claret or pillar box red. Some dahlias even effortlessly combine different shades in their petals and feature stripes or a spotted design. And we haven't even mentioned the shape yet: the petals can be round or spiky or elegantly rolled. Love at first sight.
Dahlias at your autumn wedding
So dahlias are real must-haves at a wedding in late summer or autumn. A solo dahlia works well as a feature in a mixed bouquet, but if you want to make a lavish gesture you can mix various shapes and colours of dahlias in a bridal arrangement, possibly supplemented with Astile or Achillea. That will give you a big bunch of warmly coloured statement flowers to carry on your wedding day. A plain room, wedding cake, dining table or wedding dress can be effortlessly transformed into a lavish celebration when dahlias are around. Lay the flower on a plate, hang flowers from chairs and use them to decorate the cake. Cheers!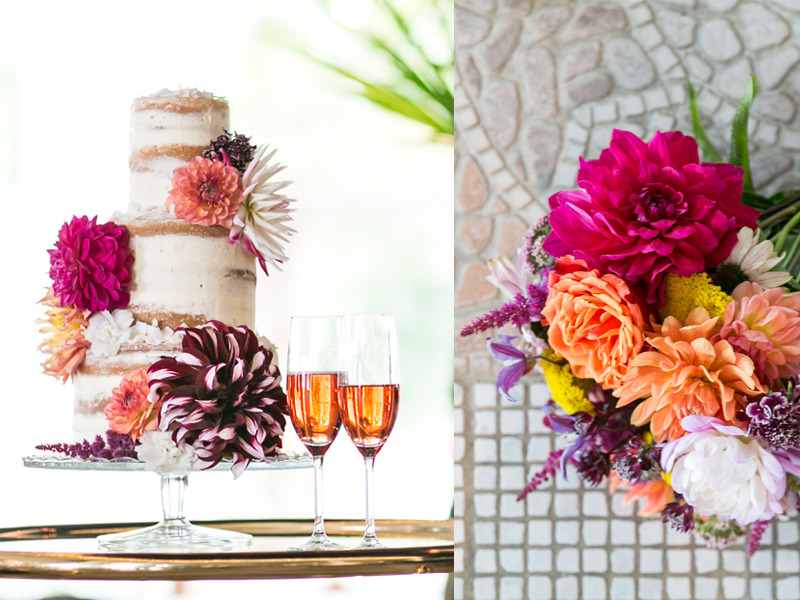 The perfect symbolism for your wedding day
In addition to the dahlia's amazing look, the flower also has exceptional symbolism, since it symbolises 'Forever yours'. That's particularly fitting on a wedding day filled with rituals and symbolic meanings: rings that represent an endless bond and grains of rice that are thrown to wish the happy couple good fortune, fertility and riches. So the flowers say what your heart wants to shout from the rooftops.
Flowers and weddings on Pinterest
Looking for more (p)inspiration? We've gathered together various wedding flowers, bouquets and styles for you on our Weddings Pinterest board. Or take a look at our bouquet recipe for an extravagant, natural and autumnal bridal bouquet.