BOUQUET RECIPE: 3 FRESH AUTUMN BREEZES BLOWING THROUGH YOUR HOME
New season, new flowers
It's not just the weather that changes in autumn. Shop windows, florists and flower markets turn over their wares in preparation for the colder months. Once again, in fashion and flowers, it's time to revisit deep reds, golden yellows and fiery orange hues. The cooler weather requires us to think creatively about textures and layering, and reach for seasonal flowers to decorate our houses. How can you get your blooms to reflect this new state of mind? We have three ideas for you to try: a bold bouquet, sculptural stems in a statement vase, and a truly showstopping floral display.
You will need
Phytolacca berries
Trailing amaranthus
Dill
Teasel
Sandersonia
Craspedia
Artichoke
Oasis/floral foam
Vase
Boldly arranged bouquet
Most bouquets begin above the rim of the vase, but using a clear container you can create a spectacle that runs from the bottom of the stems to the tips of the petals. There are no rules with this out-the-box way of thinking when you approach the whole bouquet as a flower arrangement — and it's quite easy to do. Cover the bottom of the vase with a layer of damp oasis (floral foam). Insert the flowers into this at 360 degrees, creating the bottom layer of flowers. In the middle of this you place the 'ordinary' bouquet. For the best effect, use height differences to hide the bouquet stems and create playful contrasts with feathers, autumn berries and a diverse colour palette.
---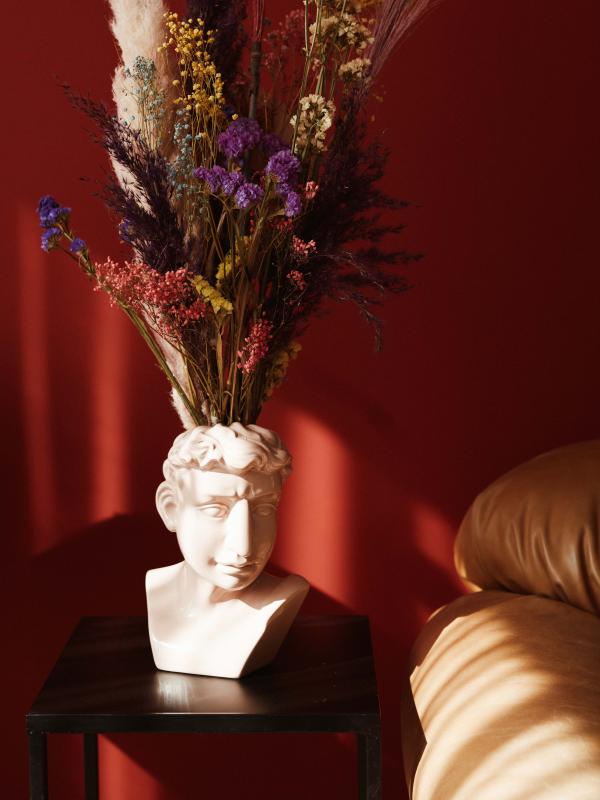 Statement vase bouquet
If you'd like something more striking than the boldly arranged bouquet, try placing sculptural autumn stems in an eye-catching vase. Follow the example of this Renaissance version, pictured, and choose an entertaining feature container for your strong, wilful bouquet. A gathering of plumes, spikes, foliage and berries emerging from a neoclassical bust is sure to get people's attention. Heads up!
---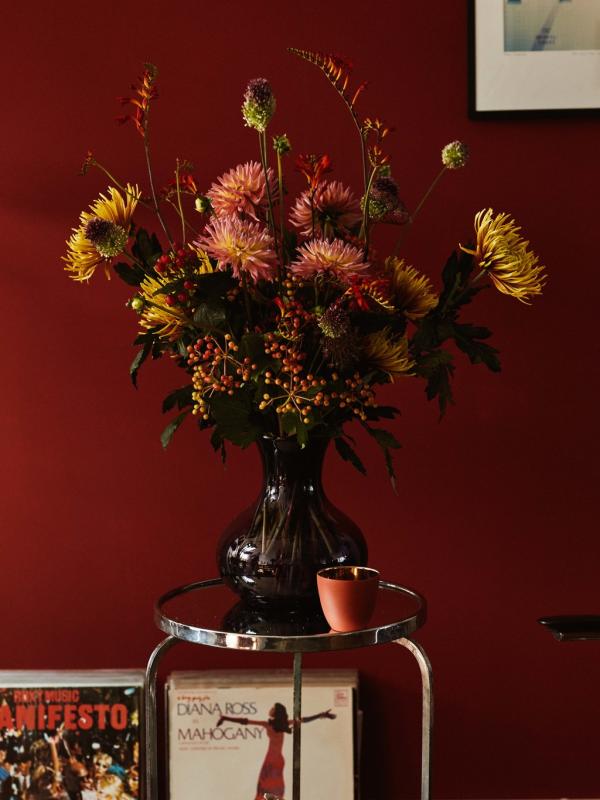 Showstopping autumn bouquet
Or take it to the max. Incorporate all your favourite autumn colours and shapes in this luxury seasonal bouquet. Dahlia? Tick. Crocosmia? Tick. Hypericum? Tick. Why choose when you can bring everything together in one big statement bouquet? Welcome to living the season in style. Your local florist can help you with the floral work, but you can also make a classic or field bouquet by yourself if you prefer. Place the vase on a pedestal. It deserves it.