Bouquet recipe: a vase packed with sunshine
A substantial summer bouquet
Summer temperatures require summer bouquets that radiate sunshine. For this bouquet recipe we have opted for the floral stars of the season. Bundled together they make up a substantial and spectacular summer bouquet. The big question is: have you got a big enough vase?
You will need
We're going for it this summer. We're picking the largest varieties in the wildest colours. There are no rules. Colours, shapes, heights, quantities: choose whatever catches your eye until you can hardly hold the bunch. Then you'll be well on your way to this extravagant summer bouquet.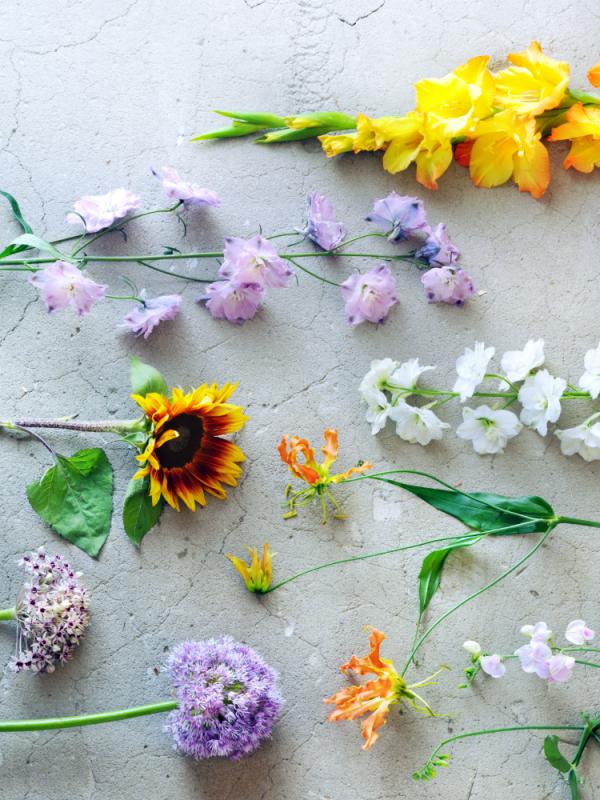 Mooiwatbloemendoen.nl & Delicious
A quick introduction
You've almost certainly encountered the line-up at the florist before. But we'd still like to introduce these summer beauties to you. It makes sense to get to know them before they move in!
Gladiolus
The big gladiolus is hard to overlook. From spring through to well into the autumn you can enjoy the flower of champions. There is plenty of choice in terms of colour - for this bouquet we opted for a fiery example in yellow with orange tips. The gladiolus is dominant and determines the height of the bouquet with its long stems. Bear this in mind when trimming them. 
---
Delphinium
From ice-blue to lilac shades, Delphinium has raised mastery of the colour blue to a new art form. The long stems lend an opulent and romantic feel to a bouquet. What else would you expect from such adorable flowers?
Sunflower
The queen of the summer flowers really needs no introduction. Hello sunflower! Nice of you to join us in craning towards the sun. Alongside the classic yellow, there are also orange, brown, cream and dark-red varieties. 
Gloriosa
The exotic gloriosa always draws the eye. Will you opt for flamboyant cerise with saffron yellow, or orange with pale yellow edges? The flower combines delicate, fresh green stems with dainty chartreuse pistils and wavy petals. Is it a flower, a butterfly, a graceful ribbon? It keeps you enthralled... 
Allium
Who'd have thought it? An ornamental onion that doesn't make you cry, but instead give you a smile from ear to ear? A smile up to 15 cm across - the same size that allium giganteum can reach! This spectacular globe - in colours ranging from white to indigo - is an essential ingredient in your summer bouquet. 
Lathyrus
With so many big personalities in your vase, you need a delicate counterpoint. Lathyrus has a cheerful vibe and a friendly appearance. Its sweet fragrance is loved by perfume houses. So you really shouldn't miss out either - pop lathyrus into your summer bouquet!
Mooiwatbloemendoen.nl & Delicious