You will need
Flowers — we opted for roses and sage
Your choice of essential oil
Distilled water
Vodka (optional)
A spray bottle
How to make it
Step 1
Fill half the spray bottle with distilled water, then top it up with vodka until it's full. We use vodka to combine the water and oil together. You can make an alcohol-free version using just water, but your spray won't mix as well, so remember to shake well before spraying. It also won't last as long with only water. 
Step 2
Add 15 to 30 drops of essential oil, depending on your preferred strength. We chose to use the single fragrance of roses, but you could combine rose with another oil such as lavender, for example. Keep playing with scent combinations until you've found your signature fragrance.
Step 3
Add complementary flowers and herbs to the spray bottle. As well as smelling divine, they also look beautiful suspended in liquid. Our rose petals and sage looked particularly gorgeous.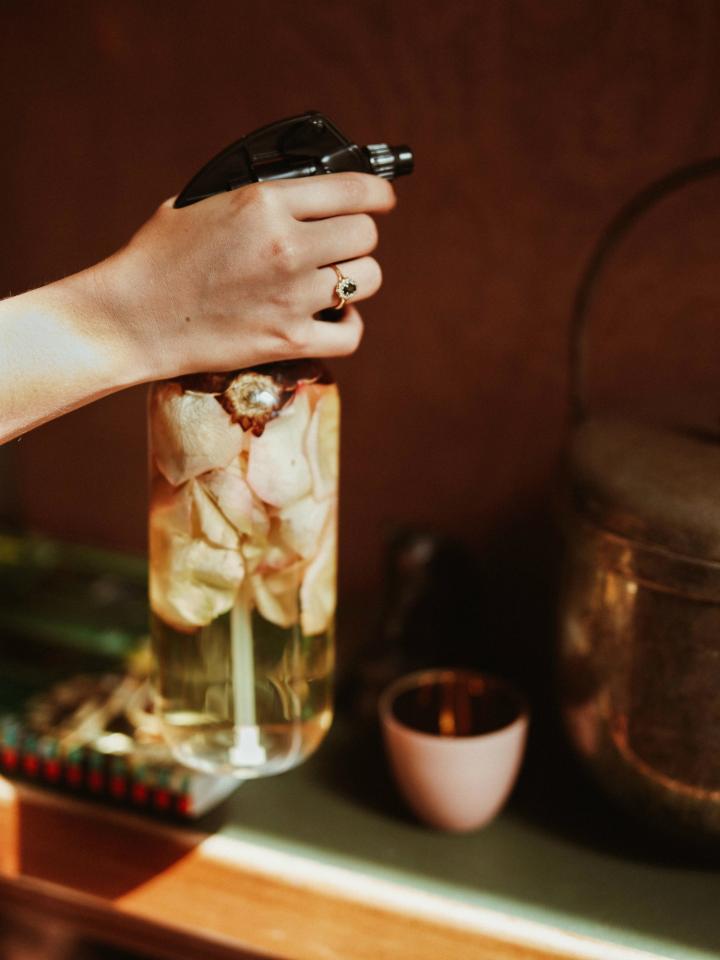 MORE FRAGRANCE IDEAS
Spritz in your hallway, living room and home office or studio space to transform your house with this lovely scent. For a continuous release of fragrance, decant some of the liquid into a short glass container and add reed diffusers. They'll slowly release the essential oil into the air, filling the room with roses.
Alternatively, try making our autumn home perfume with tuberose and Cambria. And do you know what makes these DIYs extra fun? They fit perfectly with our current style trend, in which we renounce carefree consumption and are creative with ingredients and (recycled) materials. 
Share the results of your DIY home spray or home perfume with us via Instagram or Facebook with the hashtag #funnyhowflowersdothat.