DIY: room spray with the last of the summer roses
Fill your home with the season's perfumes
It's wonderful to walk into a gorgeous perfume or interiors shop and be greeted by a swell of beautiful fragrance. Our mood lifts, we relax, and our natural curiosity is reawakened. The right perfumes can easily provoke happy thoughts and positive energy, and it's surprising we don't take more time to incorporate them into our homes. Bring the last of the summer roses indoors with this easy-to-make DIY room spray. You'll be delighted every time you open the front door.
You will need
Flowers — we opted for roses and sage
Your choice of essential oil
Distilled water
Vodka (optional)
A spray bottle
How to make it
Step 1
Fill half the spray bottle with distilled water, then top it up with vodka until it's full. We use vodka to combine the water and oil together. You can make an alcohol-free version using just water, but your spray won't mix as well, so remember to shake well before spraying.
Step 2
Add 15 to 30 drops of essential oil, depending on your preferred strength. We chose to use the single fragrance of rose, but you could combine rose with another oil such as lavender, for example. Keep playing with scent combinations until you've found your signature fragrance.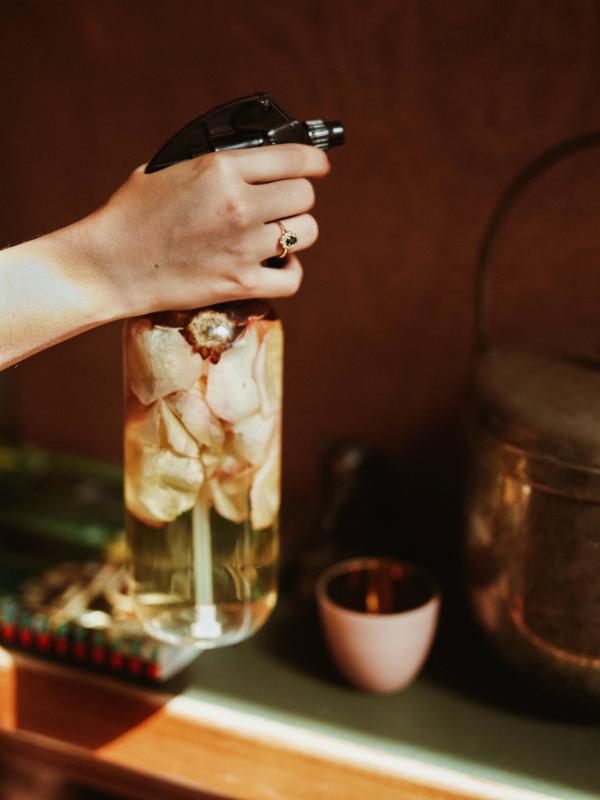 Step 3
Add complementary flowers and herbs to the spray bottle. As well as smelling divine, they also look beautiful suspended in liquid. Our rose petals and sage looked particularly gorgeous.
Spritz in your hallway, living room and home office or studio space to transform your house with this lovely scent. For a continuous release of fragrance, decant some of the liquid into a short glass container and add reed diffusers. They'll slowly release the essential oil into the air, filling the room with roses.