You will need
Distilled water and vodka (or just distilled water for an alcohol-free version)
Essential oil
Vanilla extract
A spray bottle
How to make it
STEP 1 Fill the spray bottle to half way with distilled water, then top it up with vodka. We use vodka because water and oil on their own won't mix. You can also use tap water, but your spray won't last as long and you will have to refresh it more often.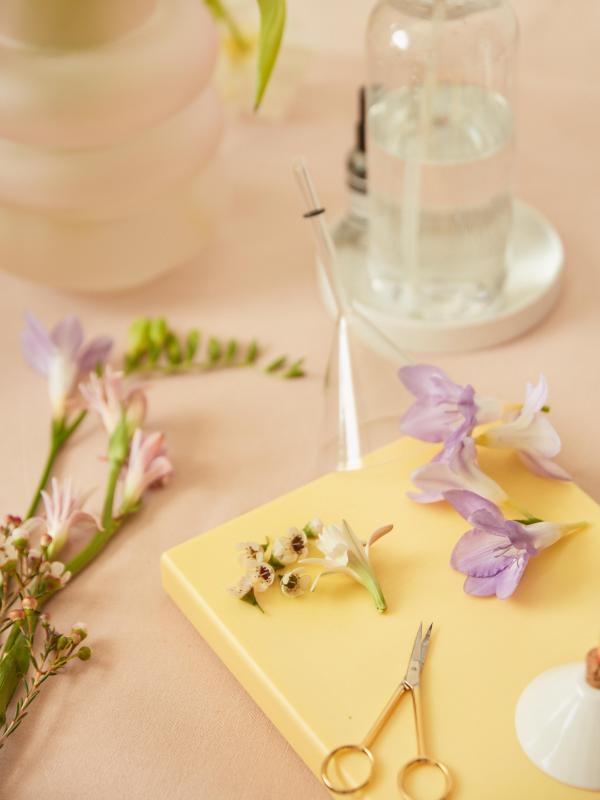 STEP 2 Add 15 to 30 drops of essential oil. Opt for a single fragrance such as freesia, or make a mixture of waxflower and blossom, for example. Keep playing with the amounts until you've found a fragrance that works for you.
STEP 3 Add the flowers to the spray bottle. They don't just smell nice, they look great too. We've chosen freesia and waxflower, to complement the room spray scent.
---
Get spraying! The hall, living room and bedroom will be improved with a generous spritz. To hang on to the scent for longer, immerse wooden sticks in the fragrance spray and arrange them in a shot glass. It's ideal for the smallest room in the house.
more spring inspiration
Get inspired to celebrate spring with all of our wonderful suggestions and DIYs! Check out some classic spring flowers, or get creative and make a DIY floral spring curtain to decorate your home for the season. Share everything with us on Facebook or Instagram with the hashtag #funnyhowflowersdothat.