Maartje van den Noort's floral postcards
Hand-drawn beauties to send, colour in or display
Illustrator Maartje van den Noort loves flora, and that love is reciprocated. Which is why ten flowers were happy to pose for her, to then sparkle on a set of fabulous postcards.
From a love for flowers
We asked Maartje about the inspiration for these cards. She explains: 
"This series arose from my love of flowers. I think that love is in my genes a bit. My great aunt was a keen walker and loved flora and fauna, and my grandad had a beautiful nursery in Rotterdam in the years around the war. My mother thinks of nothing else but what she can improve about her garden, although it's now a balcony."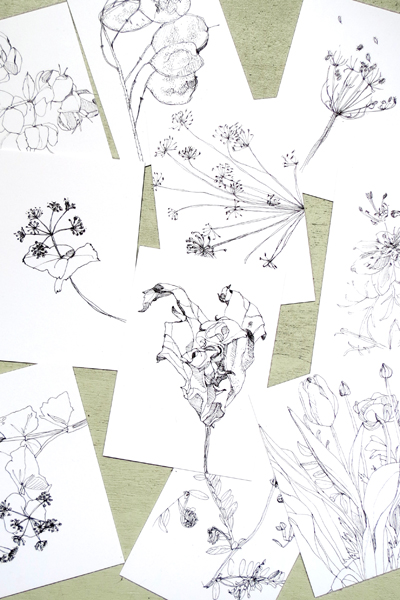 Sketches tucked away in drawers
"Over the past two years I have increasingly been focusing on nature in my drawing and painting. I ended up with stacks of sketches that ended up tucked away in drawers and hidden in various drawing pads. From time to time I would stumble across one, and so I thought: why not have them turned into a nice series of cards?"
Drawings for all occasions 
"So following an initial series that I combined with some old black-and-white photos of my great aunt, I've now had a second modified set printed. On even nicer paper, and this time without the photos  - just drawings. It seems to me that the cards are suitable for all sorts of occasions. Cheerful times, sad times and moments of stillness. Or just as decoration. And if you still want colour, you can always colour them in with watercolours or pencils!"
Where to buy Maartje's cards
The cards are printed on thick paper with a light texture. They look great next to 'the real things' - real flowers. You can order the cards from Maartje's webshop. A set of 10 cards costs £ 12.00 excluding P&P.