Advocaat met een fleurige twist
Vintage nieuwe stijl
Je hebt advocaat vast wel eens bij je oudtante in de vitrinekast zien staan. Laten we eerlijk zijn, zo'n gele fles drank die stof staat te happen, maakt weinig indruk. Onze moderne variant, vers bereid en afgemaakt met bloemen en planten, frist het imago van deze vintage drank lekker op. Deze mooie kleurencombinatie van geel met paars kleurt perfect aan de paastafel.  
Voor een eierpunch (acht personen) heb je nodig:
Eetbare viooltjes* (deze bijvoorbeeld)
Blaadjes munt
Eigeel van 8 eieren
1 vanillestokje
500 ml brandewijn
400 gram suiker
Keukenthermometer
8 glazen water
Aan de slag
Klop het eigeel, suiker en de inhoud van het vanillestokje tot een glad en romig mengsel. Verwarm dit mengsel au bain-marie en voeg de brandewijn langzaam, al roerend, toe. Gebruik de keukenthermometer om de temperatuur onder de 85 graden te houden, anders wordt het mengsel te gaar.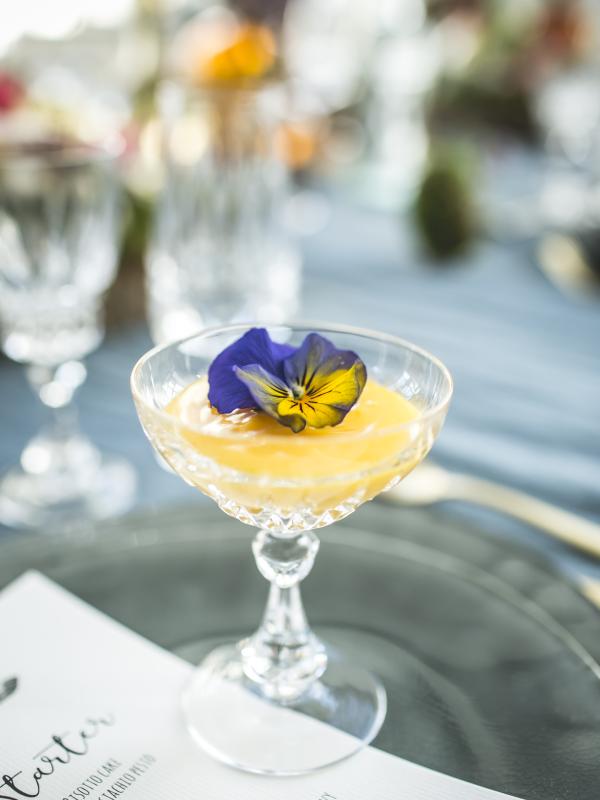 Plaats het mengsel in een kom met koud water wanneer het de juiste dikte heeft. En blijf roeren tot het volledig is afgekoeld.
Pak je mooiste glazen uit de kast en vul ze met je huisgemaakte advocaat. Garneren met viool- of muntblaadjes en je bent klaar! 
Als je de overgebleven advocaat in een gesteriliseerde fles schenkt, kun je deze enkele weken bewaren!
---
*Dan nog even dit: zet nooit zomaar je tanden in een (snij)bloem of plant, gebruik alleen eetbare bloemen van gespecialiseerde leveranciers die geteeld zijn voor consumptie.