A rose on your skin
5 new fragrances featuring roses
A rose in a vase, on the wall or on your dress: this floral beauty will fit in anywhere. But let's not forget the smell. The rose's delectable scent is back this season in some covetable new fragrances. We'd like to introduce you to five of them.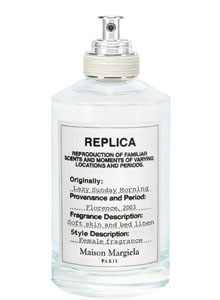 Maison Margiela
Lazy Sunday Morning - Maison Margiela
The name of this perfume alone captures our imagination: Lazy Sunday Morning makes us drift away into thoughts of fresh cotton sheets, the sun peeping through the curtains and the prospect of a lovely lazy day. But we're digressing. In this beautiful bottle you will find pear, lily-of-the-valley, iris, rose essence, orange blossom, white musk and Indian patchouli oil.
---
DKNY
Be Delicious Crystalized - DKNY
After grapefruit, magnolia and cucumber you smell the scent of roses, violets, apple and lily-of-the-valley, which then move on to woody notes, musk and white amber. This reborn classic is a fruity floral fragrance inspired by the New York lifestyle. So it's packed with energy ...and roses!
---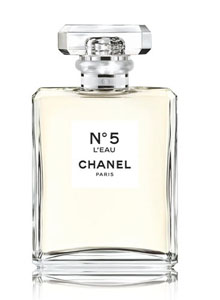 Chanel
N°5 L'EAU - Chanel
Speaking of classics. This eau the toilette is fresher than its predecessors thanks to top notes of lemon, mandarin and orange. After this fruity opening it gives you rose, jasmine and a hint of ylang-ylang, and finishes the story with vetiver, cedar wood and white musk notes. 
---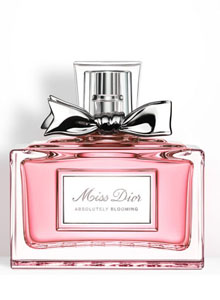 Dior
Miss Dior Absolutely Blooming - Dior
They love the combination of fruit and roses at Dior too. Miss Dior Absolutely Blooming starts off bursting with vitamins: notes of tart fresh red fruit. Then you discover roses, roses and more roses: roses from Grasse, damask roses and peonies. After which musk arrives on your skin, so that you spend the whole day sniffing your wrists with delight.
---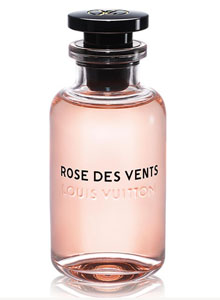 Louis Vuitton
Rose des Vents - Louis Vuitton for Women
The luxury French fashion house Louis Vuitton spent four years working on this perfume, which incorporates three types of roses from Grasse. You can also smell iris and cedar, giving you a bouquet in a bottle. Rose des Vents is part of a series of seven luxury fragrances from Vuitton, all presented in a bottle which is reminiscent of old pharmacy bottles. An exclusive fragrance with an equally exclusive price tag.