Deliciously simple apple roses
Soft and delicious apple slices, wrapped in sweet and crispy puff pastry
If you want to impress your dinner party guests, save the best till last with a wow-factor dessert Michel Roux would be proud of.
Too pretty to eat
These gorgeous baked apple roses from Cooking With Manuela are encased in puff pastry and dusted with cinnamon and sugar, which means, yes, they actually taste as good as they look.
Although they might look like the handiwork of a top pastry chef, they are actually pretty easy to knock up. So you can swan in from the kitchen without a hair out of place, quite the domestic goddess. Decorate your table or cake stand with real rose petals for a romantic touch. 
Here's how to make them…
What you'll need:
1 frozen puff pastry sheet, thawed
2 red organic apples (I used red delicious)
juice of ½ lemon
1 tbsp of flour, to sprinkle the counter
3 tbsp of apricot preserve
Cinnamon (optional)
Icing sugar for decorating (optional)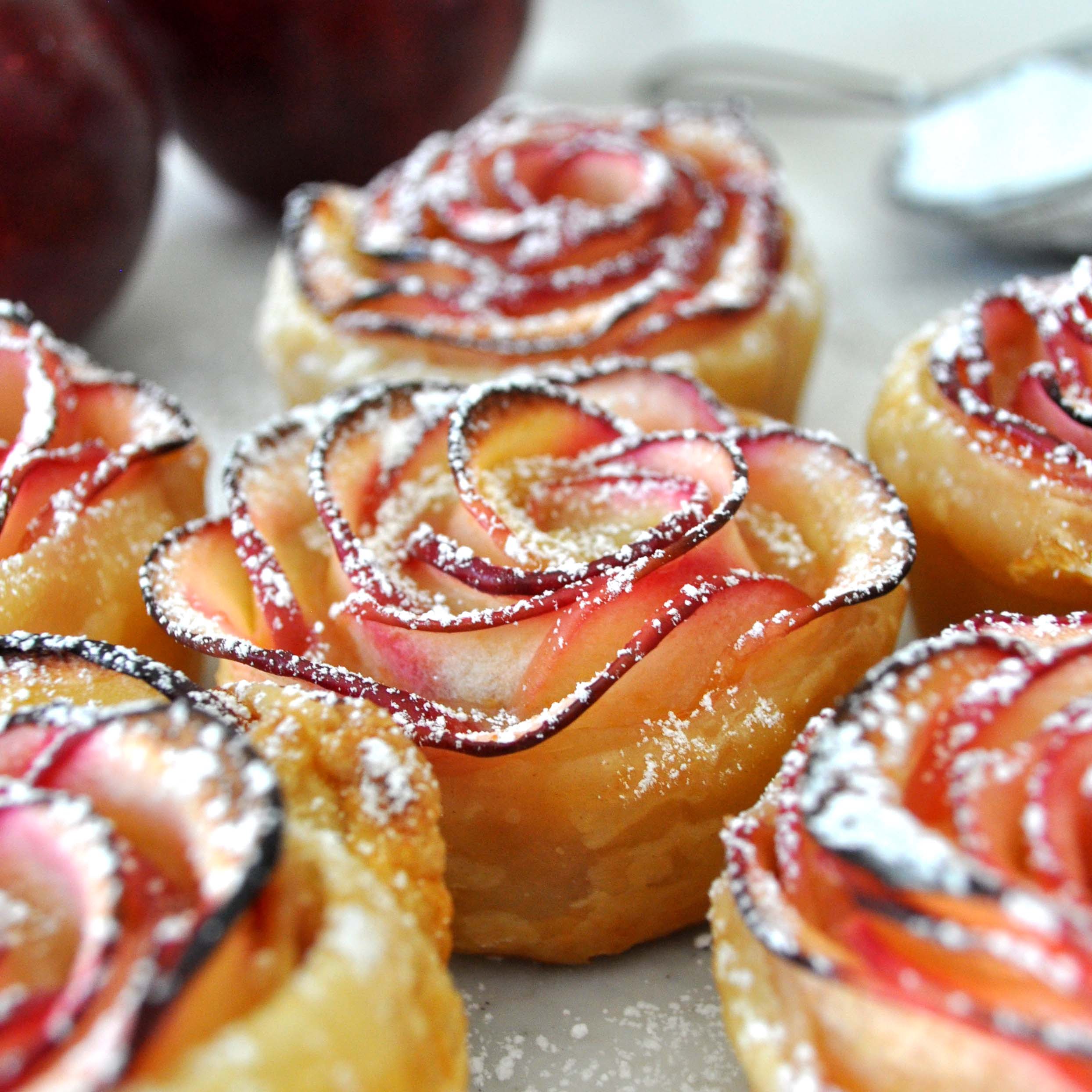 cookingwithmanuela.blogspot.co.uk
What to do:
1. Prepare a bowl with some water and the lemon juice. Cut the apples in half, remove the core and cut into paper thin slices, as seen here. Leave the peel to give the red color to your roses.
2. Immediately, place the sliced apples in the bowl with lemon and water, to prevent them from going brown.
3. Microwave the apples in the bowl, for about 3 minutes to slightly soften – or simmer in a small pan of water on the hob.
4. Unwrap the puff pastry over a clean and lightly floured counter. Using a rolling pin stretch the dough a little, trying to keep it in a rectangular shape. Cut the dough in 6 strips. These are about 2 in x 9 in (5 cm x 22 cm).
5. Place 3tbsp of apricot preserve and 2tbsp of water in a bowl. Microwave for about one minute, so that the preserve will be easier to spread. Spread the preserve on the dough.
6. Preheat the oven to 375 F/190 C. Drain the apples.
7. Place the apples on the dough, as pictured. Sprinkle with cinnamon.
8. Fold up the bottom part of the dough.
9. Carefully roll, seal the edge, and place in a silicone muffin cup. If you're using a metal cup, grease first.
10. Do the same for all 6 roses and bake for about 40-45 minutes, until fully cooked.

For the full instructions, visit Cooking With Manuela.