Strelitzia
Exotic flower with royal roots
The Strelizia is also known as the 'bird of paradise flower'. This isn't strange, considering that in the warm places where it grows, the birds use the bract as a perch which opens the flower. This flower looks amazing in striking bouquets but also loves to show off in a group of three or four in a vase in your home.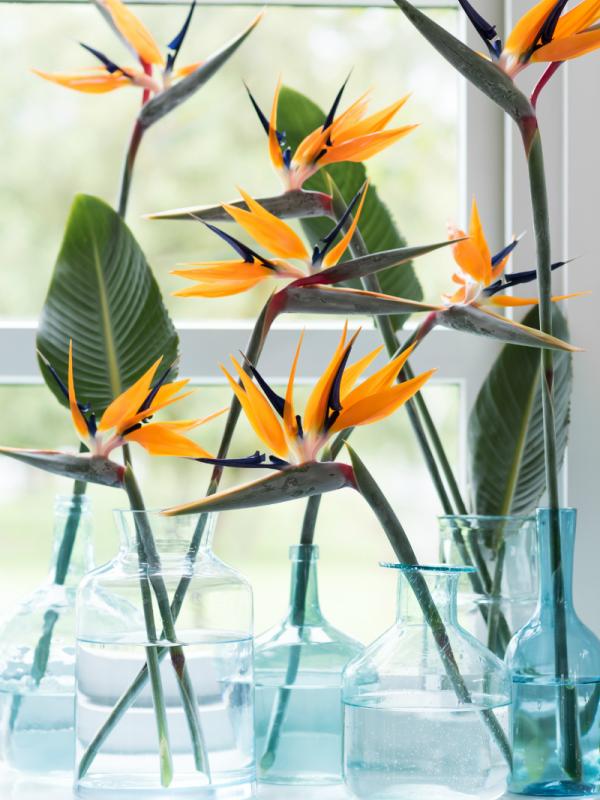 Colours and shapes
The simple stem with a comb shaped flower, comprised of elegant open orange bracts with 2 or 3 blue stately leaves, ensures that this beauty really stands out.
Symbolism
The Strelizia is known for different symbolisms. It is seen as the flower of freedom and is also a symbol of immortality.
Origins
The Strelizia originates from South Africa and was shipped to many countries in the eighteenth century. That is also how it got its name; the great love that the wife of King George III, Charlotte van Mecklenburg-Strelitz, had for flowers and plants, led to the naming of this special flower.
Bouquet inspiration
The Strelizia also looks amazing in striking bouquets. In the bouquet on the photo the Strelizia is combined with Pistacia leaves, Celosia (Cockscomb) and coloured oak leaves. For a finishing touch some Leucospermum have been added.