Solidago
When the sun shines, this fantastic flower shines back
if you want effervescent, bright yellow energy in your spring bouquet, then opt for Solidago (goldenrod) which adds immediate volume to your bouquet. In fact, you can use them in your bouquets all year long – you'll definitely need a bit of blooming sunshine during the dark days of winter as well! Opt for gold, honey, canary, ochre, lemon ... the colours are so beautiful that Solidago has traditionally been used to add warm golden yellow tones to wool.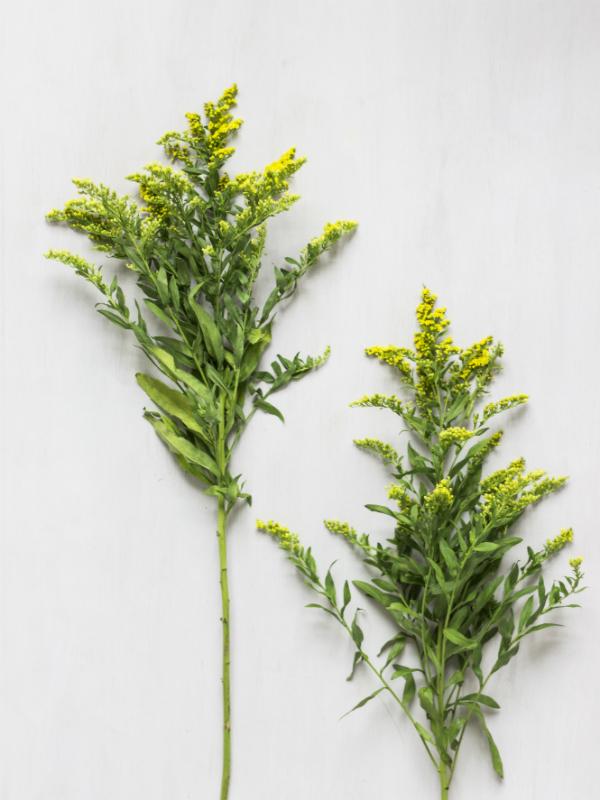 Colours and shapes
Solidago is about golden enjoyment: the flowers waft summery relaxation over you in different shades. The sprays of flowers end in a point which leads the way to the good things in life. And bees love it - unsurprisingly!
Symbolism
Solidago has so many meanings that you can pick the one that best suits the occasion. You can choose sincerity, money, success or happiness. It's no surprise the common name is 'goldenrod'. It also provides support in difficult times.  Place the cheerful yellow flowers in a vase by the front door for luck, and give a big happy bunch to someone who could do with encouragement and growth. If you see Solidago shimmering in the wild, get digging! According to legend, treasure will be buried there.
Origin  
We have been enjoying this flower, which originates from North America, since 1645. This is in contrast to the Chinese and the Japanese, who view the naturalised plant as a pest.
For centuries, Native Americans have used the eye-catching yellow plumes for their healing properties. The name Solidago derives from firm (solidus) and make (ago).