Agapanthus
Opt for a colourful blue spring bouquet!
When the first rays of spring sunshine have arrived, Agapanthus is desperate to join the other spring flowers in a fantastic spring bouquet. The flowers of this 'flower of love' appear to explode like fantastic fireworks. Why? To celebrate spring, of course! So 'something blue' not only provides the finishing touch for a wedding, but also for your bouquet. Which shade of blue will you choose?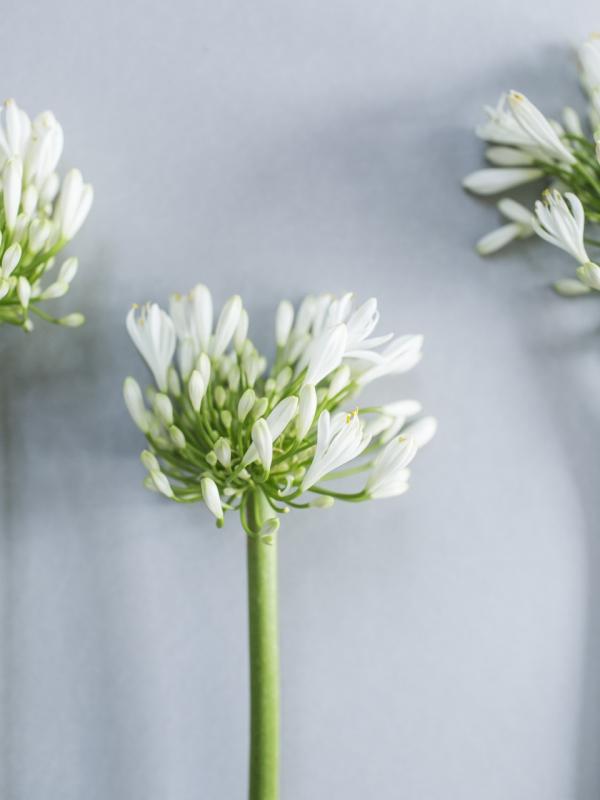 Colours and shapes
Agapanthus has elongated leaves on its long stem and ends in a fantastic globe of little flowers. Gradually they each bring a little touch of spring into your home. There are hundreds of varieties, so there's plenty of choice - too much choice really! Agapanthus is also available in white, but with so many different shades it's almost impossible to avoid blue. Particularly since this colour is fairly unusual in the world of flowers. 
---
Symbolism
If you don't want to just place the flower in a vase, dry the Agapanthus roots, wear them as a necklace and get married. The Xhosa, a tribe in South Africa, have been doing this for years, since it ensures extra fertility. You can see straightaway why Agapanthus has the nickname 'flower of love'. The Greek word 'agape' means love, and 'anthos' means flower.
---