Allium
Stylish ornamental onion with a spectacular flower globe
You wouldn't expect a member of the onion family to grow into a spectacular blooming globe of tiny flowers, yet this ornamental onion will surprise you. The stately thick stems bearing flowers in the finest colours can be enjoyed for a very long time. Forever, in fact, if you dry them. Only when you damage the stems do you realise that this really is a member of the onion family, as you smell the typical onion odour. So you should place them in water immediately after trimming the stems diagonally. 
Allium Giganteum is the largest variety. The purple clusters of flowers can reach diameters of 15 cm of pure delight.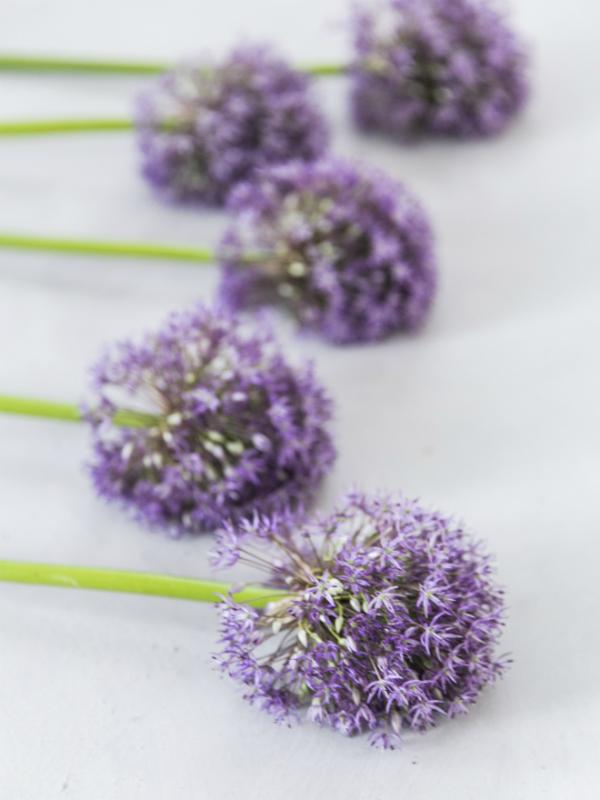 Colours and shapes
The long, elegant stem bears a stylish globe of tiny flowers. Some varieties are somewhat modest, whilst others make a bold statement in your vase, in colours ranging from white to purple and blue. There are some 300 different varieties, and almost all of them bloom in the summer.
Symbolism
Onions have a lot of superstition attached to them. The strongly scented varieties in particular were used to keep away bad luck, sickness and witches. A plaited string kept everything out. Allium victorialis represented invulnerability and victory. In Germany this variety is called 'Allermannsharnisch', which means the ordinary man's armour. The ancient Egyptians often depicted onions on graves, since the layers of the onion symbolised eternity. 
Origin
Allium is a member of the onion family. The plants grown in temperate regions in the northern hemisphere, and some species can reach a height of 1.5 m. The Romans initially only used the word 'allium' to refer to garlic, but later it became the family name for all onion crops. The family also includes chives and leeks.