Getting married in spring
With its symbolism of a new beginning, spring is an excellent season for celebrating love. The days are getting longer, your new ring reflects the light from a cautiously emerging sun and nature is bursting with fresh energy - just like you! So there are plenty of reasons to invite your friends to a spring wedding in pastel shades.
Narcissi, tulips and blossom in your bridal bouquet
A spring wedding should feature spring flowers in soft shades. Yellow and pink narcissi and daffodils, tulips in various colour combinations and shapes, and white and pink spring blossom as a tribute to awakening nature and your new beginning together. Together they create a colour palette bursting with fresh green, creamy white, pale pink and cheerful shades of yellow.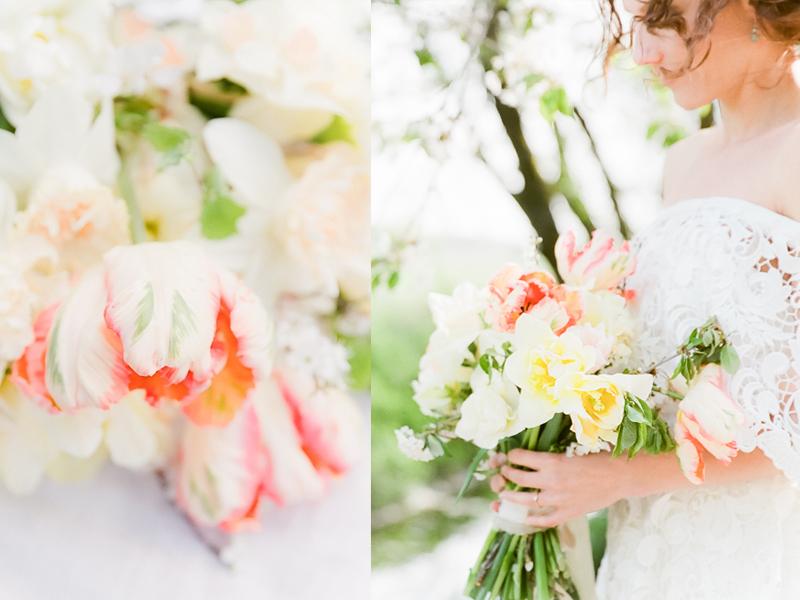 Flower colours determine the styling
These colours don't just have to appear in the bride's bouquet. They're so beautiful that you can use them for your entire wedding: in the tablecloth and the tableware for the festive lunch, on the invitations and in your clothes. No dark suits and endless speeches here, but a sparkling acknowledgment of spring where there's a party in the air. The flowers themselves also shine on the table, on the mint-green wedding cake, in corsages and in your hair. The floral pastels thereby determine the styling for your never to be forgotten day.
Even more spring flowers
Alongside tulips, narcissi and blossom you can also invite other spring flowers to your wedding. You can replace blossom with Myosotis, and freesias will envelop your vows in a delicate perfume. Gysophila is the embodiment of cute, Viburnum likes to make a grand gesture, and lilacs contribute not just their looks but also their fragrance. And don't forget the white 'flower of love' Agapanthus. If this list doesn't include 'the one', the spring bridal bouquet recipe contains further inspiration.
Credits
Photos: Anouschka Rokebrand 
Floral work: Fleuropean 
Cake: Sugarlips Cakes 
Styling: Best Day Ever Events