But while the humble wreath has been experiencing something of a Renaissance over recent years, its latest incarnation has a decidedly contemporary twist… and there's not a holly leaf in sight!
We love this stunning modern wreath of dried hydrangeas heads, gold leaves and pretty succulents from the super-talented florist Victoria Clarke of Foxgloves & Glory, posted on the Free People blog.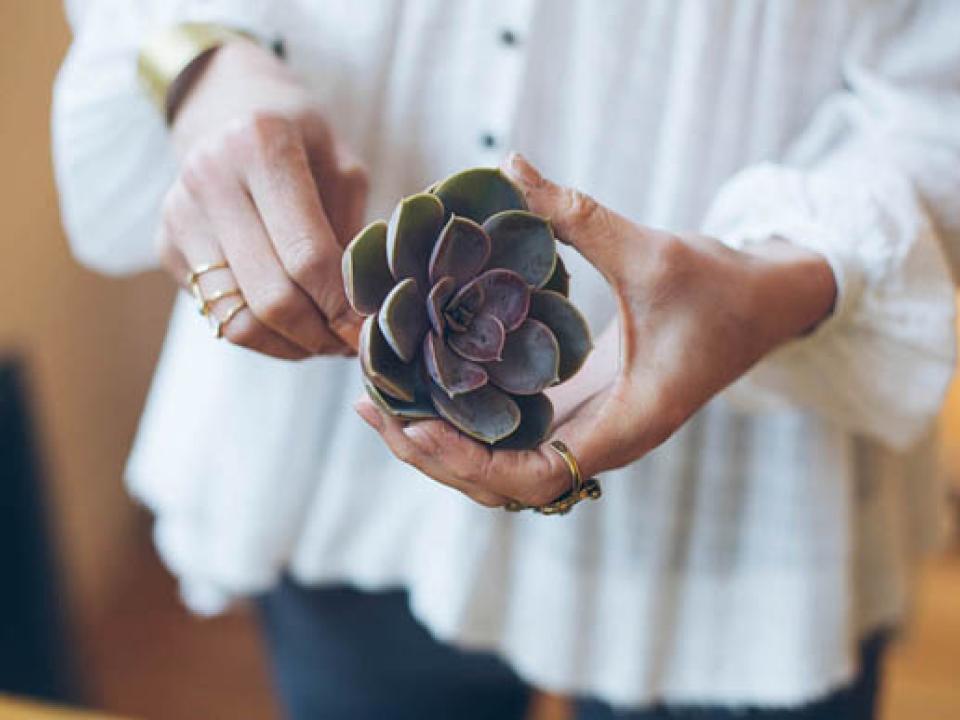 What you'll need:
Oasis wreath
Scissors
Wire
Ribbon or strip of vintage fabric
Foliage (pistacho and asparagus fern are used in this version but Clarke also recommends ivy and pine)
Berries (the wreath pictured uses viburnum and peppercorn but rosehips and berried ivy are also recommended)
Succulents (prepare by removing the soil and root ball and inserting a wooden barbecue skewer into the base)
Dried hydrangea heads (hang over a radiator for a few days until crispy)
Leaves (spray paint gold as seen here – or experiment with neon shades.
How to make it:
1. Soak the oasis in water for 10 minutes.
2. Cut your foliage and berry stems into pieces about 4-inches long with 2cm of bare stem at one end.
3. Working clockwise, start adding your foliage into the oasis at a slight angle, filling the outside edge first before working your way into the middle.
4. Continue until the whole base is covered in greenery.
5. Trim the succulent skewers so they are just long enough to sit firmly in the base and position at different angles to create a great shape.
6. Place the hydrangea between the succulents, securing in place with wires.
7. To make a pin, simply fold your wire in half and trim the ends so the pin is about 2 inches long. Place the pin directly though the hydrangea head and push into the oasis.
8. Dot the berries around your wreath in clusters.
9. Finally, slot in your gold leaves, allowing just the tips to show.
This is an edited version of the project. For the fully illustrated step-by-step tutorial, check out the original post on the Free People blog.