Flowers bring art to life at the National Gallery
Find out more about our recreation of 'A Still Life of Flowers in a Wan-Li Vase'
We are thrilled to have supported the National Gallery's 'Dutch Flowers' exhibition this summer. It was the first display in 20 years to examine Dutch flower paintings from the early 17th century to late 18th century. To celebrate, we have decided to bring Dutch artist Ambrosius Bosschaert the Elder's floral masterpiece, A Still Life of Flowers in a Wan-Li Vase (1609-10) to life. It was a huge build requiring many talented florists and thousands of flowers to showcase the true art of floristry to the world!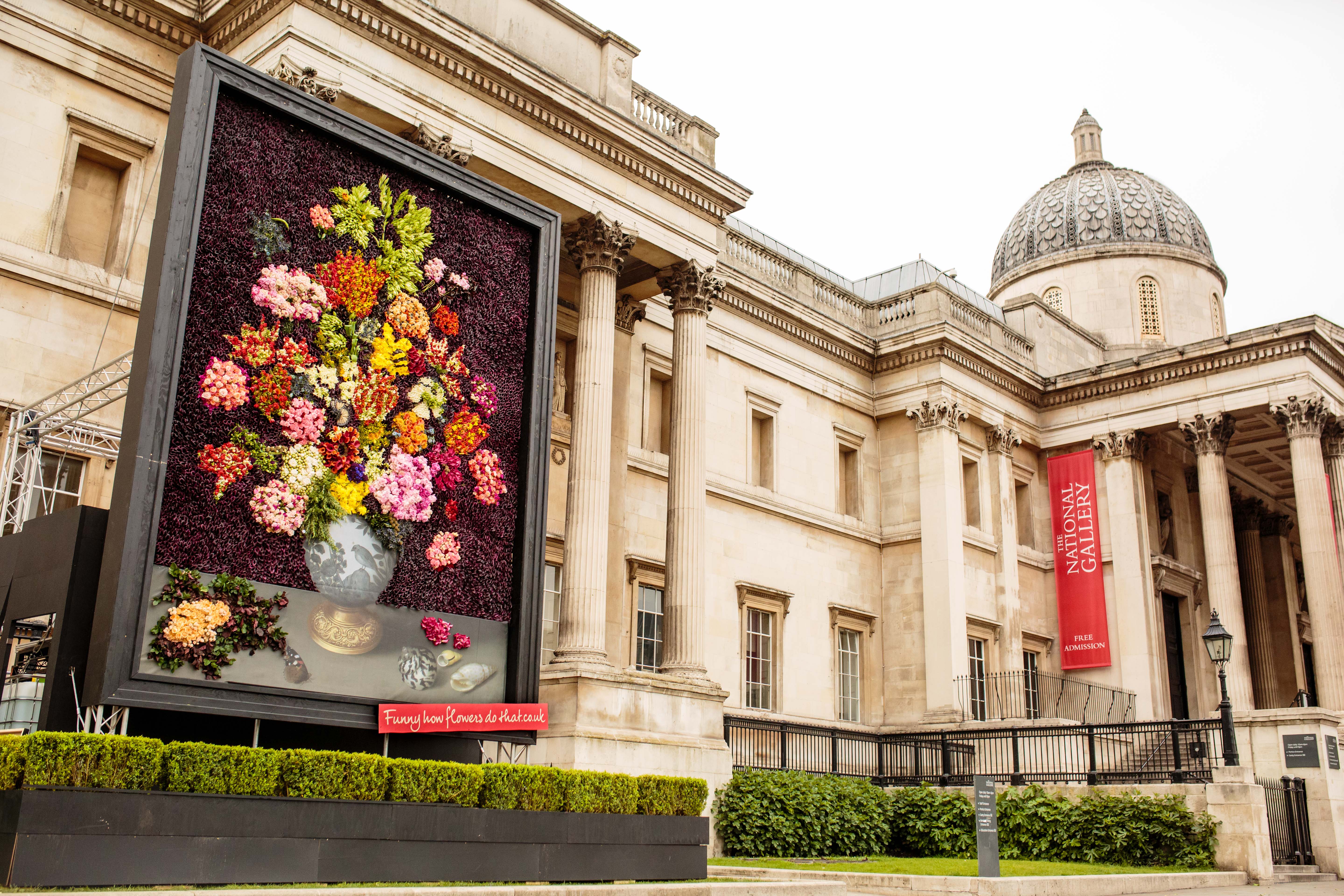 Funnyhowflowersdothat.co.uk
Who?
Ambrosius Bosschaert the Elder was born in Antwerp but he and his family were among the many Protestant refugees who fled to the Northern Netherlands in response to religious persecution. After training in Antwerp, he joined the Middelburg guild as a master in 1593 specialising in flower and fruit still life paintings. 
A Still Life of Flowers in a Wan-Li Vase was painted on copper and combines the classic elements of Bosschaert's paintings: tulips, hyacinths, blue and white porcelain, pineapples, seashells and insects.
What?
The flowers in this Bosschaert's painting (including lilies, tulips, roses, hyacinths and carnations) are painted with almost scientific precision. The bouquet, however, is a fiction: these flowers do not bloom at the same time, and they would have been far too precious in those days to cut for temporary display. This is also the reason some flowers in our installation had to be substituted for flowers currently in season. 
The image was made up of 26 varieties of cut flowers, featured 26,430 mixed blooms, bringing the total stem-count (including replenishments) to 52,950  over the five days the installation was up. 
Where?
The National Gallery's West lawn.
When?
Thursday 2 June - Monday 6 June 2016. 
Read more about the National Gallery's 'Dutch Flowers' exhibition here.
Dutch Flowers exhibition at the National Gallery was on until 29 August 2016.