London Fashion Week x Poppy Waddilove
A rising star on the London art scene and a regular at Fashion Week, Poppy was the perfect partner to re-imagine the hottest runway looks with fresh flowers and elegant illustration.
Stand out designers boasting popping colour, luscious texture and flowing lines included Temperley, Mary Katrantzou and David Koma to name a few. Have a look at our floral take on Poppy's six selected looks below…
David Koma
Sports Luxe Chic with Hydrangea
Koma showcased athletic wear as an art form at London Fashion Week. We're talking lace luxe, asymmetrical lines, sharp cuts with overstated elements. The royal blue cross body ruffle dress within the collection caught our eye and hydrangeas immediately sprung to mind to complement the delicate design.
To emphasise the body and structure of the ruffle while keeping a cascade of movement, Poppy weaved the romantic petals across the illustration to draw the eye.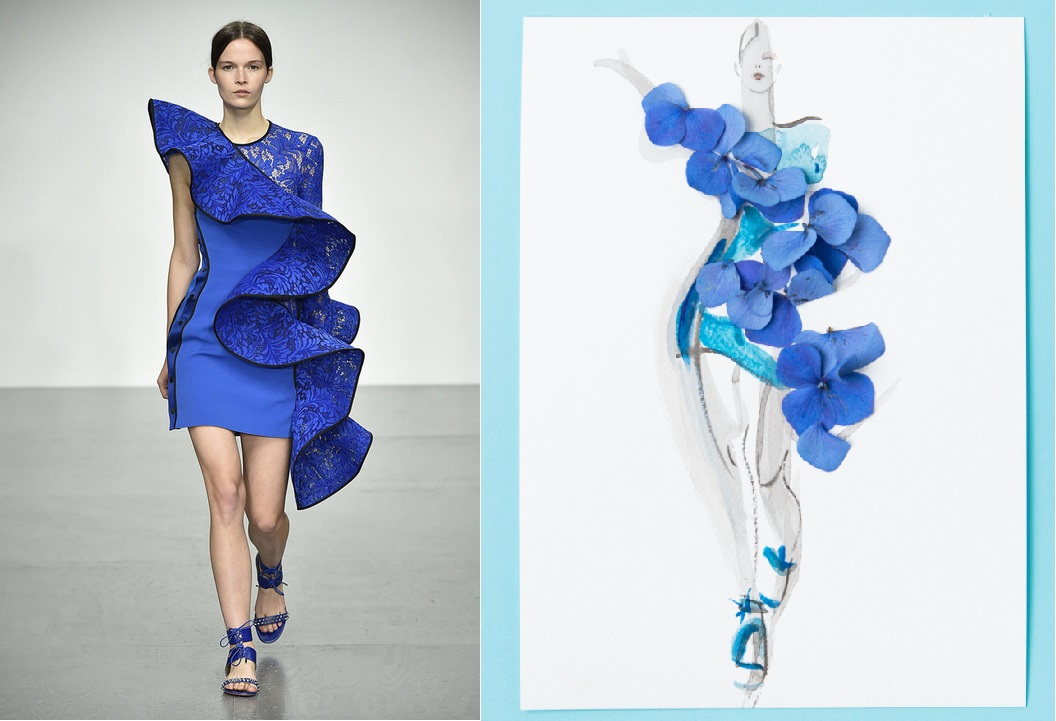 David Koma x Poppy Waddilove
Emilia Wickstead
Art Deco Lines with Phlox
Emilia Wickstead's ready-to-wear collection stemmed from her love of African-American culture and the Harlem renaissance. Amongst, showing a vast collection, abundant with dazzling colours and breezy fabrics, it was this billowing, raspberry evening dress that was the show-stopper in our eyes.
Although ostentatious in tone, the silhouette of the look was simple and so trumpet-shaped phlox was the obvious choice to pick out the powder pink symmetrical bows.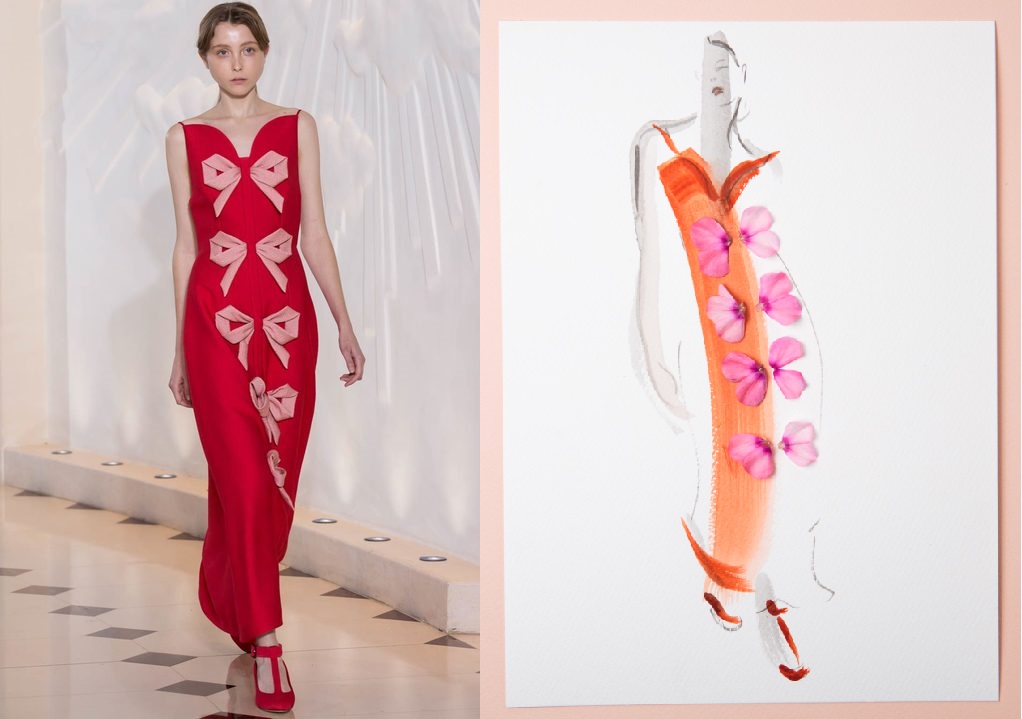 Emilia Wickstead x Poppy Waddilove
Temperley London
Modern Bohemian Effortlessness with Dahlia
The quintessentially British fashion designer, Alice Temperley served up a blushing spring mini dress that had us all longing for warmer days. Teaming a softly ruffled sheer fabric with golden leaf overlay added the perfect touch of glamour.
The flouncy garment cinched in at the waist with a contrasting black belt and statement gladiator sandals helped to add an air of modernity to an otherwise nostalgic and feminine piece that we could not ignore.
Poppy chose a gorgeous ivory dahlia flower to recreate this design. The daisy-like nature of the petal we felt really captured the light movement of the original creation.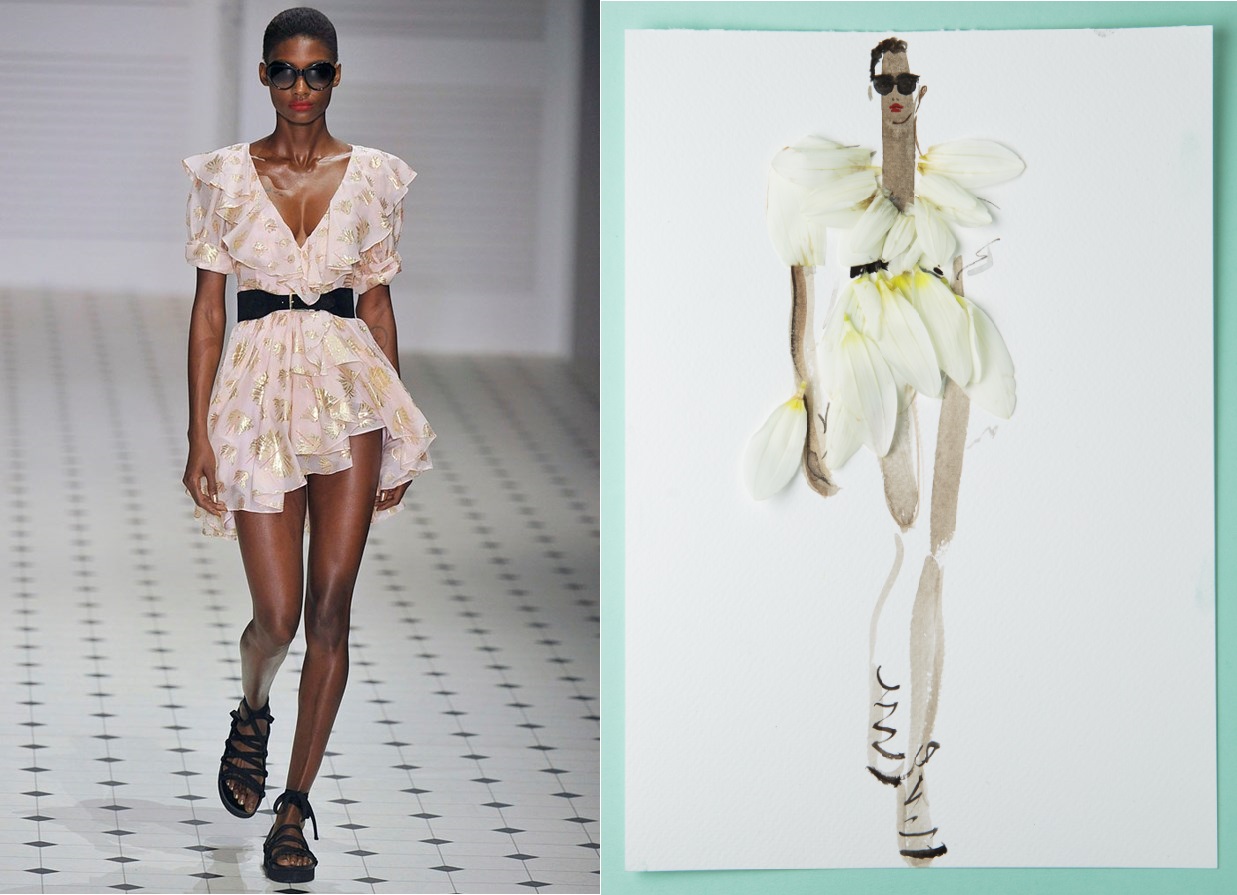 Temperley London x Poppy Waddilove
Mary Katrantzou
Digital Prints with Rose & Gerbera
The fond memories of childhood pastimes in Athens triggered the aesthetics for Katrantzou's S/S 18 collection. Designs were inspired by Lego, marbles, Spirograph, books and balloons.
With floral embroidery, love heart detailing and ballooning skirts, we fell head over heels for this particular look. Bold fuchsia coloured gerbera petals used teamed with traditional garden roses filled this creation with voluptuous drama.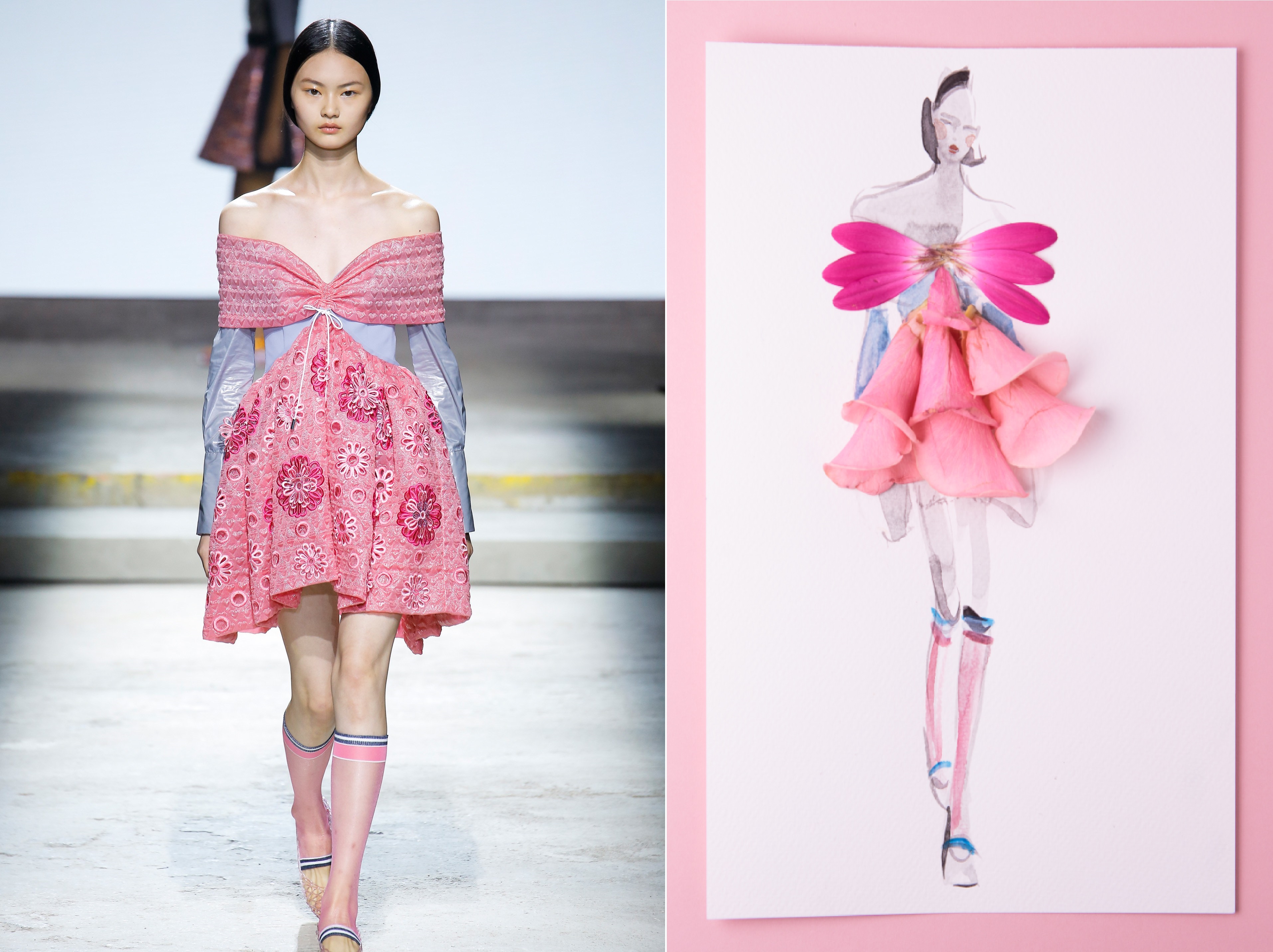 Mary Katrantzou x Poppy Waddilove
Teatum Jones
Blouson Sleeves with Freesia & Sunflower
The vibrant, burnt orange gown boasting elaborate swooshing sleeves and hemline by Caroline and Rob from Teatum Jones called for a floral recreation.
Poppy emulated the polished yet distinguished design by adorning the silhouette with bright sunflowers and zesty yellow freesias.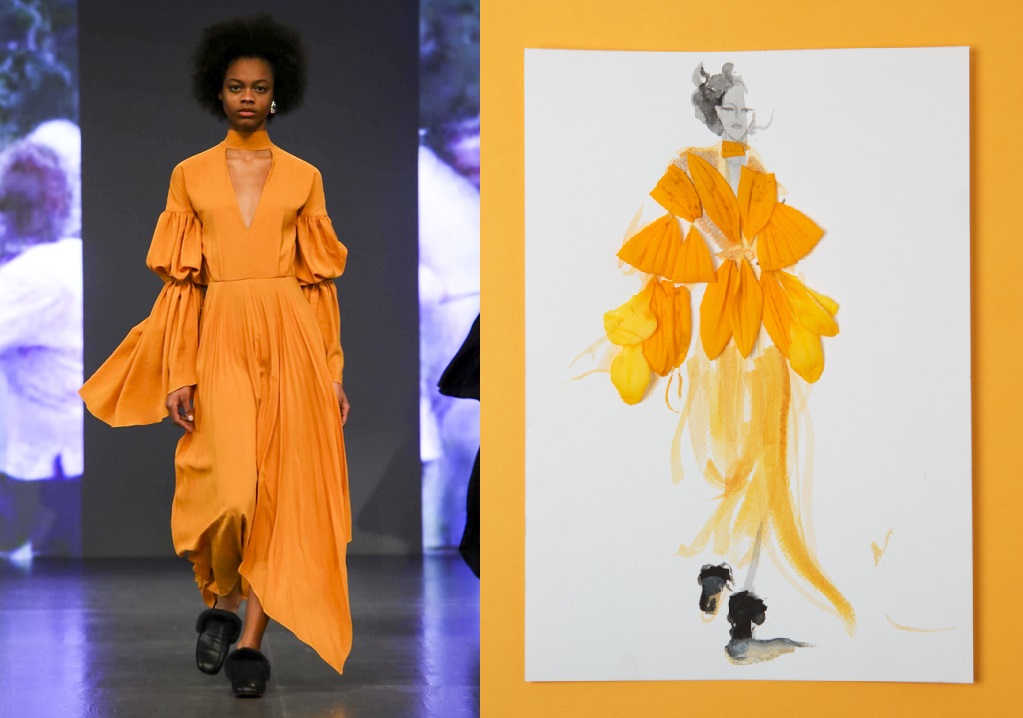 Teatum Jones x Poppy Waddilove
Paula Knorr
Modern Evening Wear: Calla Lily & Amaryllis
Noted as the one to watch, German designer Paula Knorr did not disappoint.
This textured composition made up of a ruched cherry leather bralet with gracefully draped wide leg trousers took on a life of its own on the catwalk.
The gloriously bold colour palette in her design lent itself perfectly to the deep burgundy amaryllis flower for the bra paired with the stunning flaming sunset tones of the calla lily for the trousers.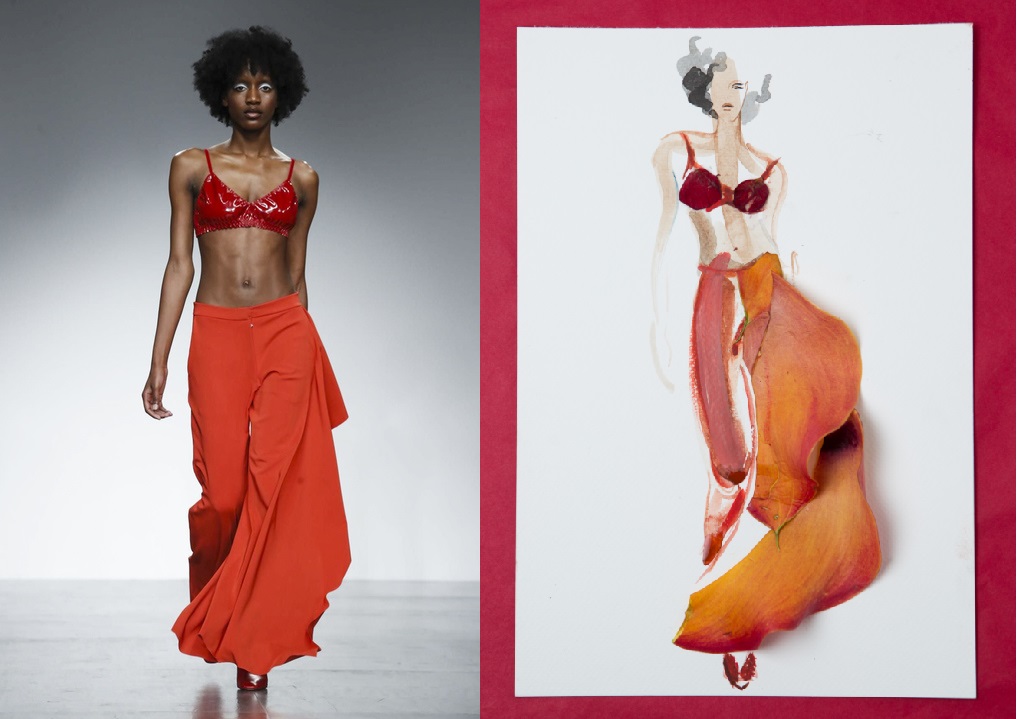 Paula Knorr x Poppy Waddilove