Spotted: floral street style at London Fashion Week
Alternative ways to wear floral as seen at LFW
Florals are a perennially popular print, and September's London Fashion Week gives us the perfect opportunity to plan different ways to wear them. Once upon a springtime, ditsy prints were fresh as a daisy, but next season seems to be about bigger blooms and bolder statements.
70s Style
The 70s were the ultimate flower power era, so it makes sense to mix this print with retro 70s looks, like the floral shirt worn under a jumpsuit. Choose a dark fabric or denim jumpsuit with cropped legs for a look that's ideal for undecided weather.
The small floral prints seen at the Bora Aksu show were also a nod to the 70s, using those brown, orange and blue hues that defined the decade.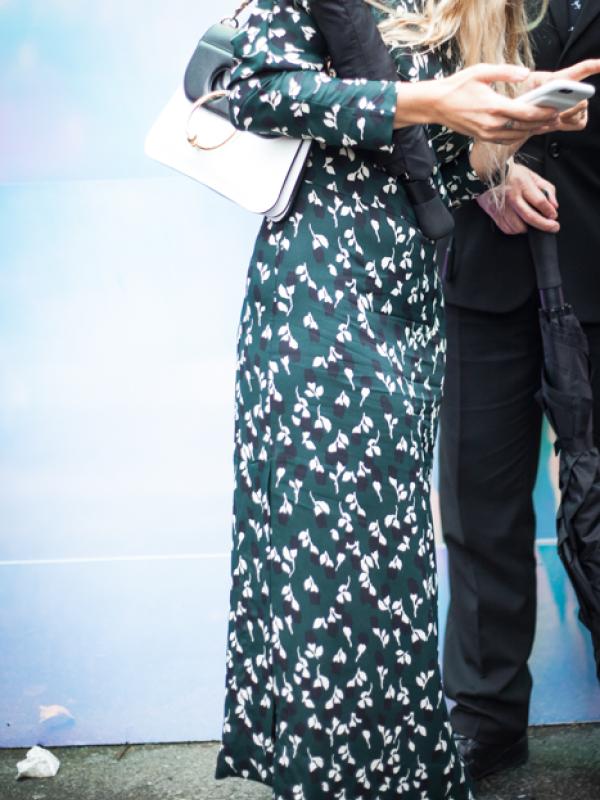 Top to Toe
Neck to ankle flowing florals - whether that's a dress or matching floral pants and shirt - can be a tricky wear, but Daks dared to send gowns in floral print and floral crochet down its catwalk. Make the look wearable by keeping everything else simple. This fashion week stylista gets it just right with 'undone' hair, a classic red lip and unfussy black and white accessories.
With Attitude
The underwear as outerwear trend has taken us right back to the 90s when grunge girls like Gwen Stefani, Courtney Love and Shirley Manson topped the music and the style charts. A sweet floral slip is instantly sexed up with an edging of black lace, a throw-over black leather jacket and that 90s essential, the black velvet choker. For a more ladylike version of this look, the lilac/blue and pale peach lace-edged floral slip dresses sent down the catwalk by luxe London-based label Teatum Jones are less grungy and more gorgeous!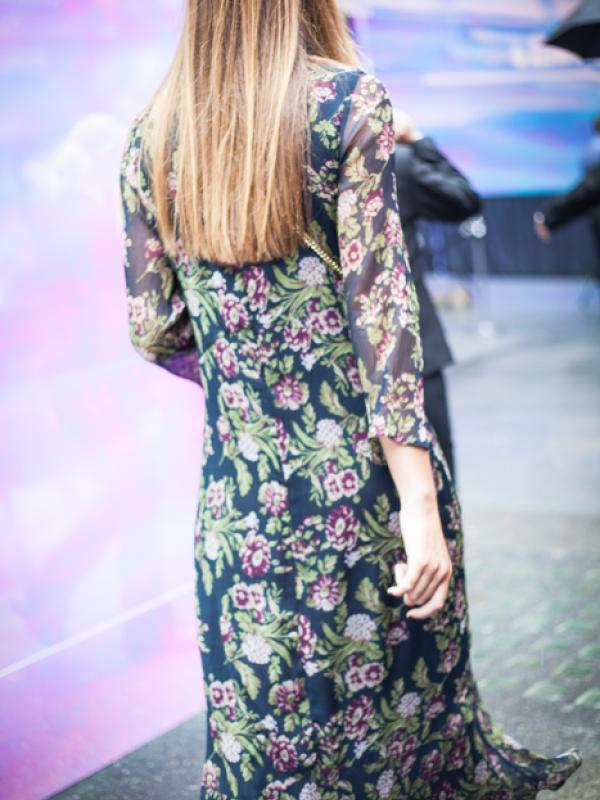 Simply Sheer
Delicate fabrics and florals are a match made in fashion heaven, and this was evidenced by the sheer volume of this combination seen on Friday's catwalks. Alice Archer, Aquascutum, Bora Aksu and Teatum Jones all paired semi see-through fabrics with everything from big bold blooms to tiny floral prints. It's a light, floaty way of wearing florals that's a dream come true for warmer days.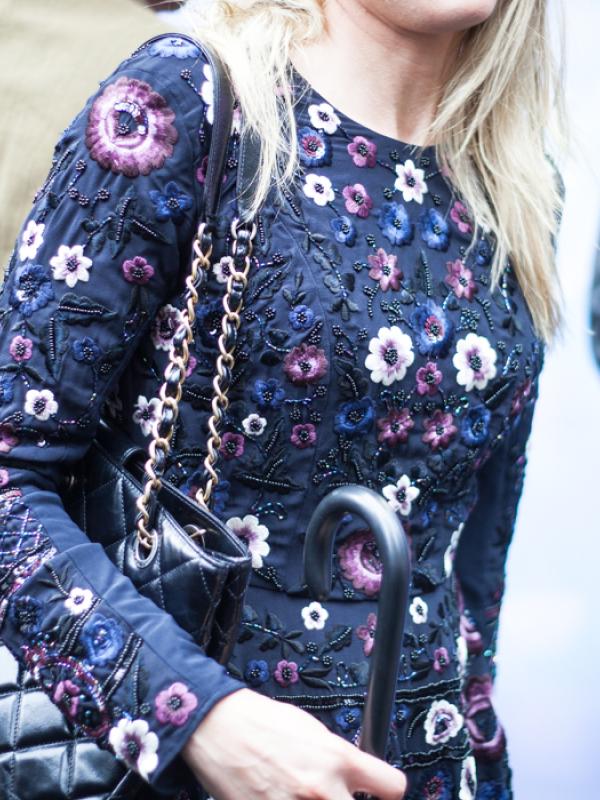 3D Blooms
The next wave of florals refuses to blend into the background, with 3D-effect blooms determined to stand out. Ryan Lo mixed London and Hong Kong influences to show a larger than life collection of colourful doll-like models rocking their 3D flowers. Of course, 3D florals can be used to more subtle effect too. Looking at the street style outside the shows, we love these understated dark floral appliqué blooms against a classic navy fabric, and they prove that subtle florals don't have to be all about those wishy washy pastels or faded vintage hues.
Whether you want to look beautiful in bright and bold blooms, or prefer to stick with a more subtle style, fashion's love affair with florals shows no signs of wilting!
For more inspiration on ways to wear florals this Autumn, head to our London Fashion Week Pinterest Board.