2018 style trend: Re-assemble
Shuffle before use
Contrasts create connections. They surprise you and give you a fresh perspective. In that way you create space for a creative interplay between old and new elements. A sort of patchwork quilt, but with an edge. Get stuck into the style trend that fits this perfectly: Re-assemble. 
Indoors and outdoors
At first glance it might appear a bit incoherent, but anyone who looks carefully can see the creative whole. Materials and shapes create unusual combinations that keep surprising. You can hang up flowers, plants can go upside down, and all at the same time. Airy is the keyword for this style trend, both indoors and out. And if you're tired of one component you just replace it with a new patch.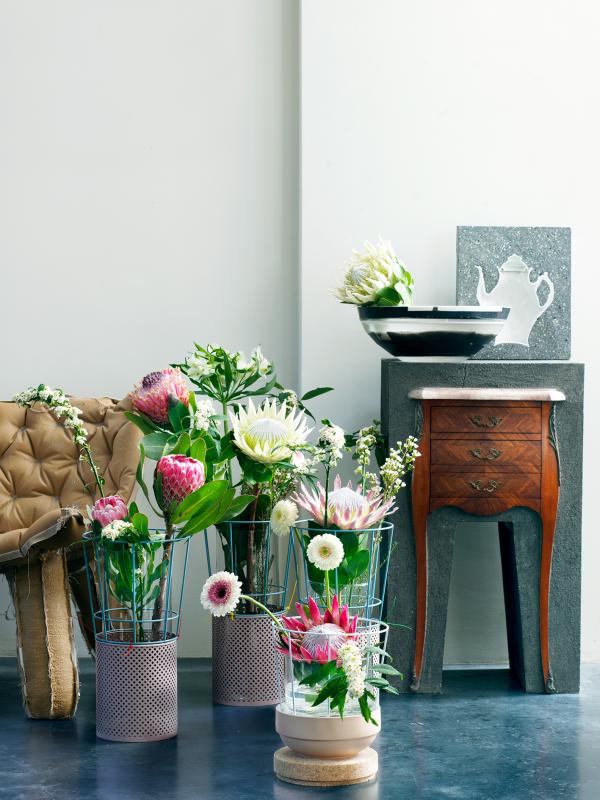 Characteristics
Random, varied, patchwork, collage. Can you see where we're heading? This style trend is all about the relationship between elements that appear separate at first glance. Hello eclectic! Patterns and colours can have a discombobulating effect on you. A tiger print is absolutely fine, but in shades of green, and primary colours can be placed next to each other Mondrian style. Materials are also mixed: plastic, paper, cardboard and sheet materials, both new and recycled.
Apply Re-assemble at home and in your garden
Can you picture this style trend in your mind's eye? Then get your toolbox from the attic and get to work. Printed fabric from a bedspread can be reused for both cushions on the sofa and the lampshade next to it. You can create new surfaces with sheet materials, sheets of cardboard and a lick of paint. It's the ideal backdrop for your airily arranged bouquet and waving foliage. 
Got the bug? Take a look at the DIY craft project that matches this style trend as well.