Takashi Murakami, founder of New Pop
Murakami is one of the most pioneering artists of our time. Born in Tokyo in 1962, he was educated at the National University of Fine Arts and Music. Here, he obtained his doctorate in 'Nihonga', one of the oldest forms of Japanese painting, with a mix between Western and Eastern styles. The special thing about Murakami's work is that he creates both traditional art, such as painting, as well as newer art styles, such as digital and commercial.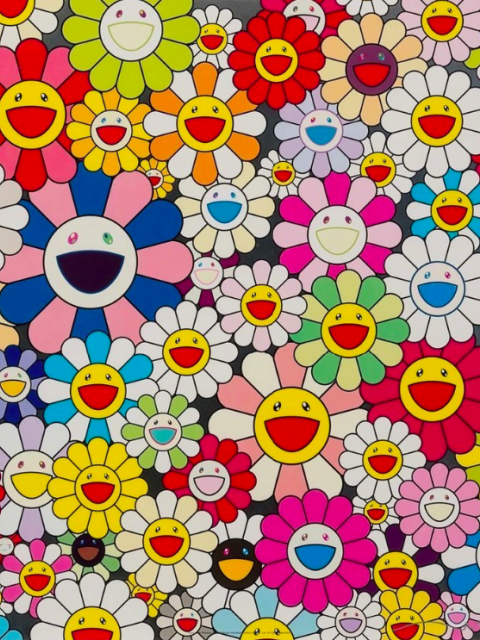 Murakami is seen as one of the founders of the Superflat style, also known as New Pop. This style can be recognized by large flat areas of colour, often inspired by anime and manga figures. New Pop has similarities with Pop Art, but contains more elements from Japanese culture. Murakami often uses flowers in his artwork. The inspiration for this came after the atomic bombings in Hiroshima and Nagasaki in 1945. The flower's smile initially looks happy, but if you look more closely you can also see the tears behind the smiles.
Famous works
In 2002, Murakami was approached by Marc Jacobs to design a special collection for Louis Vuitton. The result? A cheerful and colorful design with the well-known LV logo. This hugely successful design made Murakami world famous immediately, resulting in collaborations with many well-known brands. He designed clothes and shoes for Vans and Comme des Garçons, and the cover of an album by rapper Kanye West. He also animated Pharell Williams for a song.
Takashi Murakami bouquet
With so many flowers in Murakami's cheerful artwork, we couldn't help but be inspired to create a colourful bouquet. And of course, we'll do that in the same way that he creates art - by using different areas of colour. 
You will need
Lots of different flowers in many different colours. The choice is yours! We chose:
How to make it
This bouquet is super simple to make, you merely need to sort the flowers by colour. Put the flowers in a beautiful vase et voilà: you have a cheerful 'Murakami bouquet' on your table that immediately makes you happy. Perfect for International Day of Happiness!
What does your Murakami bouquet look like? We'd love to see! Share your bouquet via Instagram or Facebook with the hashtag #funnyhowflowersdothat.