DIY: Christmas wreath with flowers by Jetteke van Lexmond
A colourful Christmas filled with flowers
Creative Director and Vogue Netherlands contributing editor Jetteke van Lexmond has made a Christmas wreath with flowers. It is so beautiful, we simply couldn't help sharing it with you, so you can make your own version to brighten up cold winter days. 
Fill the distance with flowers
"In these times, I found it extra meaningful to spend time making a flower wreath for the front door," says Jetteke. "I want to give people a bit of happiness with the sight of a beautiful flower arrangement. Passers-by stop for a moment to admire it, hanging on the door. This Christmas wreath is a sign of love to the world."
Jetteke opted for an arrangement of luxurious orchids on a bed of moss. The orchids are each placed in a small water reservoir (like a flower tube), so that the wreath can be enjoyed for as long as possible. In addition, Jetteke spritzes the wreath twice a day with a spray bottle filled with water, to keep the petals fresh and cheerful.
You will need
A decoration ring (made of iron or wood), a circle of straw or florist wire, whose size fits well with your front door

Flowers that dry well, so your wreath will stay looking beautiful for longer. Or pick full-petalled flowers that will put on a show for the few days over Christmas. Another option is to use flower tubes, like Jetteke did

Yarn in colours that match the moss and flowers

Pruning shears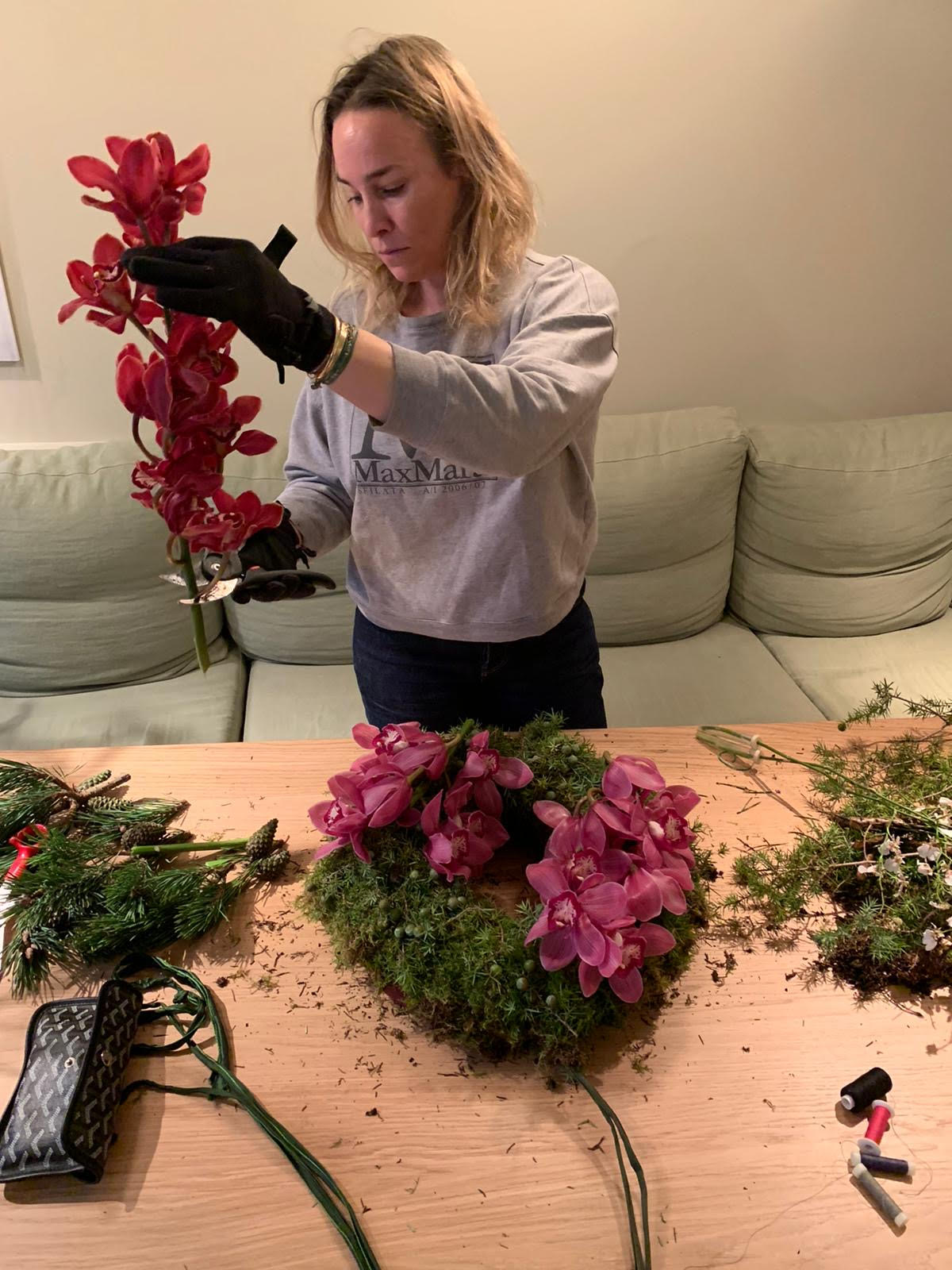 How to make it
Step 1 Attach the moss to the wreath with the yarn.

Step 2 Arrange the flowers on the wreath: cut some stems shorter than others and place them on the wreath in any way you like.

Step 3 Secure the flowers in place by wrapping the yarn around the wreath and the flowers. Once you think everything is securely attached, hang the wreath and check.
Step 4 Enjoy returning home to a festive front door decorated with gorgeous flowers!
Keep an eye on the wreath over the first few days to see how it is doing. Gravity can shift the flowers and the flowers sometimes also shrink slightly. If that happens, use some spare foliage to fill in the wreath a little.