Ingredients for 20
Choux Pastry
240ml water
100g unsalted butter
130g plain flour
2 whole eggs
1 egg yolk to glaze
Almond and Violet Cream
1 tsp almond extract
600ml double cream
4 tbsp icing sugar
1 handful of violet petals
Icing
150g icing sugar
1 Tbsp violet liqueur or a few drops of violet colouring
Whole violet flowers to decorate
Flaked almonds to decorate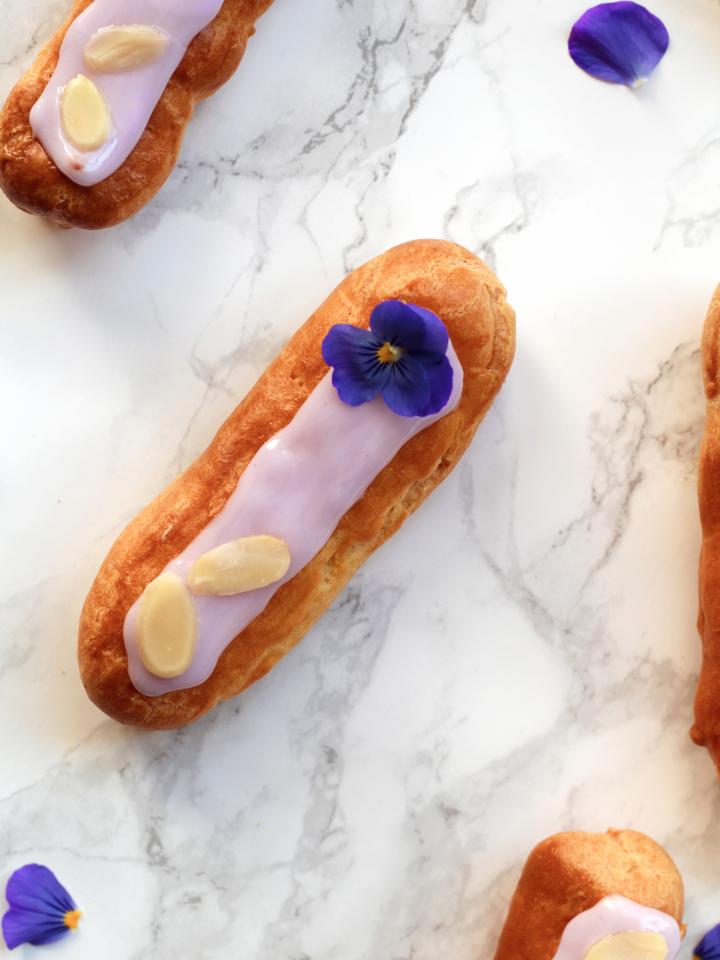 Method
Choux Pastry
Set the oven to 180°C and line a large baking tray
In a large saucepan on a low heat, add the water and butter
Once melted, turn the pan up so that the mixture comes to a boil. Turn the heat down low and add the flour whilst stirring vigorously. The dough should come together into a large ball
When the dough has come together, tip the mixture in to a cool bowl and gradually add the beaten eggs, stirring until a smooth glossy paste forms
Spoon the paste into a pastry bag fitted with a 1.5cm star nozzle and pipe 10cm lengths on to the baking sheet, leaving space between each one. Brush with a beaten egg yolk and bake for 25 to 30 minutes until golden and risen. Do not open the door whilst they are cooking or they will collapse
Transfer to a wire rack to cool
​

Almond and Violet Cream
Once cooled, whisk the cream, icing sugar and almond extract together until thickened and stiff peaks form as you pull the whisk up. Gently stir in the petals and transfer to a piping bag.
Using a small piping nozzle, punch two holes in the bottom of each eclair, one at each end. Pipe the cream into one hole, stopping when you see it reach the other end.
Icing
Stir together the icing and violet liqueur adding small amounts of water until a thick icing is created. Pipe on to the tops of the eclairs and decorate with the remaining flowers and some almond flakes.
 *Note: Always be careful not to use poisonous or non-edible flowers.
If you make this delicious recipe at home, share the results with us on Facebook, Instagram or Twitter!