Dill
Clusters of greenish yellow flowers welcome the spring
Dill (Anethum) is a kitchen herb, isn't it? Yes, that's right. The seeds make a delicious addition to dishes, and the flowers are edible. But the flower also works beautifully when arranged loosely in a field bouquet or displayed in a vase. The flower was incredibly popular in the 1970s, and it has now magically been restored to the 'must have' collection. Whilst the dill harvest used to be sold to pickling factories in order to lend extra flavour to gherkins, we now also use the flower to bring a cheerful spring mood to our home!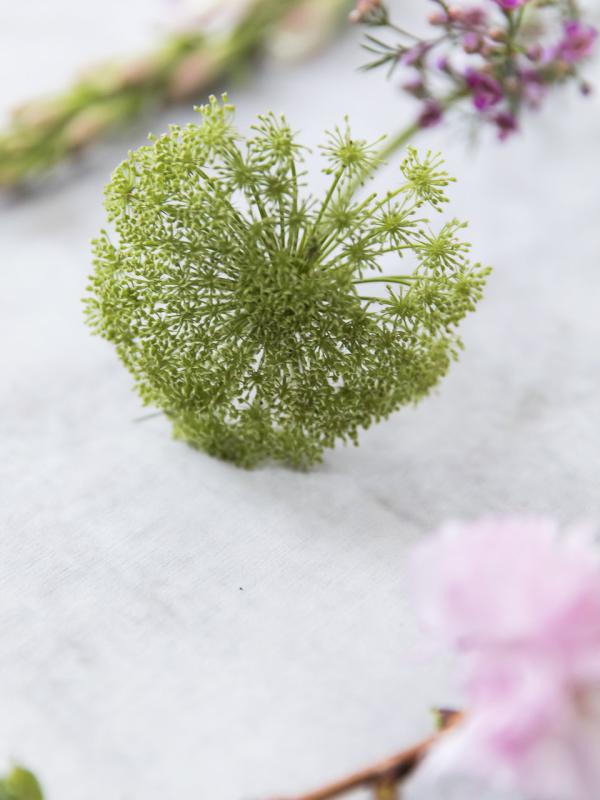 COLOURS AND SHAPES
Dill is a cousin of chervil and fennel. The flowers bloom in upward-pointing umbels that are packed with clusters of greenish yellow flowers. They're cheerful umbrellas that smell beautifully fresh. The leaves are threadlike and the striped stems are hollow.
SYMBOLISM
If you're getting married you should get hold of as much dill as possible. This flower brings incredible amounts of happiness to the ceremony. If you're not getting married fill all the vases in your home with dill, since the flower offers protection, keeps enemies from your house, brings happiness and wealth, and engenders passion. It will also keep witches away.
ORIGIN
Dill originates from the countries around the Mediterranean. Monks probably spread the herb throughout the rest of Europe. The name dill derives from the old Saxon 'dilarm' which means 'rock to sleep'. Dill stimulates the mammary glands of breastfeeding mothers, so that little people with full tummies go straight off to sleep.