Gravadlax Salmon with lemon and elderflower
Delicious Swedish Salmon
Swedish chef and stylist Steffi Knowles-Dellner brings us a balance of Swedish flavours, beautifully paired with delicate edible flowers, to satisfy the modern British palate.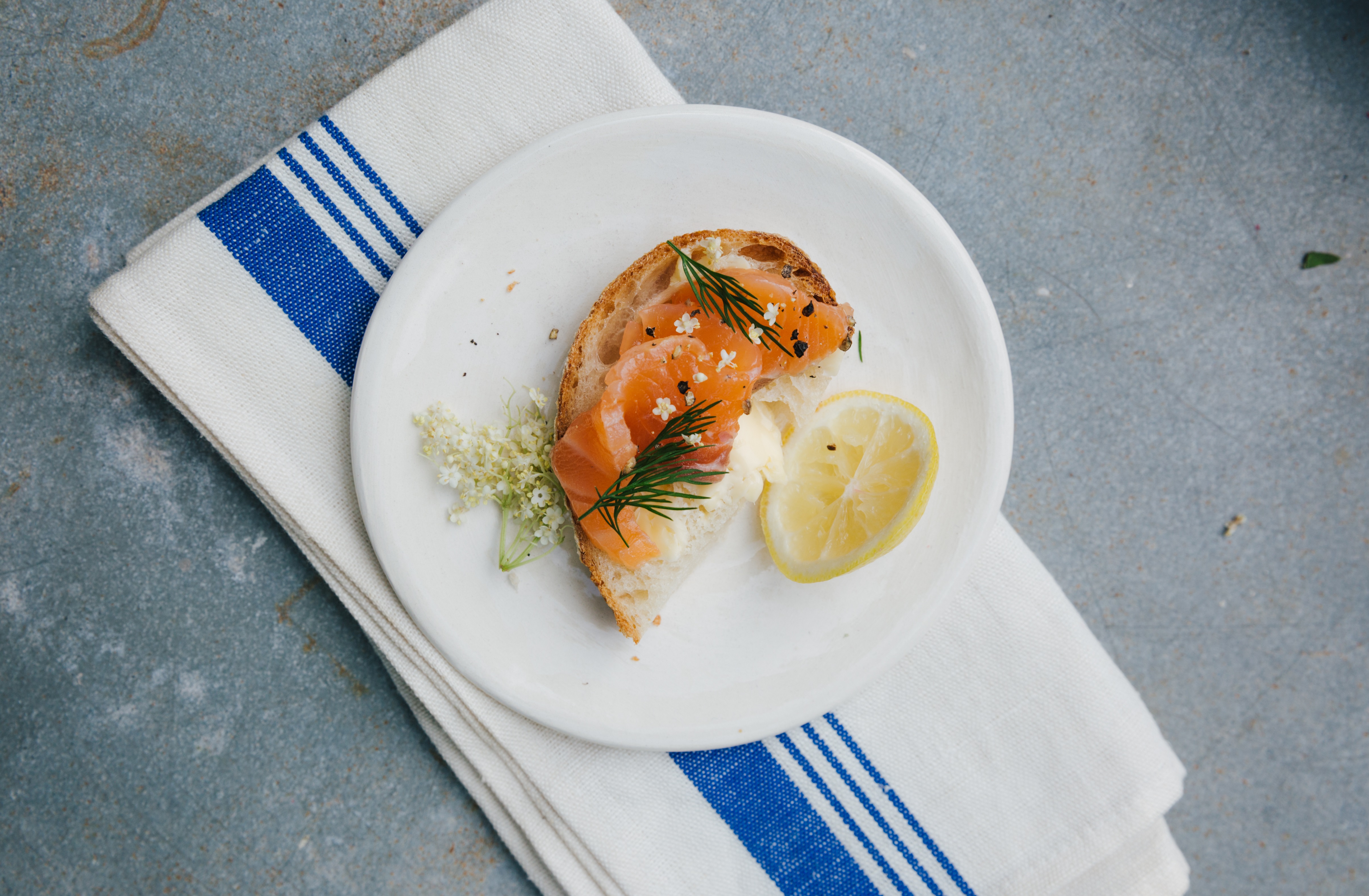 Gravadlax is the perfect summer celebration food. Light, healthy, great to share, and above all else, delicious. That's why it makes the perfect addition to our Swedish Midsommar Series; a celebration of the floral and culinary wonders of the traditional Scandinavian festival.
GRAVADLAX SALMAN WITH LEMON AND ELDERFLOWER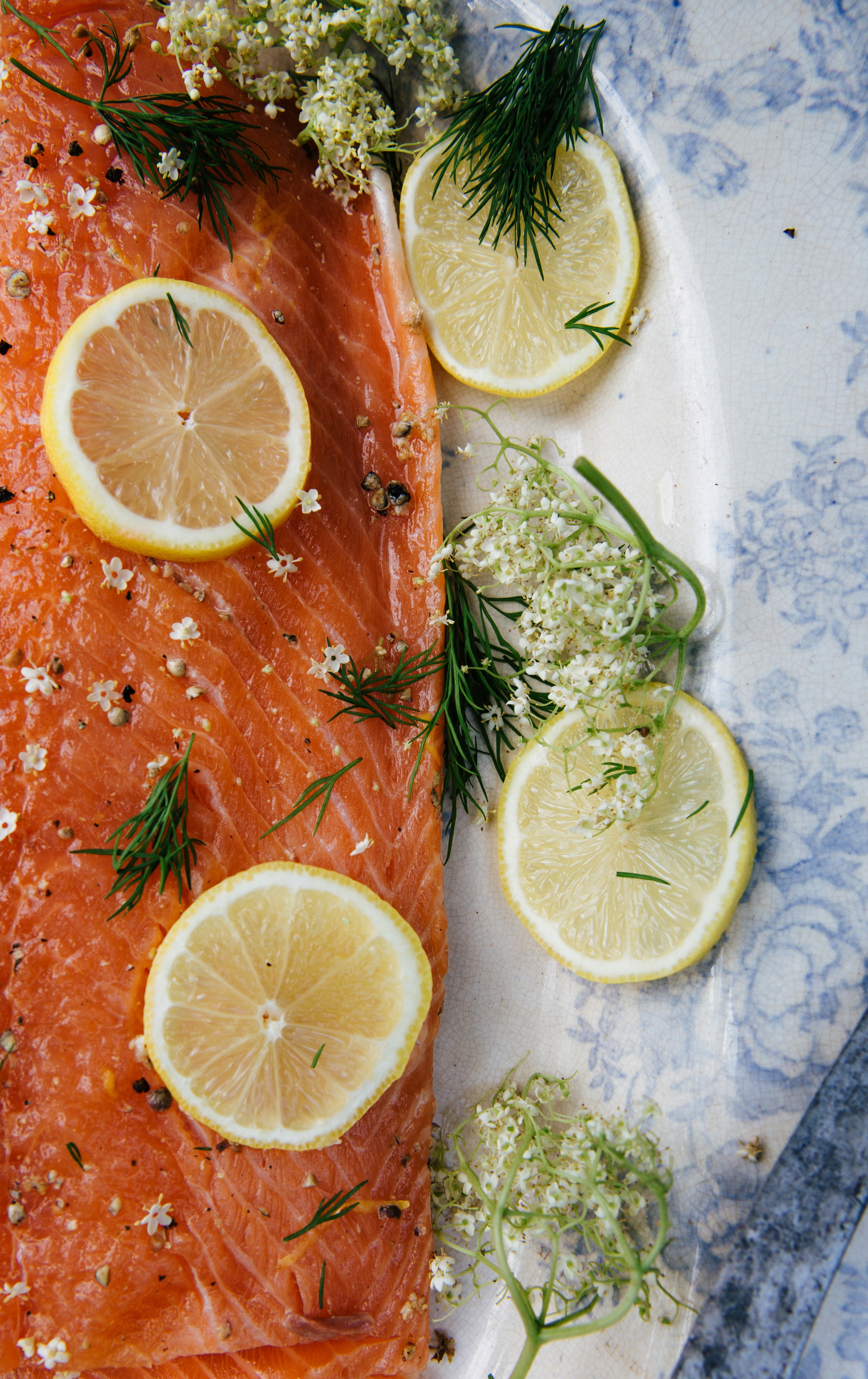 Prep: 30 mins plus 2-3 days curing  No Cook
WHAT YOU NEED (SERVES 8-10 STARTERS)
4tbsp sea salt flakes
4tbsp caster sugar
1 tbsp white peppercorns, roughly bashed
2 lemons
1kg sushi-grade side of salmon (ask your fishmonger)
8 small elderflower heads, cleaned and stems removed, plus more to serve
Small bunch dill, roughly chopped, plus more to serve
Toasted sourdough bread and butter, to serve
HOW TO MAKE IT
In a small bowl, mix together the sea salt, sugar and lightly bashed peppercorns.  Zest and then slice one of the lemons thickly.  
Lay out a two large sheets of clingfilm, overlapping slightly, and place the salmon on top. Scatter over the salt and sugar mixture all over the salmon, rubbing in slightly.  Top with the lemon zest and slices, elderflower and dill. 
Fold the clingfilm around the salmon tightly, then wrap in a further double layer, making sure it is completely sealed all the way round.
Transfer to a large platter or chopping board and place in the fridge, weighing down with another board and a few tins of beans.  Leave for 2-3 days, turning every 12 hours. 
When the salmon is ready to serve, unwrap and transfer to a platter.  Decorate with the remaining lemon, sliced thinly, some dill and elderflowers before slicing thinly and serving with toasted sourdough and butter.
ELDERFLOWER, APPLE AND GINGER FIZZ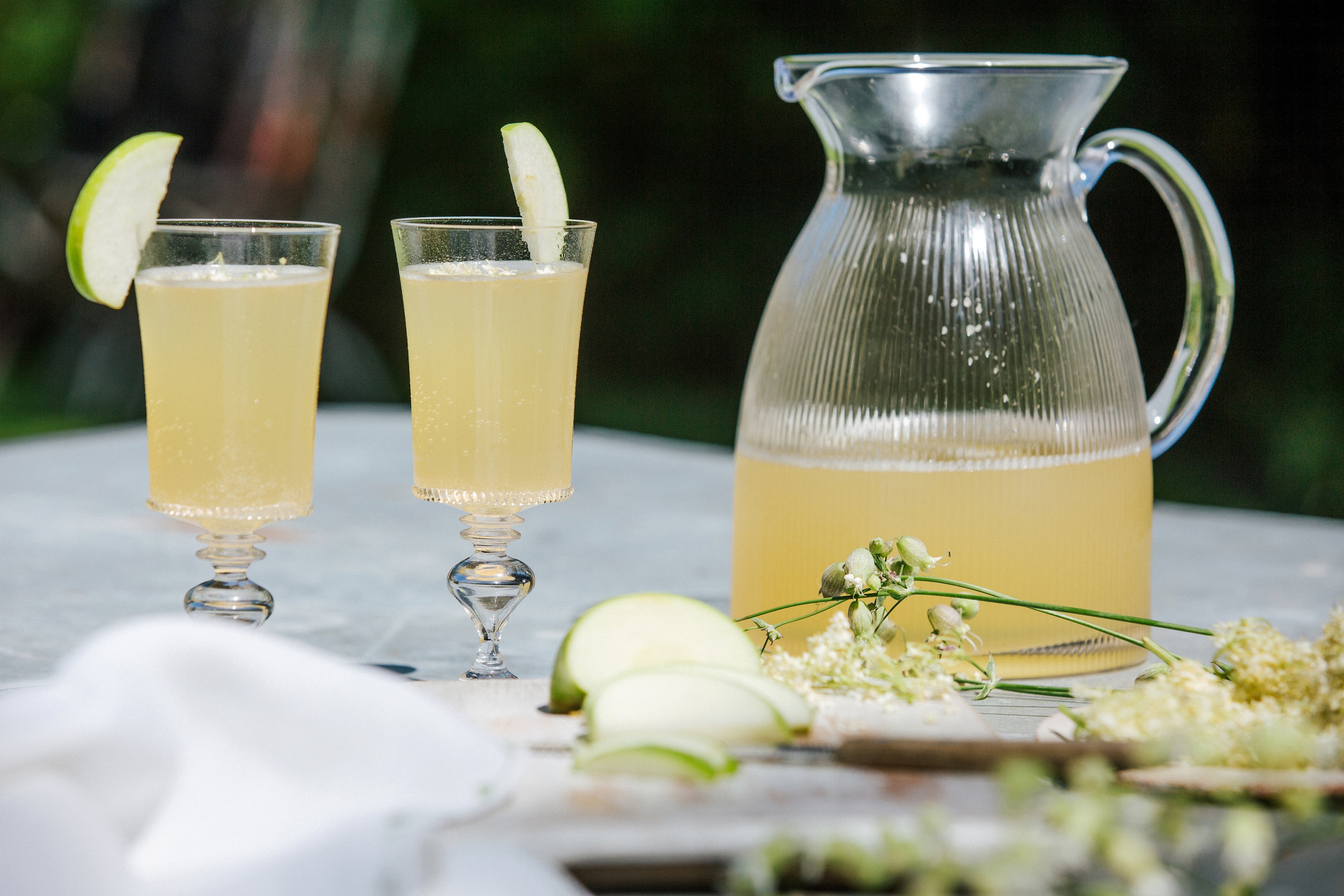 Prep 10 mins,  No Cook
WHAT YOU NEED (SERVES 4):
120ml elderflower cordial* (see below)
1L cloudy apple juice
1 x large bottle ginger ale
1 green apple, sliced
1 head elderflower
HOW TO MAKE IT
Fill a large jug with ice and stir together the cordial and apple juice.  Top with ginger ale and distribute between four tall glasses.  Decorate with apple slices and elderflowers.
*ELDERFLOWER CORDIAL RECIPE
Prep 15 mins Cook 10 mins
WHAT YOU NEED (MAKES 2 BOTTLES)
1kg granulated sugar
2 lemons, juice and zest
15-20 elderflower heads, stalks removed
HOW TO MAKE IT
Place the sugar in a large pan and fill with 1L water.  Bring to a gentle simmer over a low heat, stirring to completely dissolve all the sugar.  Remove from the heat. 
Stir in the lemon juice, zest and elderflowers and allow to col.  Leave to stand for 2-3 days, stirring whenever you pass by. 
Strain and decant into sterilised bottles.  The cordial will keep in a cool dark place for up to a year.
If you liked this, indulge in Steffi's other dishes: Strawberry, Lemon and Elderflower pavlova traybake, pickled herring, Västerbotten cheese tartlets with wild garlic and chrysanthemum flowers. Also check out the rest of our Midsommar series, including how to bring the art of Matlag to your table and creating a beautiful Midsommar floral crown.
*One more thing: never tuck in to just any old (cut) flower or plant; only use edible flowers from specialist suppliers that have been grown for human consumption.