Traditional Midsommar menu
Pickled Herring and Västerbotten cheese tartlets
Continuing our Midsommar Series, celebrating the floral and culinary wonders of the traditional Scandinavian festival, we worked with Swedish chef and stylist Steffi Knowles-Dellner to devise these delicious recipes.
Just like the Swedes, British tradition centres around the dinner table, so we've created a balance of Swedish flavours, beautifully paired with delicate edible flowers, to satisfy the modern British palate. Pickled Herring is extremely popular in Northern Europe, particularly Sweden as a simple, fresh tasting appetizer. A perfect accompaniment are these tasty tartlets, using the strong, firm Swedish Västerbotten cheese!
QUICK PICKLED HERRING WITH APPLE AND CHIVES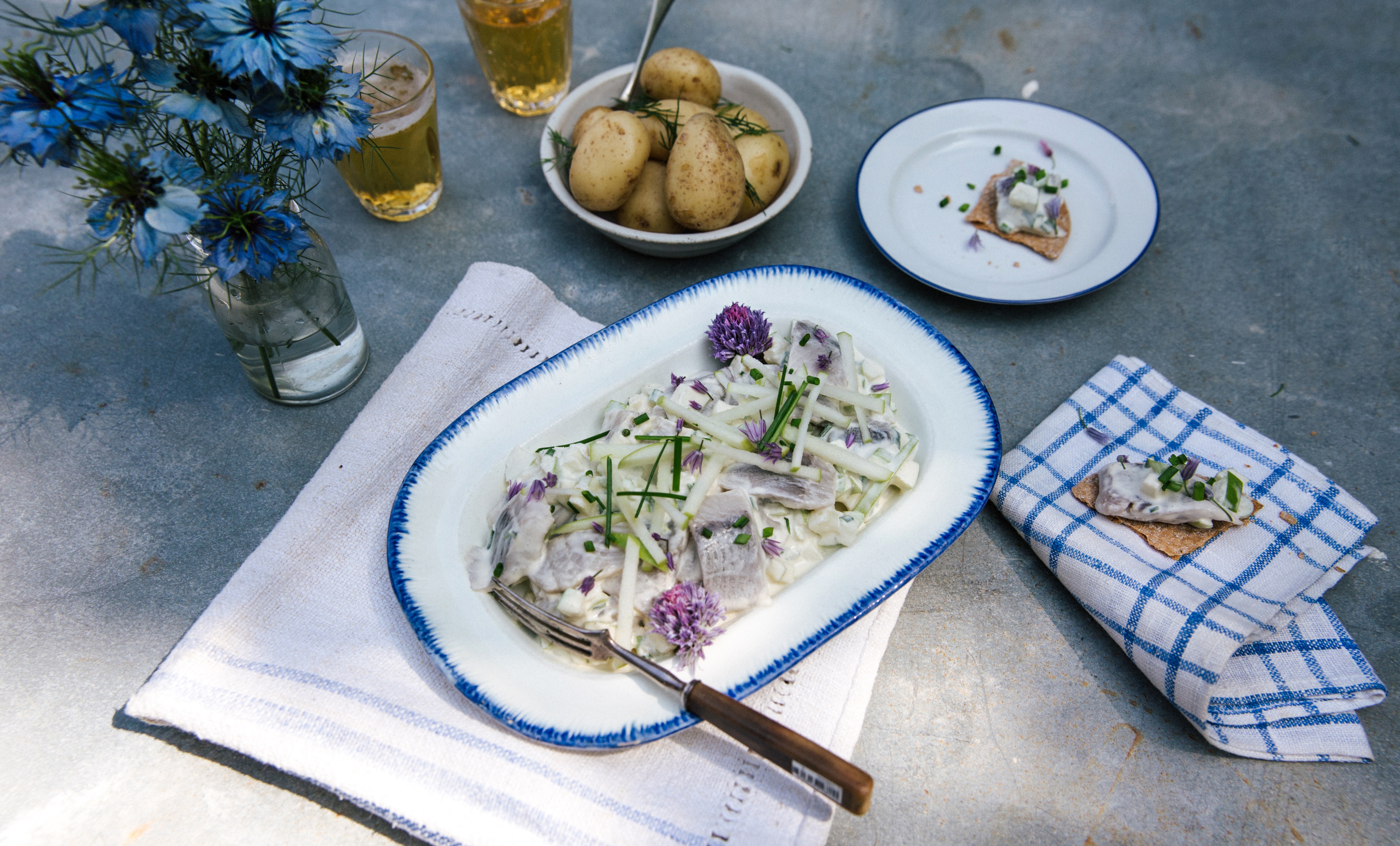 Prep 15 mins No Cook
WHAT YOU NEED (SERVES 4 AS A STARTER)
2 x 275g jar pickled herring in onion or dill
4 tbsp creme fraiche
2 tbsp mayonnaise
1 tsp Dijon mustard
1/2 lemon
2 green apples, 1 cubed and 1 cut into thin matchsticks
2 spring onions, finely sliced
Small bunch chives, finely chopped
Chive flowers, to decorate
Crispbread, to serve
New potatoes, to serve 
HOW TO MAKE IT
Drain the herring and discard any vegetables, herbs or spices from the pickling liquid then set aside.
Whisk together the creme fraiche, mayonnaise and Dijon mustard together in a medium sized bowl with a squeeze of lemon and season with salt and pepper.
Mix in the cubed apple, spring onion and most of the chives.  Tip in the herring and toss gently to completely coat in the sauce.  Transfer to a serving bowl and refrigerate until needed.
When ready to serve, sprinkle with the apple matchsticks, remaining chopped chives and chive flowers.  Serve with crisp bread and boiled new potatoes. 
VÄSTERBOTTEN CHEESE TARTLETS WITH WILD GARLIC AND CHRYSANTHEMUM FLOWERS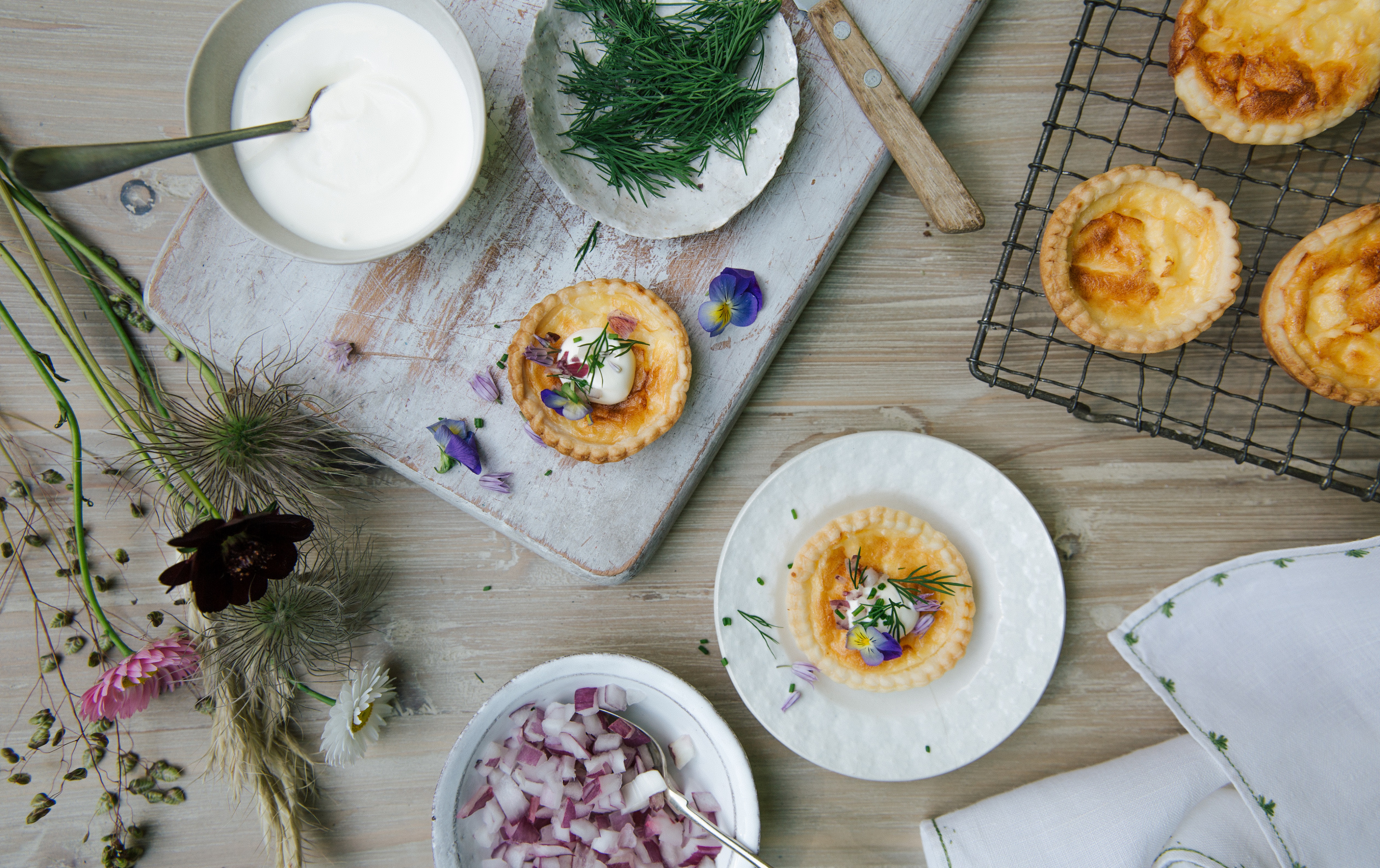 Prep 30 mins plus pastry resting time Cook 25 mins
WHAT YOU NEED (SERVES 10):
For the pastry:
125g cold unsalted butter, cubed
200g plain flour
For the filling:
3 medium eggs
200ml double cream
150g Västerbotten cheese or strong cheddar, grated
To serve:
Sour cream
1/2 red onion, finely chopped
small bunch chives, roughly chopped
small bunch dill, roughly chopped
Wild garlic flowers
Chrysanthemum flowers
HOW TO MAKE IT
Begin by making the pastry.  Pulse the butter and flour in a food processor with a pinch of salt until you have a breadcrumb-like texture.  Slowly add 1-2 tbsp of cold water, pulsing until the mixture starts to come together into large crumbs (you may find that you'll need to scrape the sides of the bowl).  Tip onto a work surface and bring together with your hands to form a disc-like shape.  Wrap tightly in clingfilm and refrigerate for 1 hour.
Preheat the oven to 220C/200C fan/Gas mark 6.  Lightly grease two 6-hole muffin tins and cut out 12 strips of baking parchment, each about 1 inch/2ch wide.  Roll out the pastry to the thickness of a pound coin.  Using a cutter or glass, about 9cm in diameter, stencil out 12 rounds.  Line the muffin tin with the strips of parchment, allowing for plenty of overhang.  Press the rounds of pastry in to the muffin holes and refrigerate for 20 mins. 
Prick the bases of the pastry with a fork and bake in the oven for 10 mins until just golden.  Meanwhile, whisk the eggs together with the cream and season generously.  Fold through the grated cheese and divide among the pastry cases.  Bake for a further 15 mins until golden and puffed up.
Allow to cool a little then use the parchment to lift the tartlets out to a wire rack.  Cool completely before decorating with sour cream, red onion, chives, dill and flowers.  Serve immediately.
If you liked this, indulge in Steffi's other dishes: Strawberry, Lemon and Elderflower pavlova traybake and Gravadlax salmon. Also check out the rest of our Midsommar series, including how to bring the art of Matlag to your table and creating a beautiful Midsommar floral crown.