Sweet Swedish Midsommar treats
Strawberry, lemon and elderflower pavlova traybake and cherry and rose lemonade
During Swedish Midsommar, a typical, go-to desert is always the timeless pavlova. Light, sweet, crunchy, the eternally popular pavlova never fails to finish off a meal with a smile. It's no wonder then, that it takes a key role in our Swedish Midsommar Series; a celebration of the floral and culinary wonders of the traditional Scandinavian festival to satisfy the modern British palate.
To develop the recipe, we worked with Swedish chef and stylist Steffi Knowles-Dellner to craft this guaranteed crowd pleaser. Try pairing the pavlova with cherry and rose lemonade (recipe also below) for that added touch of sweetness.
STRAWBERRY, LEMON AND ELDERFLOWER PAVLOVA TRAYBAKE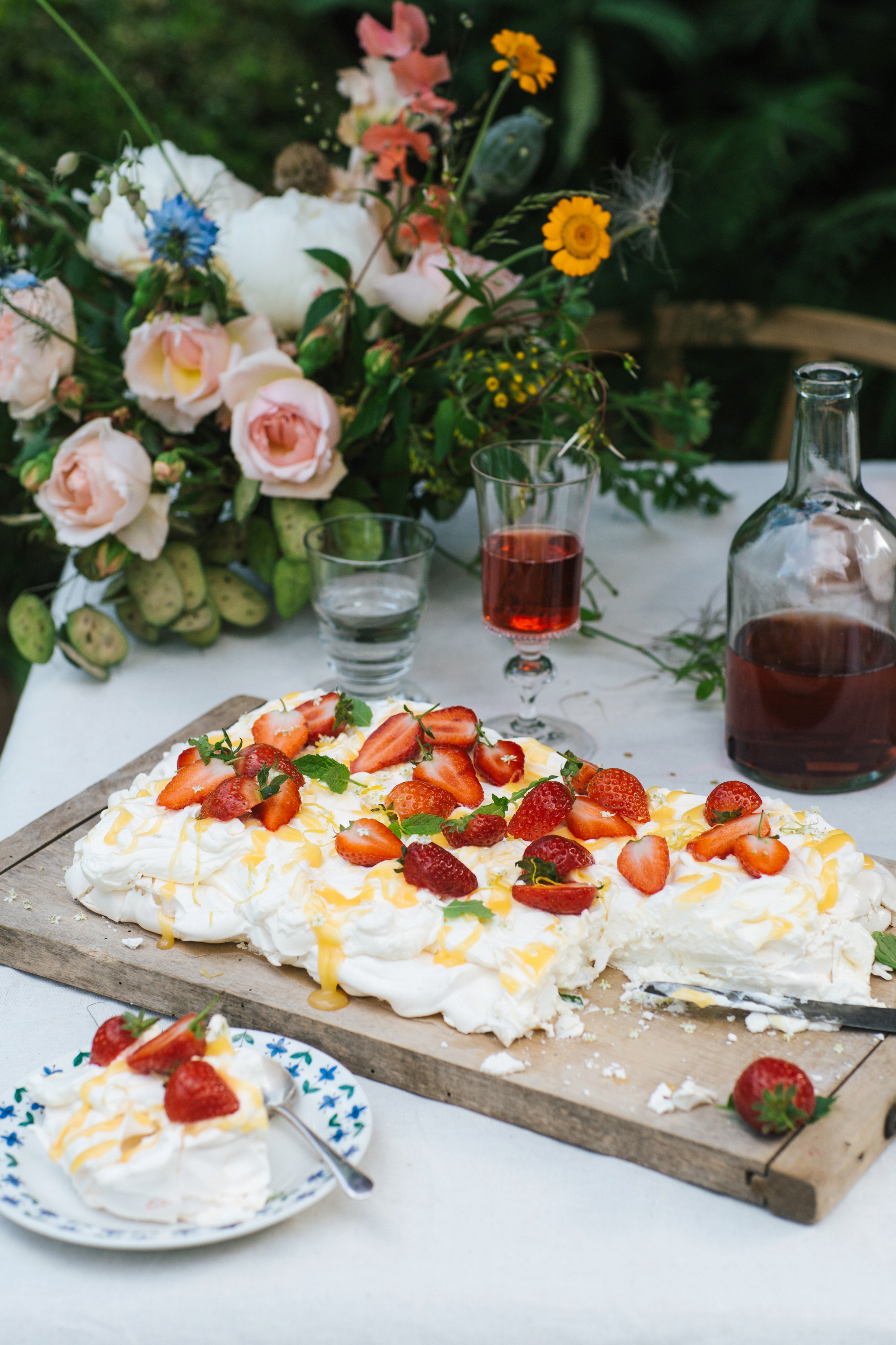 Prep:  30 mins    Cook: 1 hr
WHAT YOU NEED (SERVES 10):
5 large free-range egg whites, at room temperature
250g caster sugar
2 tsp cornflour
600ml pot double cream
300g Greek yoghurt
4 tbsp elderflower cordial (see recipe below)
2 lemons
1/2 jar lemon curd
1 punnet strawberries, chopped in half
Mint
Fresh elderflowers and edible pansies, to decorate
HOW TO MAKE IT:
Begin by making the meringue.  Preheat the oven to 140C/120C fan/Gas Mark 1 and line a large baking sheet with parchment.  In a large metal or ceramic bowl, whisk the egg whites until stiff peaks form.  Gradually add the sugar, 1 tbsp at a time, whisking all the while until thick, glossy and cloud-like.  Whisk in the cornflour and pile onto the baking sheet, creating soft swirls. 
Bake in the lower part of the oven for 1 hour until crisp to the touch and pulls away easily from the baking sheet.  Allow to cool completely.
Beat the cream until soft and pillowy.  Fold in the Greek yoghurt, elderflower cordial and the zest of 1 lemon before whisking for another 30 seconds.  Transfer the curd to a small bowl and add the juice of 1/2 a lemon to lighten to a drizzle-able consistency.
Pile the cream onto the meringue and swirl through the curd.  Top with strawberries then decorate with mint, pared lemon zest, elderflowers and pansies.  Serve immediately.
*ELDERFLOWER CORDIAL RECIPE
Prep 15 mins Cook 10 mins
WHAT YOU'LL NEED (MAKES 2 BOTTLES):
1kg granulated sugar
2 lemons, juice and zest
15-20 elderflower heads, stalks removed
HOW TO MAKE IT:
Place the sugar in a large pan and fill with 1L water.  Bring to a gentle simmer over a low heat, stirring to completely dissolve all the sugar.  Remove from the heat. 
Stir in the lemon juice, zest and elderflowers and allow to col.  Leave to stand for 2-3 days, stirring whenever you pass by. 
Strain and decant into sterilised bottles.  The cordial will keep in a cool dark place for up to a year.
CHERRY AND ROSE LEMONADE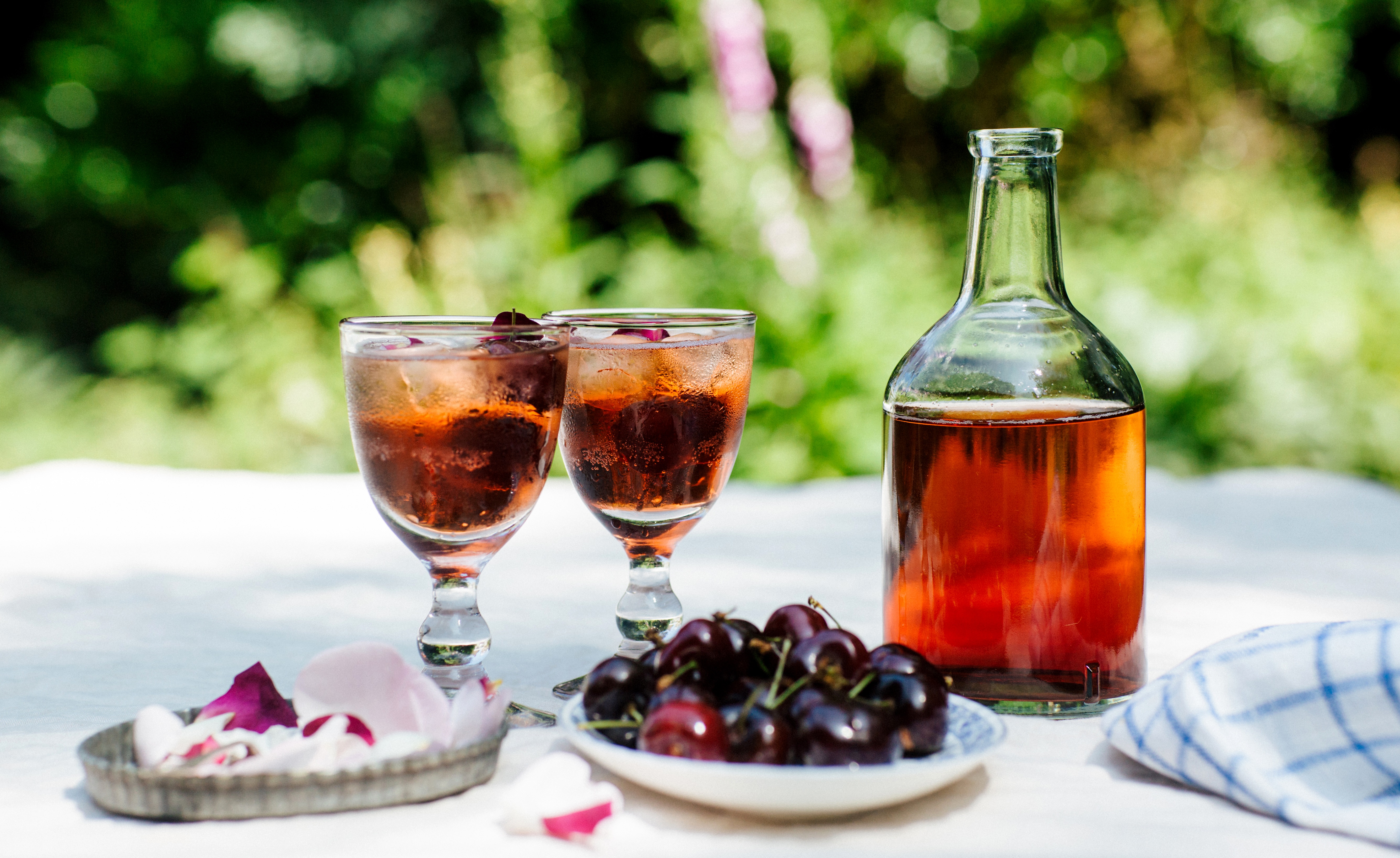 Prep 10 mins No Cook
WHAT YOU'LL NEED (SERVES 4):
1 tbsp concentrated cherry juice
1L bottle lemonade
1 tsp rose water
Fresh rose petals
Fresh cherries
HOW TO MAKE IT:
Chill 4 tumblers in the freezer. 
Fill a large jug with ice and add the cherry juice and lemonade, stirring gently. 
Add a few drops of rosewater to taste - too much can be overpowering.  Distribute between the chilled glasses and decorate with rose petals and cherries.
If you liked this, indulge in Steffi's other dishes: Gravadlax salmon with lemon and elderflower, pickled herring, Västerbotten cheese tartlets with wild garlic and chrysanthemum flowers. Also check out the rest of our Midsommar series, including how to bring the art of Matlag to your table and creating a beautiful Midsommar floral crown!
*One more thing: never tuck in to just any old (cut) flower or plant; only use edible flowers from specialist suppliers that have been grown for human consumption.