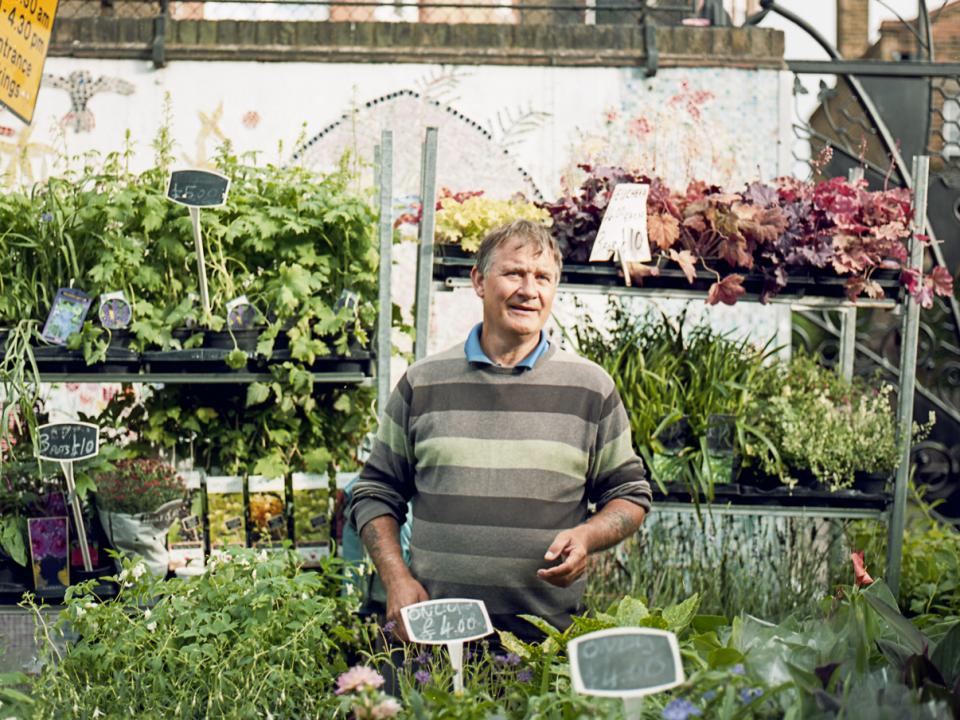 How long have you been selling at Columbia Road Flower Market?
Tony (above): I've been at this market for 50 years, I first came down here when I was 5 years old. I've been on my own stall every Sunday for 25 years now. I've only had 4 days off in the last 10 years.
Albert: My family have been here for 140 years and I've been here since I was 15.  My great grandfather Albert started it, then my great Grandad Albert, Grandad Albert, Dad Albert, and me, Albert. I imagine my daughter will go into it, or my son will go into it eventually with a bit of luck.
Dennis: I've been working at the Flower market 47 years. I started when I was 17 and I've worked for myself with a market stall since 1984.
Stephen: Well I've been here since I was a small child. This was my dad's pitch, so he had me down here when I was a little kid.
What is your daily routine?
Albert (above): We leave our yard in Hertfordshire at 3am in the morning, to get here for about 4am, and then I work until five in the afternoon. Long day.
David: I get to work at 3am, then we load the lorry and get here [Columbia Road] for about 4:30am – setup – done by 5:30am/6ish and then start trading.
What kind of flowers do you sell?
Tony: All sorts of plants nowadays. Years ago there used to be mainly things like wall flowers, bulbs and rose, but now plants come from all over the world and you can get a big selection of stuff.
Albert: It's all seasonal. At the moment, it's peonies, hydrangeas and now the sunflowers have started so we'll march on with them for a month or so.
What is your favourite flower?
David (above): My favourite flower is the Norma Jean Rose just because I love the smell.
Dennis: White flowers are probably my preferred. I don't like to mix flowers. If I'm going to take flowers home for my wife, I'll take white flowers.
Do you have any tips for selling flowers?
Albert: I do all the sales man banter. Not off the whim, I can't do it like that; I've got to have loads of people with £20 notes in their hand. As soon as I see the money, I start performing.
Stephen: I'm quite knowledgeable in horticulture so I can explain to them if they're asking questions on how to grow it. That's my speciality.
Dennis: I do, but if I told ya I'd have to have you locked up in the tower. They're trade secrets.
Is there a strong sense of community among the other traders?
Dennis (above): There really is. My cousins over there, my ex-wife is over there, my nephews still up there. We've grown up together.
Stephen: Yeah we tried to foster it. I get on with most of the shop owners. We try and help them out you know, leave them space.
What makes Columbia Road so special?
Albert: There's nowhere else in the country like it. You come down here and it's not just about the flowers. You've got all the bagel shops, the coffee shops, the jewellery shops, homemade perfume shops - you've got a bit for everyone.
Dennis: It's always busy, even if people aren't buying you see. I mean you got some nice little food places to go and eat, a nice lot of eclectic shops, so there is something for everybody.
What does Columbia Road mean to you?
Tony: Well it's been my life's living, as I only trade on Sunday and that's it. So that's been my whole life really, this market.
How do you think the market's changed over the years?
Stephen (above): There is more trade over the course of the year now, whereas years ago there was about 4 or 5 months of good trade.
Albert: A lot of new money has come in to London and made it a lot busier.  You haven't just got English, you've got people from all over the world in London now so as long as they keep coming we'll keep getting busier.
What do you see for the future of Columbia Road Flower Market?
Dennis: If the powers that be leave it alone and let it flourish the way it's going, it looks after itself and we know where we stand. We know what we do, there's no conflict.