You will need
Round sheets of rice paper

Cucumber cut into thin strips

Carrot cut into thin strips

Red pepper cut into thin strips

Glass noodles

Coriander

Mint

Beansprouts 

Tempeh

Little gem

Sesame seeds

Half a lemon 
How to make it
Step 1:
Make sure you've done all the preparation before you start rolling. Cut the cucumber, carrot and red pepper into thin strips. The coriander and mint finely chop. The glass noodles prepared in accordance with instructions on the packaging, the sesame seeds browned in a frying pan and the tempeh prepared as required.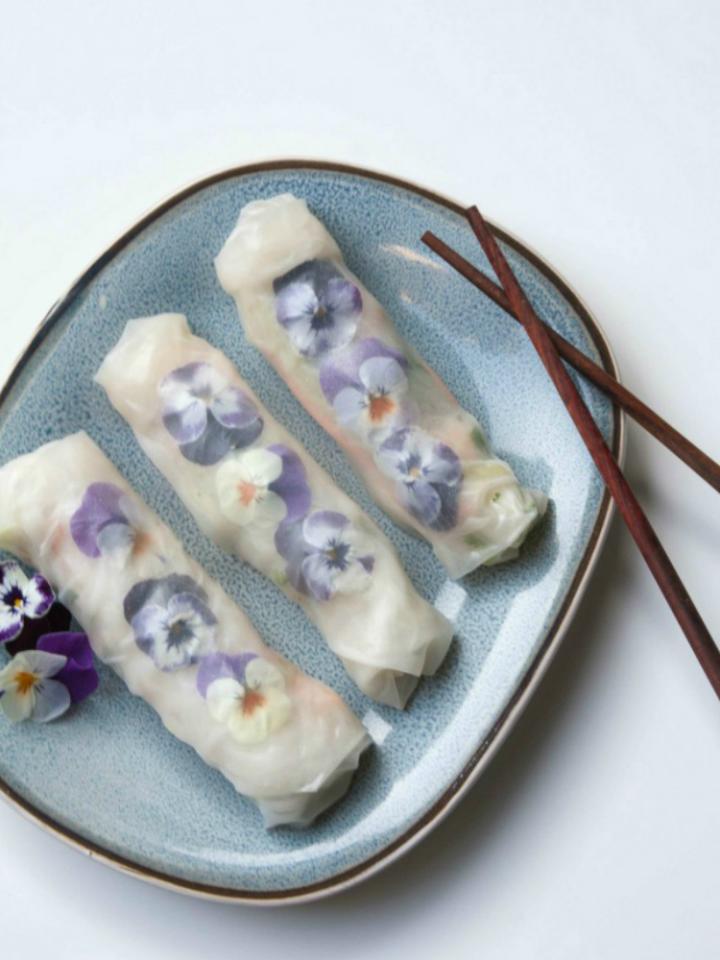 Step 2:
Now the real work can begin. Soak a round sheet of rice paper in hot water. Then place it on a clean surface for filling. Use a leaf of little gem as the base, and place a small quantity of all the ingredients on this lengthwise: cucumber, carrot, red pepper, glass noodles, bean sprouts, tempeh, coriander and mint. As the final ingredient add 2 to 3 edible flowers. Begonia lends a beautiful hint of acidity to your rolls, for example. Finish the summer roll with sesame seeds and sprinkle with lemon. 
Step 3:
With the right rolling technique you can stuff an awful lot into your summer roll while still keeping it firm, even after being dipped in the sauce. First flip one wide flap back, then fold the sides in. If you've done it right, you will notice that the roll is already sticking shut well. Hold the side firmly and fold over the other wide flap as tightly as possible in a rolling movement. 
Serve the summer rolls with a spicy peanut or teriyaki sauce. Get dipping!
* One more thing: never just bite into a (cut) flower or plant - only use edible flowers from specialist suppliers that have been specially grown for consumption.