Red velvet cake with red roses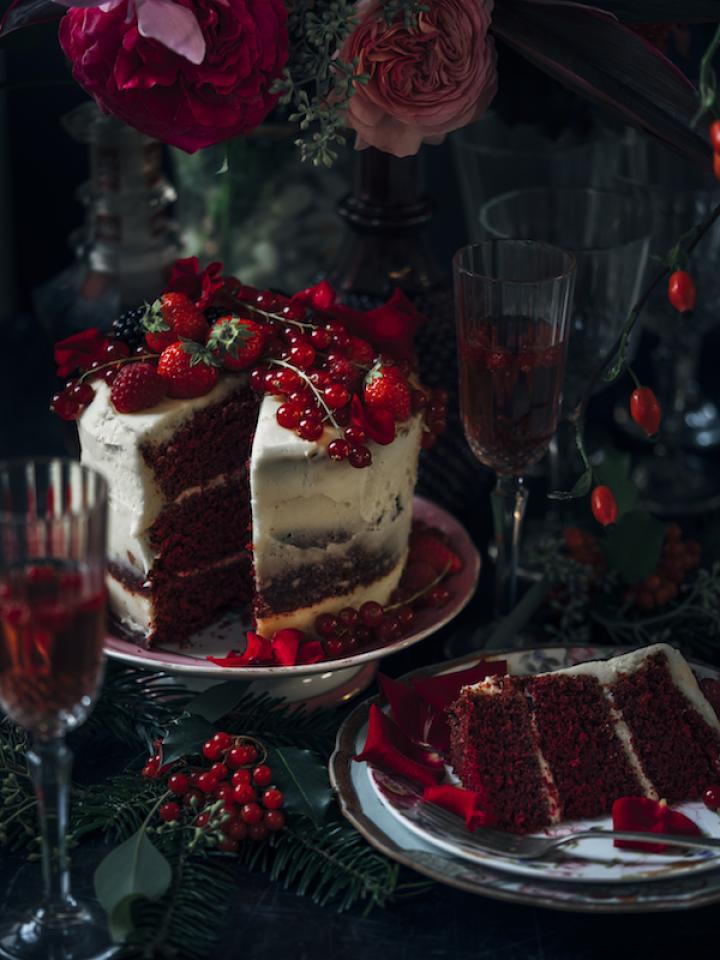 Not all of us are born domestic goddesses, so we've decided to help you out with recipe tips that will give your dinner the edge. For those of us who struggle through a Christmas pudding or slice of fruit cake, we suggest a luxurious Christmas dessert in the form of a festive-coloured red velvet cake. Decorate it with delicious red fruit and opulent red roses*, and it will be the bejewelled centrepiece of any dessert course.
YOU WILL NEED: (FOR 12 PORTIONS)
250 grams of butter
600 grams of sugar
375 grams of flour
250 ml buttermilk
6 eggs
1 teaspoon vanilla extract
1 teaspoon baking soda
1 tablespoon vinegar
3 tablespoons cocoa powder
2 tablespoons red food coloring
Salt
Red roses*
Red fruit
FOR THE ICING:
2 packs of cream cheese (200 grams each)
350 grams of white chocolate
250 grams of butter
HOW TO MAKE IT
STEP 1
Preparation is half the battle. Make sure the oven is preheated to 170°C. You can also grease three round baking tins, each 20 centimeters in diameter, and sprinkle with flour.
STEP 2
In a large bowl, beat the 250 grams of room temperature butter with the sugar until creamy. Then add the eggs one by one and beat well. Then, mix the food colouring with the cocoa and add to the mixture.
STEP 3
Add flour and buttermilk alternately to the bowl until combined, then vanilla and salt. When this is ready, you can mix the baking soda with vinegar and gently stir into the batter. You don't have to mix this much.
STEP 4
You can now divide the batter between the three baking tins and bake in the oven for 25 minutes. When they are nicely cooked, let them cool for a while. In the meantime, make the icing. 
STEP 5
Melt the white chocolate in a bain-marie and let it become lukewarm. In a large bowl, whip the cream cheese until fluffy and whisk in the chocolate and butter. When the whole mixture has a consistency of whipped cream, you can ice the top of cake and fill in between the layers. You can also apply some icing around the sides of the cake - unless you want a naked cake effect, of course!
STEP 6
For a luxurious and romantic finishing touch, add the red fruit and red roses. Drape the sweet fruit and floral petals until the cake exudes opulence. The red berries and red roses give your red velvet cake that romantic Christmas feeling.
A Christmas love potion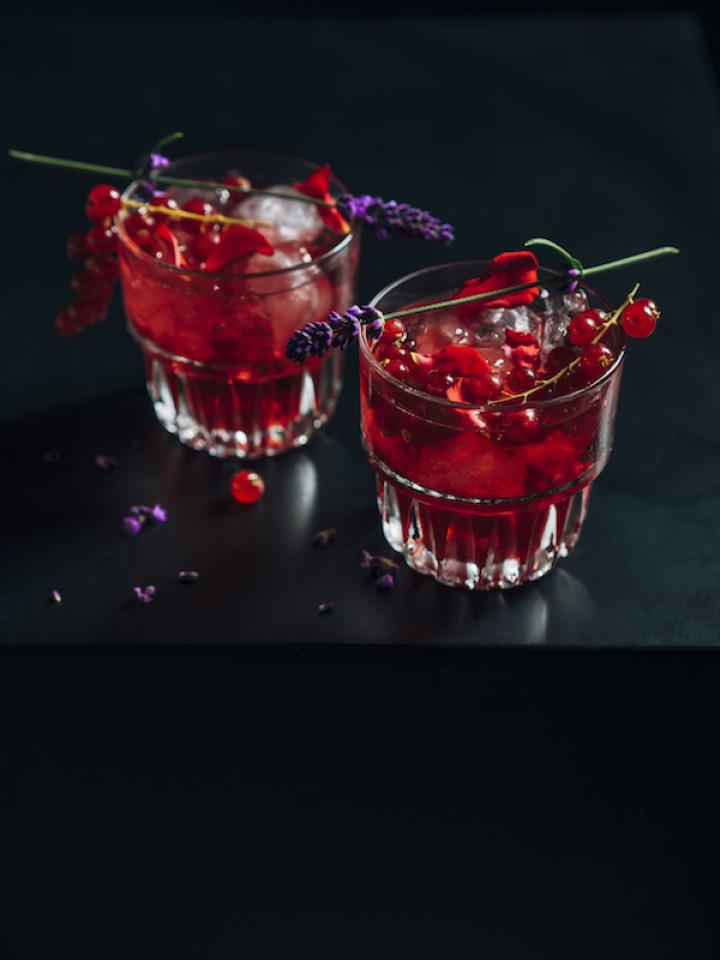 A cocktail will get even the most Scrooge-like amongst us feeling festive. This delicious version, made with gin, cranberry, lavender and rose petals* is a proper Christmas cracker. Serve it on Christmas Eve: the anecdotes and tall tales will soon be pouring out.
YOU WILL NEED
Gin
Cranberry juice
Lemon
Sparkling water
Lavender*
Redcurrant
Rose petals*
HOW TO MAKE IT
Fill a cocktail shaker with two parts gin, one part cranberry juice and one part lemon juice. Pull the fragrant flowers from a sprig of lavender and add it. Shake, shake, shake! Pour the cocktail into glasses filled with ice cubes, then top up with sparkling water. The love potions are finished with a sprig of lavender, red berries and/or rose petals. Now it's time for a toast: To a merry Christmas!
*One more thing: never just eat any old flower or plant; only use edible flowers from specialist suppliers that have been grown for human consumption.
MORE, MORE, MORE CHRISTMAS!
Are you all into the Christmas spirit and can't get enough? Check out our Christmas dossier with all the floral inspiration you could ever need, or get started with our DIYs. How about a garland with dried flowers, a colourful Christmas wreath or a Christmas tree with golden flower ornaments? Share all your floral Christmas creations with us via Instagram and Facebook using the hashtag #funnyhowflowerdothat, and check out our Christmas Pinterest board for even more Christmas inspiration.