you will need
A poetry album or a pretty notebook
Fresh flowers or petals, we used rose, ranunculus, dahlia and carnation
A thick book and tissue paper
Optional: a flower press
Use fresh flowers, preferably at the height of their bloom. If they come straight from your vase, ensure they're not damp. If you're looking to dry a flower with a thicker head, such as a sunflower, dry only the detached petals. The same applies to flowers with a thicker stem like a rose. You can also press grasses, leaves and herbs. With grasses, make sure you spread the stalks out well; this way they stick together less and dry faster.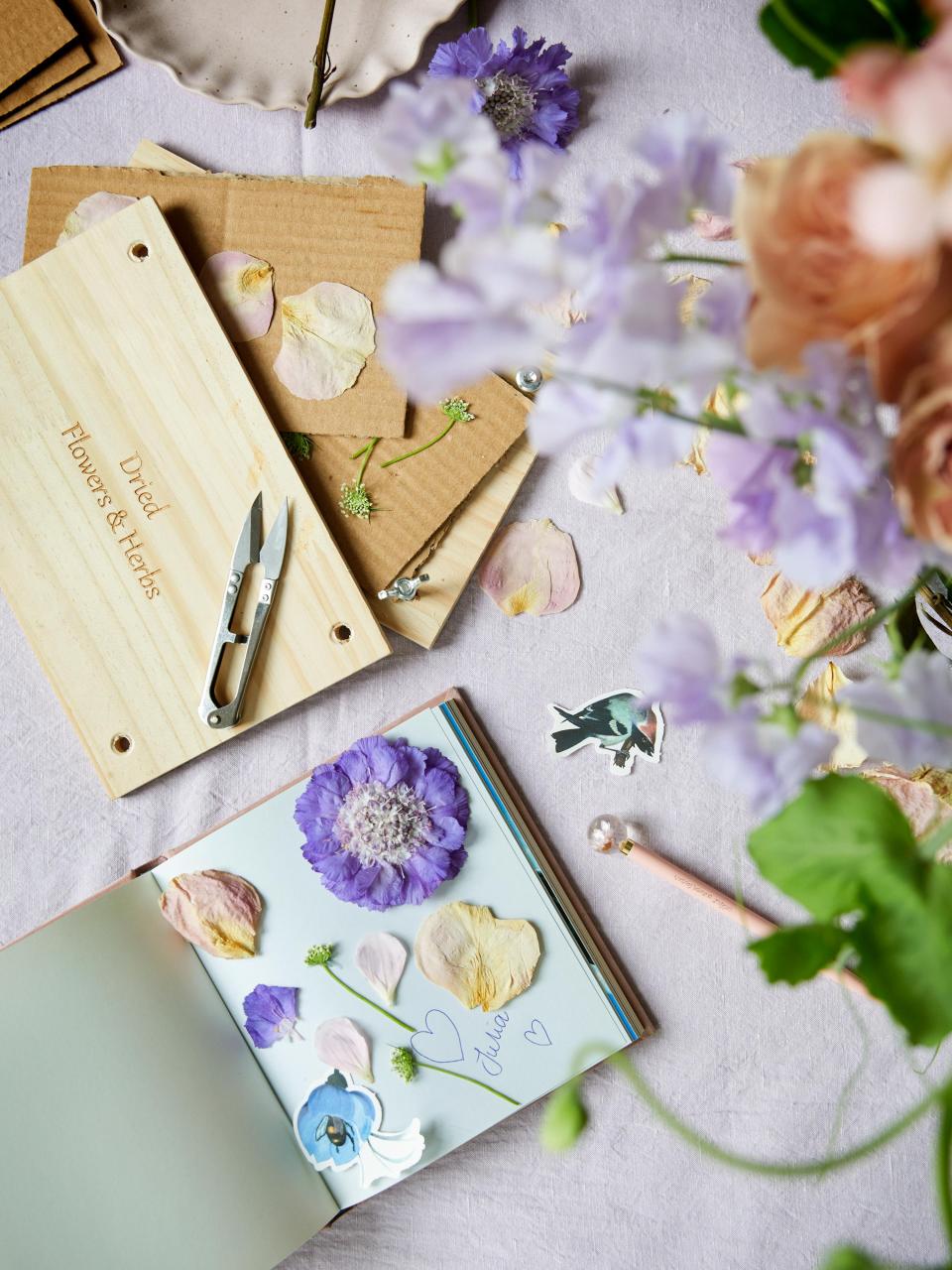 how to make it
Pressing flowers between the pages of a thick book is the easiest way. Do not use your favourite book as the moisture squeezed from the flowers may cause the pages to discolour and deform. Make sure the layer of pages between the flowers is at least half a centimetre, so don't overfill the book. You will get the best results if the pressure is distributed evenly. Place the flowers between paper that absorbs moisture, such as blotting paper (test it first by drawing on it with a marker - if the paper immediately absorbs the ink, it is suitable). Kitchen paper or paper handkerchiefs are less useful as the patterns of this paper leave an imprint in the flowers. Don't put too many flowers on a page to avoid mould.
You can also put your flowers in a flower press that you keep tightening, which will make them flatter than in a book. Place them between paper and cardboard in the press. The order of layers is cardboard, paper, flowers, paper, cardboard, paper, flowers et cetera - so you can make several layers. Flowers come out of the press as you lay them down, open or closed. You can experiment with this.
Flowers will dry in an average time of four weeks. Thinner flowers can be dry after two weeks, thick flowers sometimes need months. Do not open the press or your book in between or the colour of the flower may be partially lost and your flowers may shift.
COLLECT EVEN MORE MEMORIES
This DIY is bang on trend and in line with our current trend collection Collecting Memories. Want to know more? Read all about it here, or check out more inspiration such as this recipe for pickled cucumbers with dill.