To make: a living display case
Give your flowers and curios a fitting setting
You give them love and attention, a splash of water, some extra food, a few tender words. They've just arrived or have been there a while. You were given them by treasured friends or treated yourself because the petals were flirting with you. Flowers. In all shapes sizes colours and varieties. We love them, and we're not afraid to share that with you. Show them off in this display case, nice and high, surrounded by the best accessories. 
How to make the display case
You don't need very much. A jaunty pineapple (from the bromeliad family), hearts on a string, a couple of design books, plant spray and a nice cabinet. That's all! If you get tired of your display after a while, try mixing it up with dried leaves in attractive frames, a single flower in a vase or your favourite book.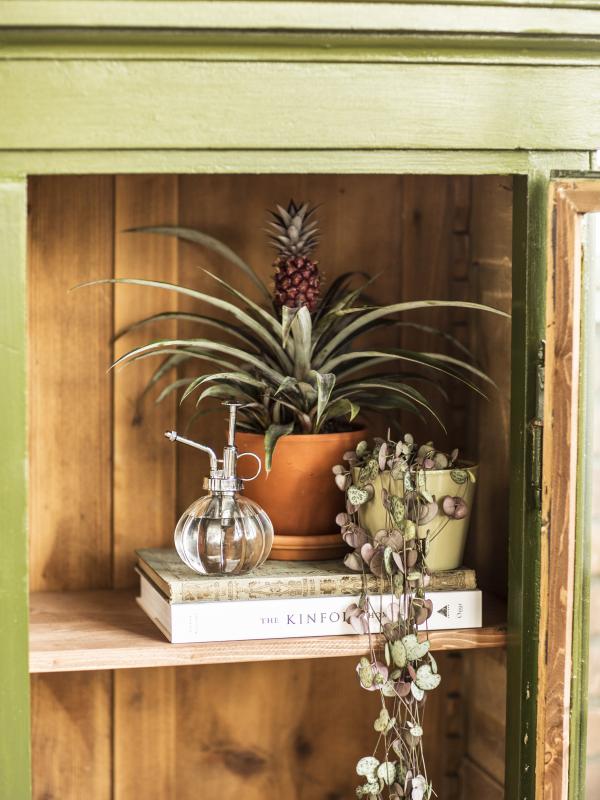 Combine opposites
Work with opposites to give a playful effect. Combine a mysterious, dark flower with a colourful collection of cheerful blooms. Marry a dried flower with a fresh bloom from the same species. Classic vase for a mini-bouquet? Opt for an attractive glass sprayer. Crisp books with modern covers? Place a dusty encyclopaedia alongside them. 
More tips for countering grey days
Share the finished product with us on Facebook or Instagram. We'd love to see it! Got the bug? Read how to make more unique DIYs for your cosy den here.