What you will need:
400 g full fat cream cheese

150 ml organic cream

150 g white fairtrade chocolate, finely chopped

Zest/juice of 2 organic lemons

2 vanilla pods (scraped)

3 free range eggs

60 g sugar

35 g sieved flour

Pinch of salt

75 g butter

1/2 packet of digestive biscuits in fine crumbs/powder

3 tbsp tried Chrysanthemum*

Fresh Garland Chrysanthemum* petals (approx. 40)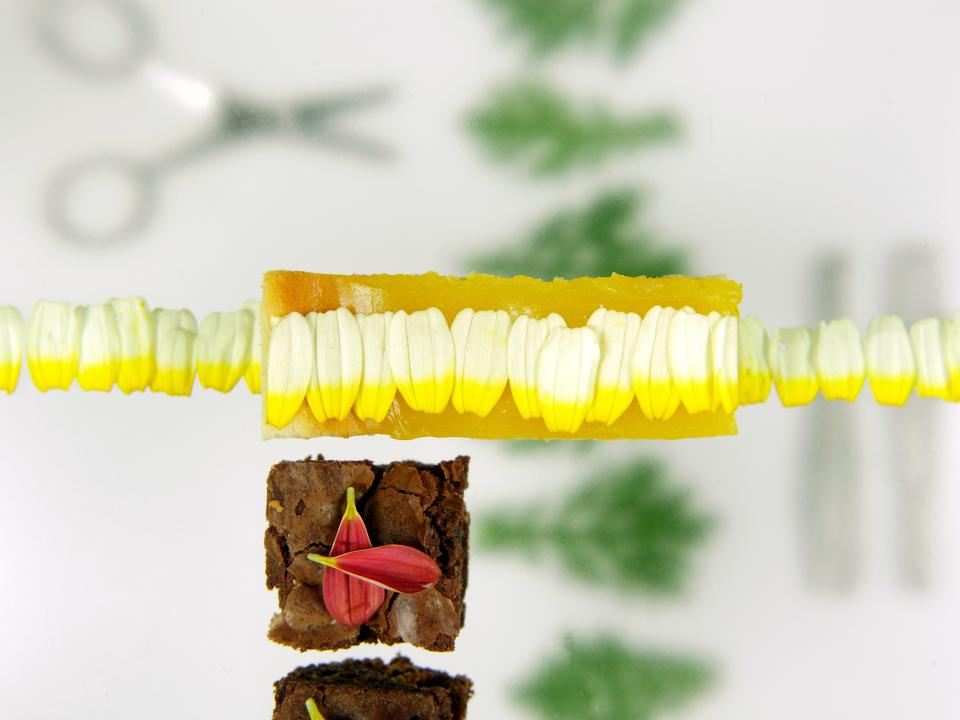 How to make
Grind up the biscuits in a food processor and mix with the melted butter to create a sticky 'sand'. Scrumple up a piece of baking parchment, and spread the mixture out in a round springform cake tin. Spread across the base and press down evenly and firmly. Heat the cream (do not boil) in a pan with the dry chrysanthemums, and leave to infuse for at least 15 minutes. Taste to check the flavour. Sieve the cream and return it to the pan. Gently reheat with the white chocolate until it's melted and smooth. Use a food mixer to beat the eggs with the sugar, scraped vanilla seeds, lemon juice and zest and a pinch of salt until airy. Next add the cream cheese, and mix thoroughly. Then add the white chocolate mixture and the fresh petals. Spread the mixture evenly over the springform cake tin with base. Bake the cheesecake in a preheated oven at 150° for about 45 minutes (and another 10 minutes if the middle is not yet firm). When the cheesecake has cooled, garnish it with extra fresh petals, and cut sharp points with a warm, clean knife.
* Dried and fresh chrysanthemums can most easily be obtained in September from the Chinese supermarket. Note: check with the store that the chrysanthemums are edible.