For the cake you will need:
250g flour

2 tsp baking powder

1 tsp ground cinnamon

1/2 tsp ground cloves

1 pinch vanilla pod seeds

1 pinch salt

2 large bananas

100g butter

175g dark brown sugar

2 eggs

125ml crème fraîche

70g coarsely chopped walnuts
And for the decoration:
icing sugar

Water

Cloves (5 to 10)

Dried banana chips

Walnuts

Figs

Borage and/or nasturtium
Preparation
Step 1. Preheat the oven to 180°C. Grease the cake tin and line with baking parchment.
Step 2. Sift the flour, baking powder, cinnamon, cloves and salt into a large bowl. Peel and mash the banana. Mix the butter, sugar and vanilla in a food processor for 20 seconds to produce an almost smooth mixture. Keep the food processor running and add the eggs and the crème fraîche one by one. Mix in the flour mixture.
Step 3. Mix the banana puree through the dough and add the coarsely chopped walnuts whilst stirring. Pour into the cake tin and bake for about 1 hour until golden brown and cooked through. Use a skewer to check whether it's fully cooked after 50 minutes. If it comes out clean, the cake is cooked. Leave to cool for 30 minutes, remove from the tin and leave to cool further on a rack for another hour.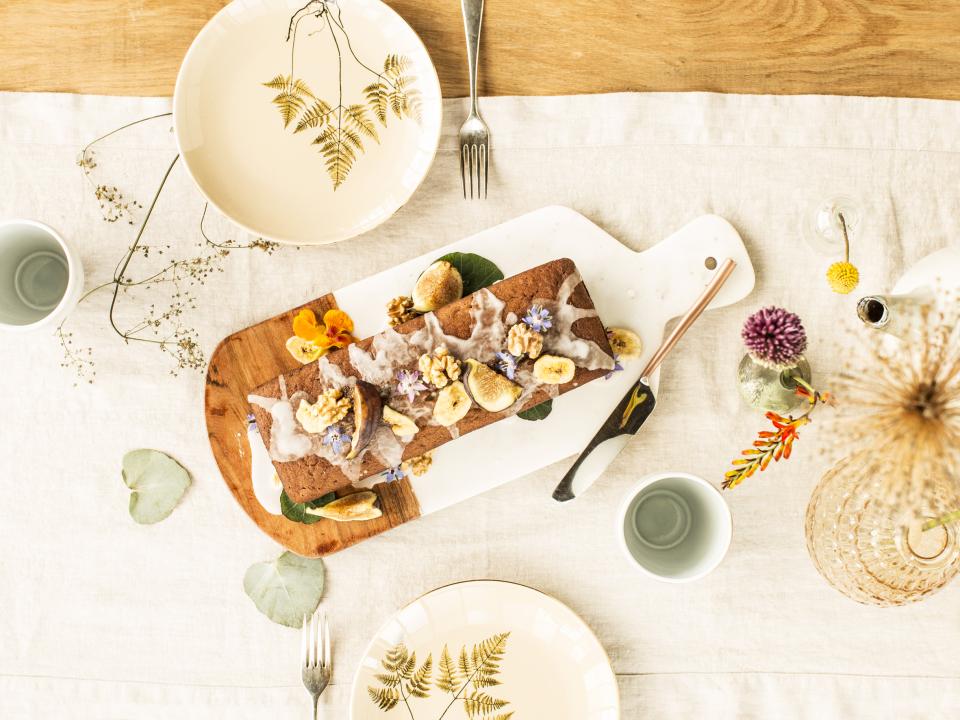 How to make the decoration
Step 1. Boil the water, pour it into a cup and add cloves. Leave to infuse thoroughly. Remove the cloves.
Step 2. Place the sifted icing sugar in a bowl and add the clove water bit by bit whilst stirring until you achieve the desired thickness. It should be runny but not too drippy.
Step 3. Poor spoonfuls of the mixture onto the cake. If necessary, help guide it in various directions so that it drips over the edges.
Step 4. Garnish as required with pieces of fig, banana chips, walnuts and edible flowers. Borage taste delicious with the cloves, and nasturtium's spicy freshness brings a touch of excitement to the dish. It will be around for a while longer this year due to the unusual weather conditions but if you're unable to source any borage, scatter lots of tasty nasturtiums across the cake instead. 
Enjoy!