You will need:
• Allium
• Fern
• Verona Vein (Parthenocissus striata)
• Daffodils
• PVA glue
• Hard-boiled eggs
• Brush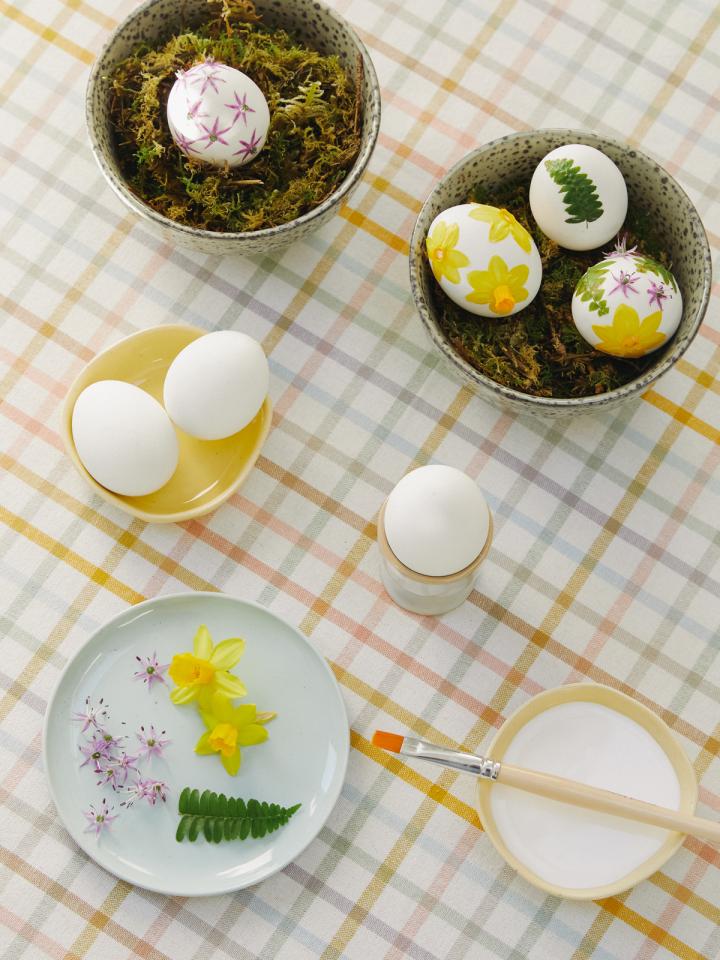 Get to work
There are two ways to prepare the egg so that it's hard enough to work with. The first option is to boil it for 12 minutes, then leave to cool completely. The other option is to make holes with a needle in the top and bottom of the egg, and blow out the raw insides. You can then use the egg for scrambled egg, omelette, or an Easter cake. Rinse the egg and coat it with PVA glue two or three times to harden the shell, leaving it to dry in between coats. Readying the egg in this way also means your decoration will last longer.
Select the flower or leaf that you want to use to decorate the egg. Delicate flowers are easier to work with and give the most attractive result.
Apply a coating of glue to the part of the egg that you want to decorate. Carefully place the flower or the leaf on the sticky part and, once it's in place, brush the flower with some glue so that it's firmly secured. The PVA glue will become transparent when it dries, leaving a shiny, glossy egg decoration.
MORE EASTER INSPIRATION
Are you ready to turn your Easter into a floral party? Check out our other DIYs and make some floral Fabergé Easter eggs, delicate eggshell vases or floral bunny ears, or take a look at our Easter dossier for more tips. Share your Easter creations with us on Instagram and Facebook with the hashtag #funnyhowflowersdothat.