What you need
Wool (100% wool and unprocessed). The rougher and thinner the wool, the better it will absorb colour.

Enzyme-free washing-up liquid 

Alum (is used to stop bleeding from shaving cuts)

Glass jar 

Pan

Wooden spoon 
How to make it:
Step 1
If your wool is in a ball, it's a good idea to wind it afresh, e.g. around a chair. That helps ensure that the dye takes everywhere, and that the wool doesn't get knotted. Don't forget to secure the wool loosely in place with a couple of pieces of string. 
Step 2
Now we're going to wash the wool. This might seem like an unnecessary task, but needs to be done to make sure that the dye adheres well. Make a bath with hot tap water and a little bit of enzyme-free soap, such as Sunlight soap. Don't stir or knead too much, it will cause the wool to become matted. Leave to soak for half an hour to an hour. Then rinse the wool in warm water.
Sep 3
It's time to pre-treat the wool. This opens up the fibres so that the dye is absorbed well and the colour will remain good even after many washes. You use alum for this. Use 15 grams of alum per 100 grams. Fill a glass jar with enough boiling water to cover your wool. Dissolve the alum in the water, and immerse the wool. Put a lid on the glass jar, and make sure that it remains hot for the next hour.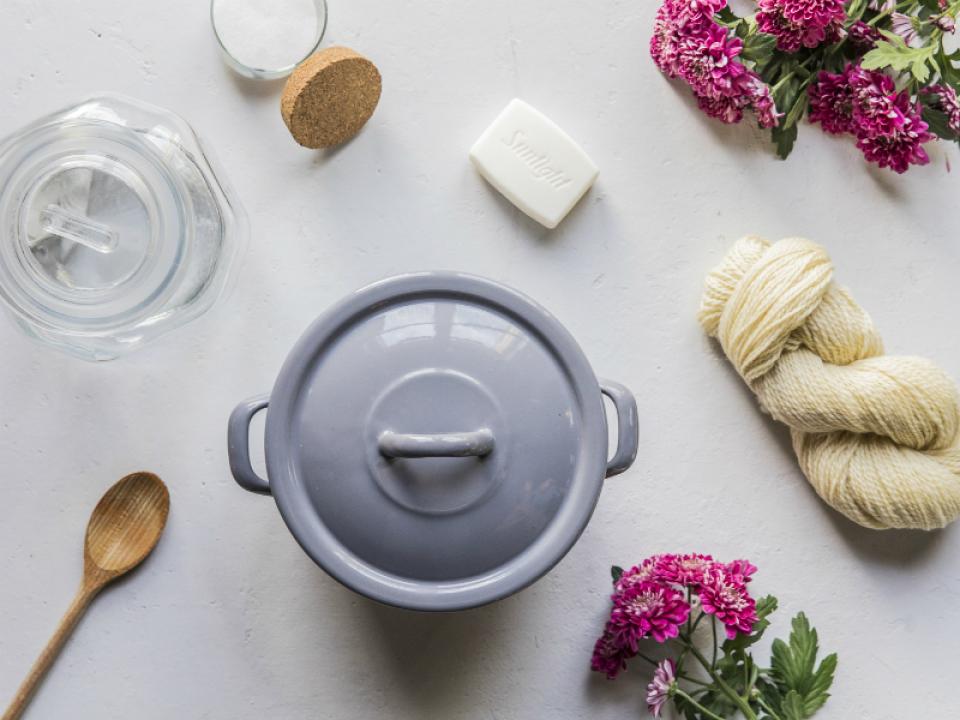 Step 4
Meanwhile, make the dye. First a quick calculation: you need approximately 3x as many grams of chrysanthemums as wool. So for 100 grams of wool you need 300 grams of chrysanthemums. Please note, you will only be using the petals, so not the heart or the stem. Place the petals in a pan of water, and leave to simmer for an hour. It's okay for the water to boil.
Step 5
After soaking in alum for an hour, remove the wool from the glass jar and rinse carefully with warm water. Place it on a clean surface until the dye is ready. Once the chrysanthemum petals have cooked for an hour, sieve out the residue. The coloured water that you capture is your dye.
Step 6
Place the wool in the dye water, and leave to simmer for an hour again, preferably at 90°. After an hour, your wool will be coloured. Rinse the wool with warm water and leave to dry. All done!
Handy to know 
How the colour turns out depends on the colour of the flower, the type of flower, the type of wool and the ripeness of the flower. So purple chrysanthemums might produce amazing green wool! 
Credits: Pan, spatulas, jar: Dille en Kamille.