UNUSUAL BOUQUETS
"Do you know why I like using blue in my work? Because it's a colour that's not common in nature. Blue flowers stand out and cause people to question what they're seeing. I like that." You may find Jefferson's bouquets beautiful, ugly, daring or provocative, but there certainly unusual and surprising. Jefferson consciously opts for this artificial, unconventional style. He wants to present a different idea of beauty: an idea the collides with existing views about 'a beautiful bouquet'. "Classic bouquets have been around for such a long time. The same flowers, colours and combinations have been used for years, and the idea of beauty has remained unchanged. I think it's time to challenge that existing aesthetic and update our view of flowers."
Blue flowers stand out and cause people to question what they're seeing. I like that.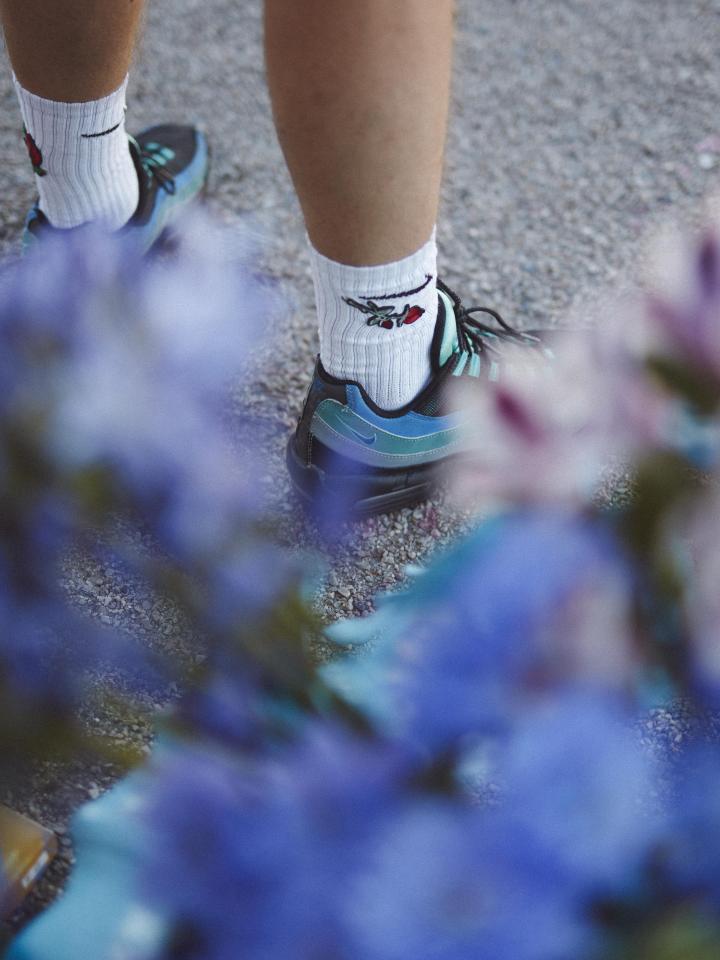 SPECIAL PATTERNS
Jefferson's bouquets contain a lot of anthuriums and carnations. That's no coincidence: "Those two flowers are very suitable for transforming. You can paint them, tattoo them, mark them up: really I can do anything with them I want." Jefferson changes the flowers' colour or decorates the leaves with unusual patterns, colour transitions and markings. But there is another reason why Jefferson likes working with carnations. The flower's history fits very well with his ambition to update the world of flowers: "Carnations had a poor image in France for a long time. Now they're highly appreciated again, and you can find them in all colours at every florist. That's a good thing: not just because the carnation is a beautiful flower, but also because the reviving interest shows that there is need for a fresh perspective on flowers."
A new, less classic perspective on flowers is becoming popular. That's a good thing.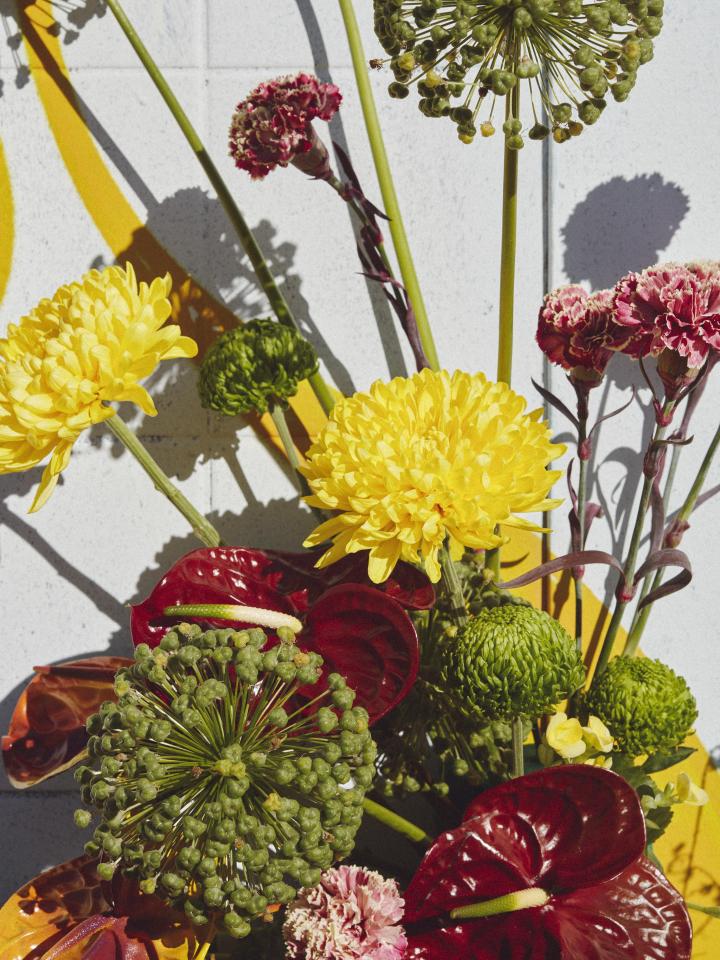 SOMETHING MORE POWERFUL
Where does Jefferson's passion come from? The turning point was during Paris Fashion Week. "I was working for a florist at this event. We had made hundreds of bouquets for the Fashion Week that were all white or monochrome. During the event I noticed immediately that people were no longer seeing the bouquets. They were no longer being appreciated, because they were not noticeable. Something snapped inside me. It was important to me that people really saw flowers. That they felt that the flowers were different, whether it suited their taste or not. I realised that I didn't belong in a scene where flowers had become secondary. I wanted something more powerful. And so I decided to start creating flowers that shock. In order to make them stand out again."
I realised that I didn't belong in the classic flower scene. I wanted something more powerful.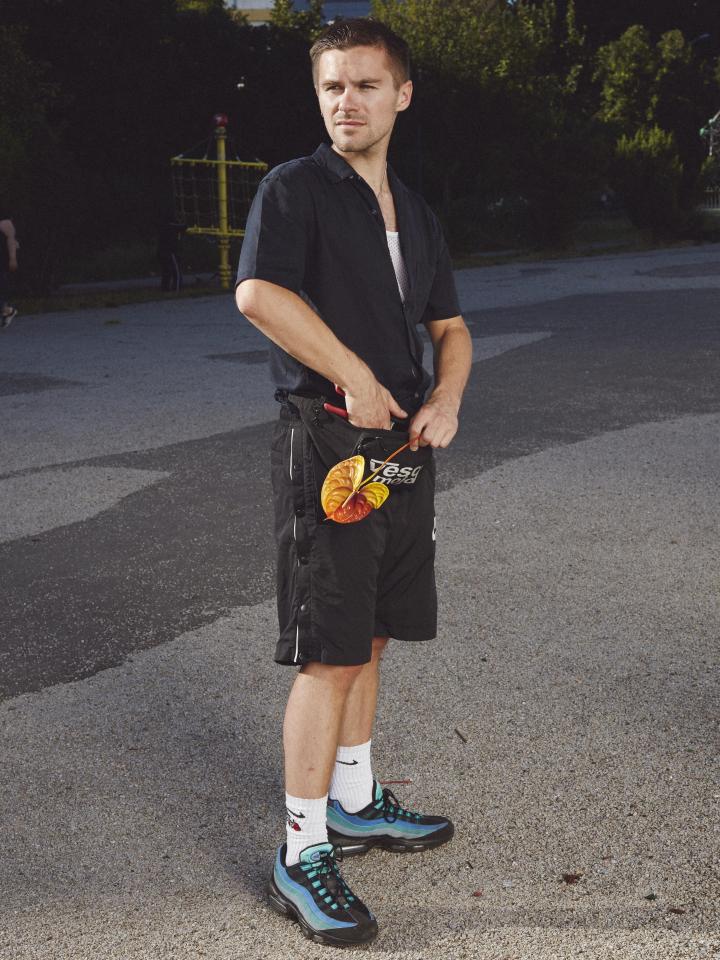 STREET-ART
Jefferson does not work from a studio. He prefers to work in abandoned places in the outer suburbs of Paris like Montreuil. "These places are seen and appreciated less, despite the fact that there are very interesting things happening here. For me they therefore have more character than - for example - a Haussmann-style apartment in the heart of Paris. Nobody expects to see flowers here. By working in these places, I try to show that these locations can also be beautiful. I am thereby trying to change our view of these abandoned places." There is a lot of street art in the outer suburbs. The colours, shapes and combinations in those artworks provide Jefferson with many ideas. "They've also help me to open myself up to other cultures and forms of expression. They have encouraged me to push boundaries and try new things."
Street art help me to open myself up to other cultures and forms of expression.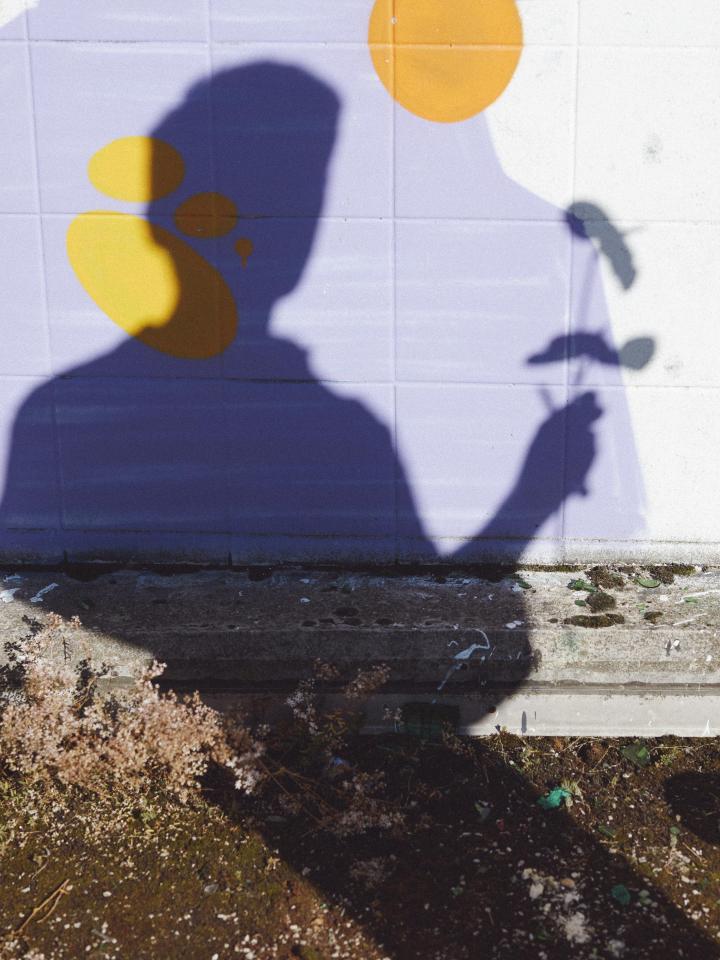 SHARING EXPERIENCES
Jefferson frequently collaborates with young designers, photographers and fashion houses. He sees that they are working with florists more often and want to differentiate themselves from big designers and artists. "I find that interesting. I recognise myself in their ambition. So I enjoy mixing with these creative professions, in order to collaborate and share experiences." Jefferson therefore prefers projects in which he can combine various types of craftsmanship. "For example, I recently produced a series of photos for a magazine with three other people from different inventive professions. The end-result was a photo series in which flowers and photography came together very naturally. It resulted in a powerful, innovative and surprising photo series. That was really cool, but I could never have achieved that result of my own. Everyone really contributed on the basis of their own profession and ideas. That showed me how valuable collaborations are."
I enjoy mixing with other creative professions in order to collaborate and share experiences.
BOOST
"Because I collaborate with others, use materials that do not form part of the florist's profession and don't work from a studio, people sometimes call me an artist. I struggle with that. Picasso was an artist - I'm just a florist who works in a different way than traditional florists. And there are more florists like me. Together we are trying to reinvigorate the traditional French world of flowers. Because although flowers are becoming more popular nowadays in fashion and magazines, their use does remain very carefully considered and safe. Few risks are being taken. I think that's a shame, particular because I know what sort of great things are possible. Luckily an original movement has developed in Paris that wants to break through these traditional ideas. I'm trying to give that movement a boost with my work."
MORE STORIES
Want to read other stories about the new generation of Parisian florists? Then take a look at the interview with Nue Paris.