Mathilde Karrèr: still-lives with a beating floral heart
Photographs filled with flowers
Mathilde Karrèr does not like to sit still. If she's not taking photographs she's directing, flower-arranging or learning something new. Yet this talented woman prefers to describe herself simply as a still-life photographer - although her extensive use of flowers does raise the question of whether she would secretly not rather have been a florist. We asked her during a lengthy interview in Rotterdam.
The investigator
Some people can spot a clear signature style in Mathilde' photographic work. But she's not consciously striving for that. She creates what she feels like making, and if that's something she can't do, she practices until she can do it. Her work ranges from still-lives inspired by the 17th century to hypnotic mash-ups and cinematic beauty shoots. So we can certainly call her work 'eclectic'. "I find it funny that people can see a line running through my work. Because I particularly strive to create different things," explains Mathilde. "That's partly because I have a short attention span, and also because I want to keep developing myself; I want to carry on investigating and get better at what I do."
The three elements
But you can still see similarities in Mathilde's images. The colours, the composition and the flowers are recognisable, and reveal the photographer's favoured style. That's because Mathilde seeks out the same basic elements in every picture: technique, emotion and something organic. "I think it's important that there is a balance between those three elements. And that they reinforce one another. Suppose that I have to photograph a perfume bottle for a commercial assignment: I'll look for something soft that contrasts with the glass and something organic that can reflect the fragrance and feeling of the perfume. I almost always use a flower for that."
'My photos need to be balanced'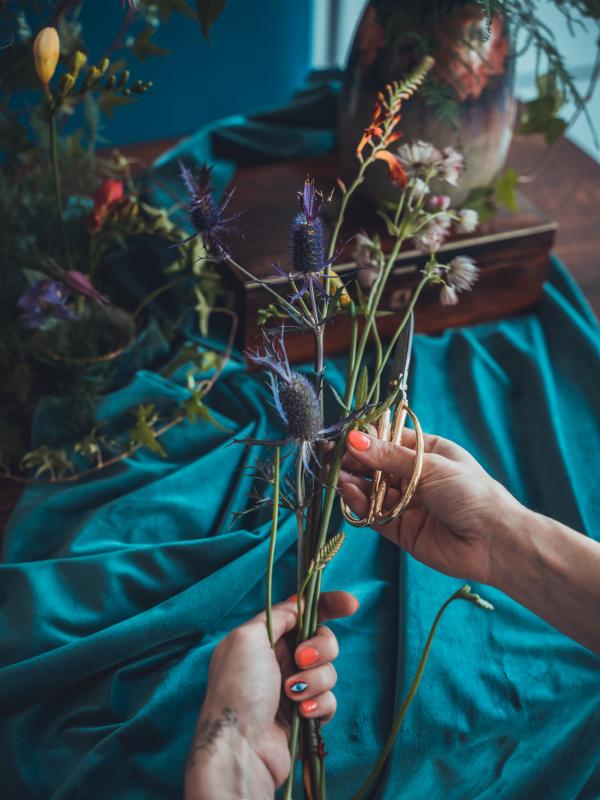 Everything must be right
When Matilda is producing still-lives for herself she always starts with the flower. She doesn't have a favourite flower, but it does need to be in season. She then decides what stories she wants to tell with the flower, and investigates which elements and colours fit well with that. She often allows herself to be led by the shape of the flower. All the details need to be right, otherwise the overall picture doesn't work. She get inspiration from films, work by Dutch Old Masters, or from her own possessions that she has collected over the years with the idea that they could feature in one of her images one day. When she's found all the elements, she arranges the flowers into a floral artwork, fiddles with the colour combinations and adds some props here and there until an image appears that she's satisfied with.
Flowers have a mind of their own
As she works Mathilde is constantly engaged in a dialogue with herself and the composition that is developing in front of her: "I keep asking myself: is it heading in the right direction? Does the result match how I pictured it, or does the piece need something else? That conversation goes on all the time. Flowers do make that dialogue challenging, because they don't always listen. While I'm taking my time the flowers start to droop and shift at a certain moment. That makes the piece look different than I had conceived. Sometimes I think 'oh, that's lovely - I'll use that'. Sometimes it means I get stuck. But often when I see the image again later, I am still happily surprised by the result."
'When I create a still-life, I'm constantly in conversation with the flowers'
Wilful artist
She has such a clear picture in her head of what the image should look like that Matilda decided to start directing, styling and executing the work herself. She has always had that desire to do her own thing, which meant that studying at art school was ultimately doomed. Mathilde says: "My parents are both artists. As a child, they taught me to think about colour and composition, and particularly to keep developing myself. That meant that I started at art school with a lot of basic knowledge, but I was also quite wilful. I thought I knew better, and I didn't think that I could grow within the confines of an art school. So I dropped out of that course."
Finally persuaded
Whilst photographing Mathilde discovered how much she likes working with flowers. From time to time she questioned whether she was allowed to do that: after all, she's a photographer and not a florist. The floral artists that she met as the director on Exposé finally managed to persuade her: "I constantly notice how driven and searching they are. They often just do something and see how it turns out. Their perseverance has inspired me enormously to start working with flowers. So I taught myself flower-arranging, and started experimenting with flowers in my photography. I noticed that my arrangements were getting increasingly better, and I am now being approached more and more often to make such work to order."
'For a long time I thought I wasn't allowed to work with flowers'
Looking for new adventure
Such a passion for flowers, yet Mathilde never wanted to become a florist. She makes things that she wants to keep, and that ambition doesn't fit with the work of a florist. But with a camera it is possible. Mathilde says: "When people ask me what I actually do, I reply that I'm still-life photographer. I think it's good to give yourself a title. I enjoy investigating things myself, trying things out and remaining open to new ideas. That's why I'm now also expanding into other visual areas such as beauty, film and fashion. These environments are very aesthetic, and it's giving me a whole new energy. Luckily I can combine them successfully with flowers, otherwise I don't think I would enjoy them as much."
More Mathilde