Recipe: snack & drink for movie night
Food and drink & North America
Is there anything more American than a Fifties diner with red leather seats, black and white checked floors, neon lights on the roof and sweet and savoury treats? You might not be able to make a trip to an American diner like that, but for your next film night with your beloved or a great movie marathon with friends you can line up some classic diner drinks and snacks, but with a botanical twist: popcorn with carnations and lavender milkshakes. Perfect for enjoying your favourite Hollywood blockbuster!
You will need for the milkshake
1½ cup (almond/soya) milk

1 tbsp dried lavender flowers*

6-8 scoops of vanilla, blueberry or lavender ice cream

Ice cubes (handful)

Optional: fresh or frozen blueberries

Optional: maple syrup

Optional: vanilla seeds or extract

Optional: whipped cream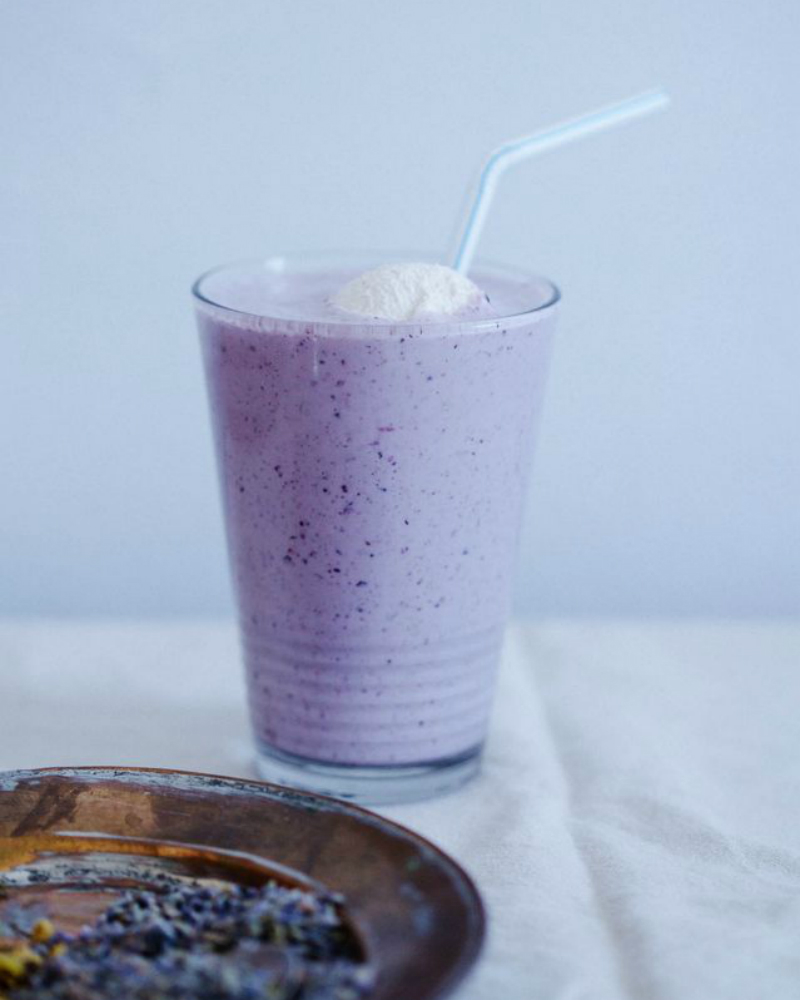 golubkakitchen.com
How to make it
Place the milk and the lavender flowers in a small pan and briefly bring to the boil. Leave to cool down, sieve the milk and leave to cool further in the fridge. Then place all ingredients in the blender, and blend until you achieve a smooth texture. Add the maple syrup, vanilla and blueberries to taste. 
The milkshake should obviously be served in a large glass, possibly with whipped cream, but definitely with a straw. Cheers!
You will need for the popcorn
Prepared popcorn
12 grams frozen strawberries
1/4  cup of icing sugar
A handful of edible flowers* such as pink carnations
feastingonfruit.com
How to make it
Prepare the popcorn in your usual way. If you want to be super lazy, buy a ready-made bag of popcorn or microwave popcorn. Chop the strawberries as finely as possible in a blender and add the icing sugar. Sprinkle over the popcorn. Add the edible carnations as a topping. How sweet does that look?! Trust us, that bowl will be empty before the film has even started.
---
* One more thing: never just bite into a plant or (cut) flower - only use edible flowers from specialist suppliers that have been specially grown for consumption.
We've got our inspiration for these recipe from golubkakitchen.com and recipe-roadtest.com.