Dahlia season
The petals of dahlia unfurl in all their glory from August to the end of October. Colours range from white to pale yellow, salmon pink, orange, purple, red, bright pink, claret or pillar box red. Some varieties effortlessly combine different shades in their petals and others even have stripes or spots. As for shapes, there are plenty to choose from: round like a ball, open like a star, or gently ragged. Just like you and your partner, it'll be love at first sight.
Indian summer wedding bouquet
Dahlias are must at a wedding in late summer or early autumn, the so-called 'Indian summer' where days stretch long and evenings surprise with their warm temperatures. A solo dahlia works well as a feature in a mixed bouquet, or combine various shapes and colours to really make the most of dahila season. Supplement with astilbe or yarrow to create a big bunch of statement flowers to carry on your wedding day. When it comes to decoration, a simply-furnished room and naked wedding cake are transformed with the addition of dahlias. Use the flower as a place setting, hang them from chairs, and even have them crown the cake (make sure the latter are grown as an edible variety).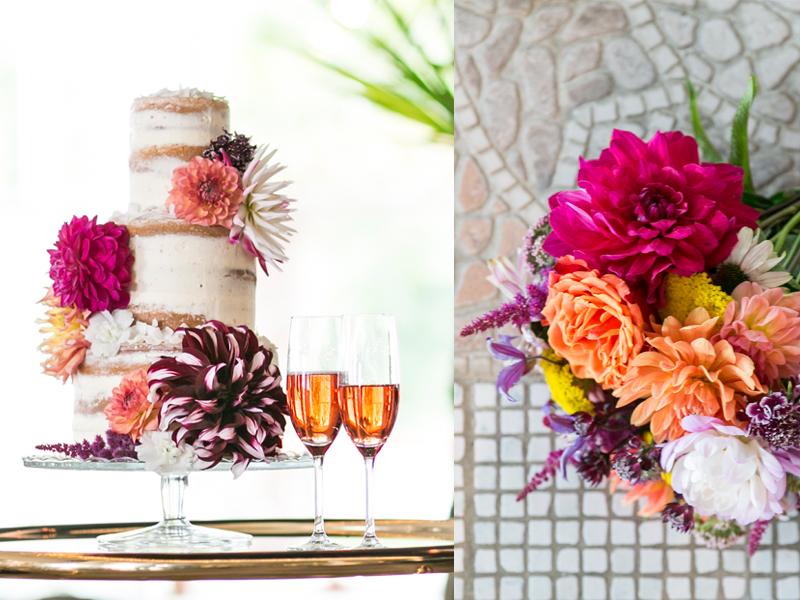 The perfect meaning for weddings
Not only does the dahlia look beautiful, the flower also has a meaning that makes it perfect for weddings, as it symbolises 'forever yours'. It's particularly fitting on a day filled with rituals and symbols, with rings that represent an endless bond and confetti thrown to wish the happy couple good fortune. The flowers help you say what your heart knows it feels.
More inspiration
If you're looking for more inspiration, we've gathered together various wedding flowers, bouquets and styles for you on our Weddings Pinterest board, or check our Instagram and Facebook pages using the hashtag #funnyhowflowersdothat.