The ultimate summer tablescape
Florals make the perfect table dressing
With summer well on its way, we've got the drinks on ice as we fill up our diaries with a host of stylish soirees that make the most of our favourite season. Whether we're organising a wedding party, birthday bash or a casual gathering with friends, this summer we're upping our table game with creative floral arrangements and centre-pieces to match the hottest design trends.
Fashionable dressing 
Gelato colours are a huge trend in both interiors and fashion this season. From the SS18 catwalks of Celine and Hermes, ice-cream hues are the cool new colour scheme, with a mix and match of pastel colours creating a soft but striking finish. So adorn your table with a statement centrepiece using beautiful pale yellow peonies, pastel pink Rose vuvuzelas and sprinklings of blush Sweet Peas for an Insta-worthy moment from the off. Be playful with your centrepieces with these cheerful colours cavorting in loose, wild arrangements. Introduce a touch of whimsy with Sweet Peas and Astilbes amongst the classic structures for an effortless arrangement that is sure to impress your guests.

It's not just about abundant centre-pieces, so add a small cluster of lower-lying flowers in delicate jars to mix up the height. Keep consistent with the pastel palette with blush pink Daucus Carota and nestle the dainty Scabiosa Pods in between for a touch of texture and originality.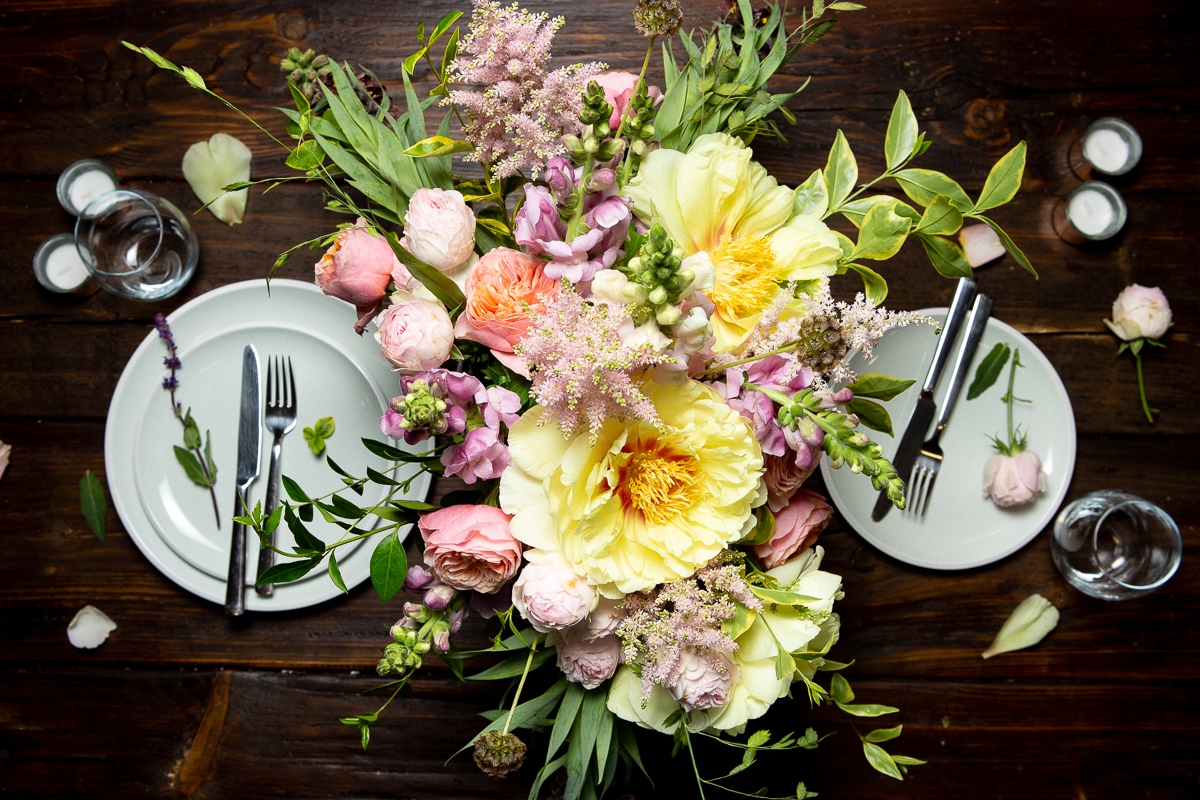 Pretty plates
Keep your crockery neutral with all-over colours, only adding a small pop of patterns in the side bowls to create an alluring table scene. For the ultimate attention to detail, take a loose Anthirrinum stem strewn across the plate and drop delicate rose petals across the table for the little touches that matter.*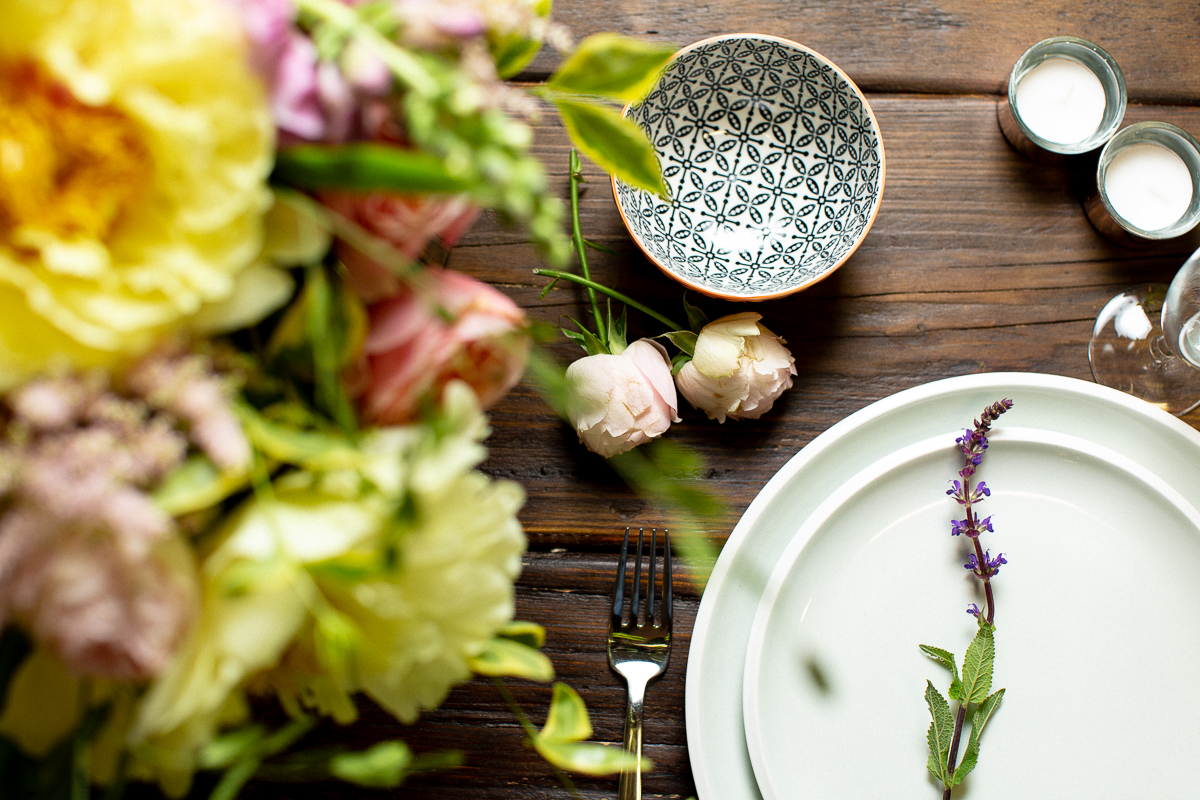 The ultimate floral shopping basket:
Pale yellow Peonies

Rose Vuvuzela

Astilbe

Fritallaria

Sweet Pea

Spray Rose (Pink and Silver Lace)

Anthirrinum

Scabiosa Pods

Daucus Carota

Green Lisianthus

Ornithogalum
The killer centrepiece
Hoxton floral and botanical design studio, That Flower Shop, shared their top tips for creating the ultimate bouqet banquet: "When deciding on colours you'd like to work with focus on a colour wheel; hot tones such as oranges, pink and yellows or cool tones such a blues purples and greens and intersperse this with a neutral white or green element. To create a display with movement and depth, use a varied selection of both linear and spherical flowers; flowers that are statement pieces such as Peonies but also flowers that add texture and fill spaces such as Achillea."
To bring these floral banquet trends, That Flower Shop, created their own tablescape.

Hot and punchy colour wheel
That Flower Shop said: "For the table centres in the imagery we wanted create a hot and punchy feel, displayed on an utilitarian background - when we created the display we tried to colour block the flowers together for maximum impact and use bold contrasting colours within the same hot area of the colour wheel.
The composition is made up for densely formed flowers in the centre and this is slowly tiered out towards the edges, allowing certain species such as the Peonies and Ranunculus to speak for themselves. This also allows for the display to be built with more of an asymmetrical movement so that the piece itself is different when viewed 360 degrees."
Here's That Flower Shop's top tips to arranging your own beautiful centrepiece:
The first step is to create boundaries within your centre piece. Work with your statement flowers- in our examples we have used peonies to create structure and boundaries

Start by clustering your tall flowers such as the Peonies, Ranunculus and Delphiniums, you can tier then in height or colour shade as you bring them closer to the centre of the vase, then the jasmines and trails are added at the end of the construction process

Use holes in the chicken wire to anchor your flower stems and if you need to fill any gaps in-between, use a little greenery making sure it is cut a little lower than your flowers so it doesn't take over the display or become overpowering

Work your way through, leaving the most fragile flowers and flowers with large spherical heads until the end

Once 75% of the vase is full, fill in any gaps with small heads and trailing foliage

You can offset the larger displays by recreating much smaller ones and arranging them in a way where they echo the shape and structure and colour ways to make sure the entire table-scape correlates
When you're creating your own summer floral table-scape, tag your pictures on Facebook or Instagram, we'd love to see how they turn out!
*One more thing: take care not to consume flowers. Best to only use edible flowers on your plate, sourced from specialist suppliers that have been grown for human consumption.