Bouquet idea: wintry tulips
Bring the sun into your home
Tulips are back, and we're really rather grateful. They're just what we need when we're suffering grey skies, strong winds and rainy weather. Available in bright vibrant colours, or as part of a serene pastel bouquet, a bunch of tulips in your home welcomes the spring sun indoors.
If you didn't make it to skiing this year, a white tulip bouquet is an excellent alternative to mountain snowdrifts. Or, if you've just returned from a week on the slopes, continue the icy atmosphere indoors in an arrangement with other white flowers.
You will need
How to make it
Select the finest white blooms you can find, taking height differences into account. Choose different delicate petals, rustling tulips and other exciting-looking flowers.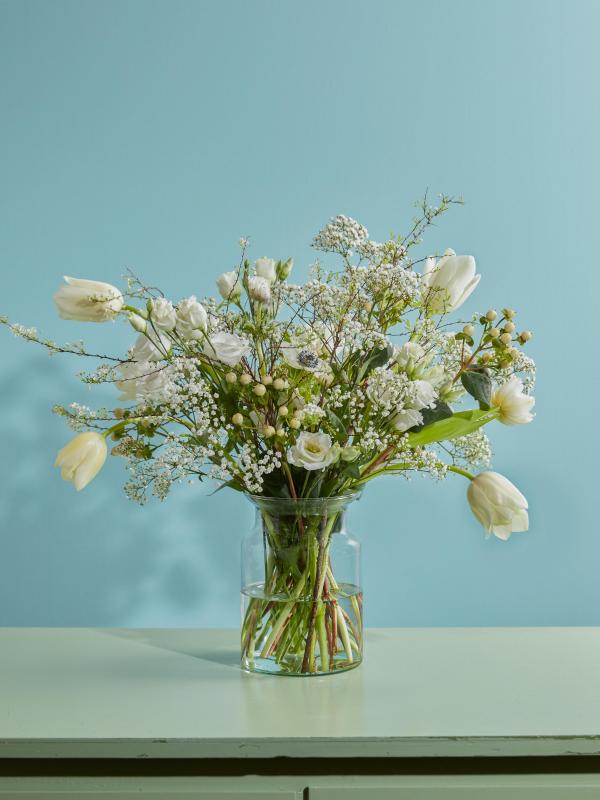 Make sure the vase is nice and clean, then fill it with some water. Don't be too generous, otherwise the tulips will droop from overdrinking.
Trim the flowers diagonally, and arrange them individually in the vase. Work clockwise to create a traditional biedermeier style, or place them haphazardly for a relaxed field bouquet effect.
Once you've finished, stand back and admire your icy spring bouquet. The day suddenly looks a lot brighter.
---
Share a picture of your wintry tulip bouquet with us on Instagram using the hashtag #funnyhowflowersdothat — we'd love to see it!