THE BEAUTY OF THE FAMILY 
Which of the two flowers are best? Calla lily has a funnel-shaped bract with an almost invisible spike, while anthurium has a shiny bract, where the spike is clearly visible. There are about 120 different variety of Calla lily and anthurium available, so choose the ones that you find most beautiful. In addition to the two flowers, you can also use decorative leaves to fill up your bouquet. Monstera, Philodendron, dieffenbachia or anthurium leaves complete the family affair. One more advantage to this bouquet: the flowers and leaves are very durable.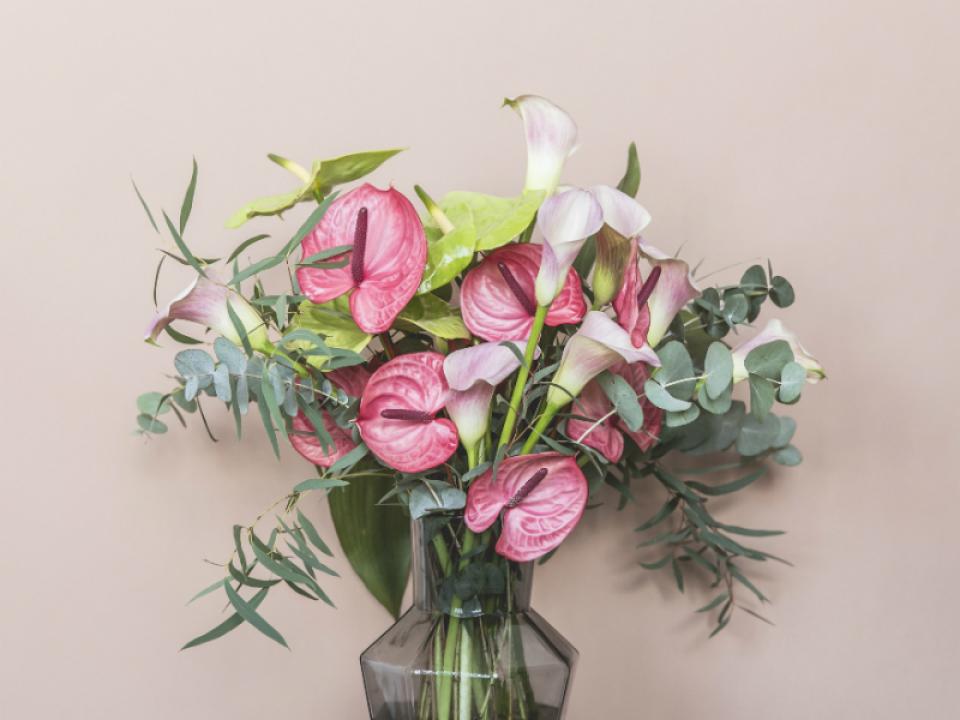 ANTHURIUM: LET THE HEART SPEAK
The shape of a heart can be found in the form of the anthurium, making it the perfect flower for showing your mother how much you value her. The striking flower comes in many different sizes and shapes, and looks beautiful both in a bouquet and all by itself in a vase. Choose from unusual colours like chocolate, burgundy and cherry, or classic green, pink, white and red. We've used greens and pinks in our Mother's Day bouquet.
CALLA LILY: CHARM FOR GOOD LUCK
Turn Mother's Day into a real celebration with the Calla lily (Zantedeschia). This lucky flower stands for purity, sympathy and beauty. The Greeks and Romans saw the flower as a chalice, and would drink and toast from it at parties. There are many colours available, from almost black to white, plus yellow, red, pink and trending lilac.