A lovely gesture with lilies
Stylish memorial bouquets with lilies
When it's time to say goodbye, choosing the flowers is not much fun but very important. The right choice can make the occasion more beautiful, more solemn and more personal. But what to choose? Do you opt for traditional or something unusual? And what style of arrangement to you choose? You can find some suggestions listed below with remarkable examples.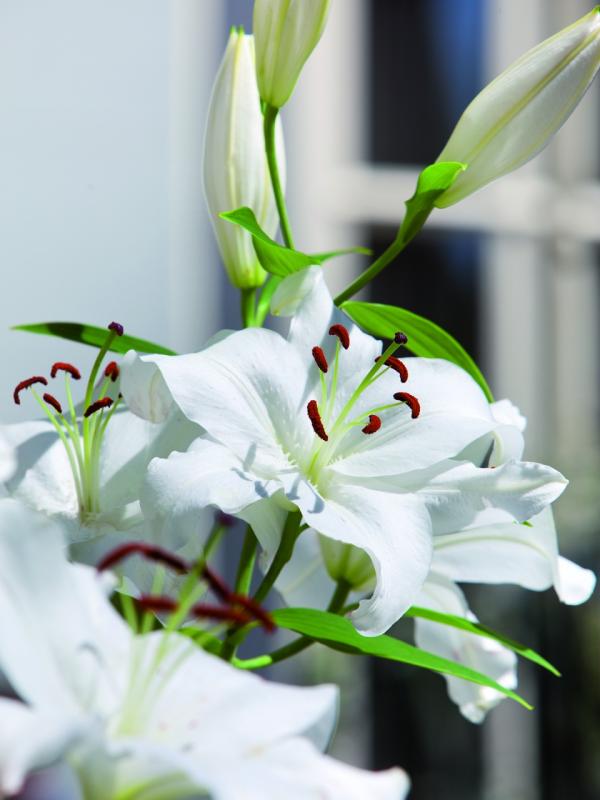 Flowers or no flowers
The choice of whether to give flowers or not at a funeral is up to you. There are no rules as to when you should or should not give flowers but what's important is that if you give flowers, they should be appropriate. White flowers, and lilies in particular, are almost always fitting and are bursting with symbolism. This stylish flower represents transience amongst other things. Sometimes you can be more contemporary or more personal when saying goodbye, with the deceased's favourite flowers. If you choose a flower that you think matches the person, do check that the meaning of the flower is right.
Bouquet, wreath, posy or spray
There are various ways of arranging the flowers such as a funeral spray that is placed on the coffin. This elongated arrangement is often provided by the immediate next of kin. Memorial wreathes come in many versions, from classic traditional to colourful and extravagant. If you choose to go down this path, have it delivered to the funeral directors. A funeral bouquet or posy are also options in all sorts of forms and in all colours. You can make a bouquet as big or lavish as you want. You can opt to have it delivered to the funeral directors, or to the relatives' home.
ibulb