You will need:
Melon, pineapple and coconut

Sharp knife, saw and spoon

Clamp to secure the coconut
Glasses or pots to tuck into the fruit and protect your flowers
Extra fruit and palm leaves to decorate — we used dragon fruit and lemons

 
Watermelon and pineapple vases
Cut the top off the fruit, then cut down into the flesh in a circle that is the same size as the glass or pot that you will place inside. Remove the flesh of the fruit within this circle by cutting it like a grid, making four vertical and four horizontal cuts. Scoop out the flesh with a spoon, and add it to your fruit salad mix. Place the pot in the fruit, add water and arrange the flowers inside.
Coconut vase
Secure the coconut with a clamp, then saw the top off carefully. Pour out the liquid and use the spoon to scrape away the white flesh on the inside so that your glass fits into it neatly. Saw or sand a small flat surface on the bottom of the coconut so that it's stable when you place it on the table. Place the glass inside, add water and arrange your flowers.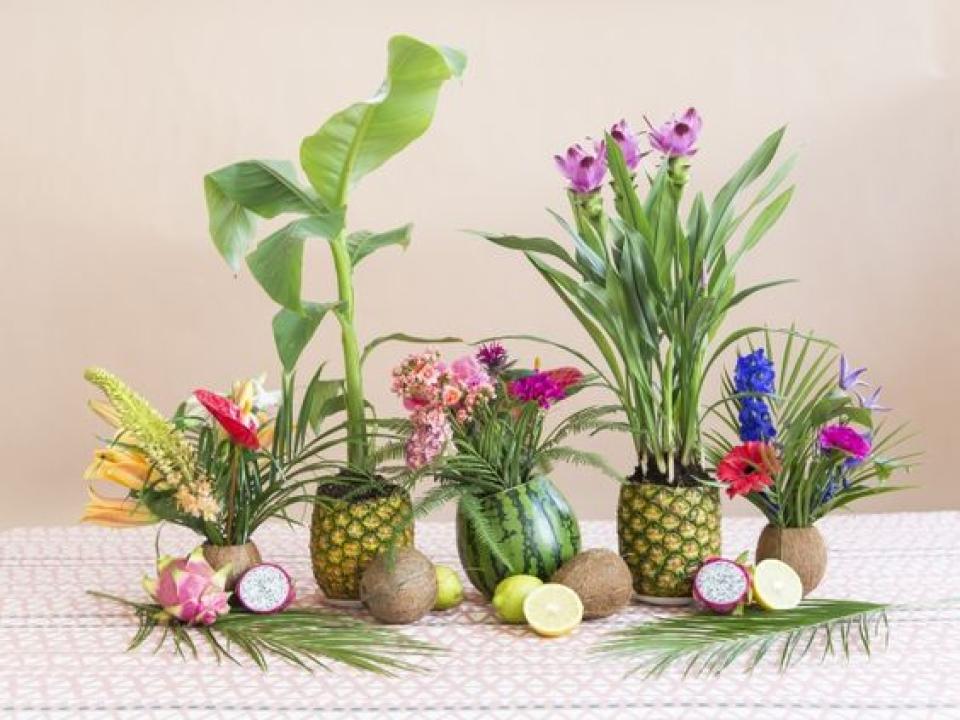 Place all the fruit vases in a row and decorate with fresh fruit and palm leaves to create the pefect backdrop to a tropical barbecue.
Flowers in the fruit
Left-hand coconut: lily, eremurus or foxtail lilies, anthurium, palm leaf, white eucharis
Left-hand pineapple: banana plant
Watermelon: anthurium, carnation, monarda, kalanchoë, umbrella fern
Right-hand pineapple: Curcuma Siam Splash
Right-hand coconut: gerbera, carnation, clematis, delphinium valkyrie
Make this arrangement for a special occasion, as it will only last a day. Flowers wilt faster when near fruit.