Before and after: the beautiful ugly Christmas arrangement
Rearrange your floral display from 'ouch' to 'wow'
You know the feeling… Full of good intentions, you're given a Christmas arrangement. Out of the blue, in order to say 'thank you' or just because you can't turn up empty-handed.  Obviously it's really kind, but after just one glance at the arrangement you know: "I can't put this on show in my home". What a waste! With a bit of creativity, love and attention you can transform any ugly Christmas arrangement into a Christmas beauty!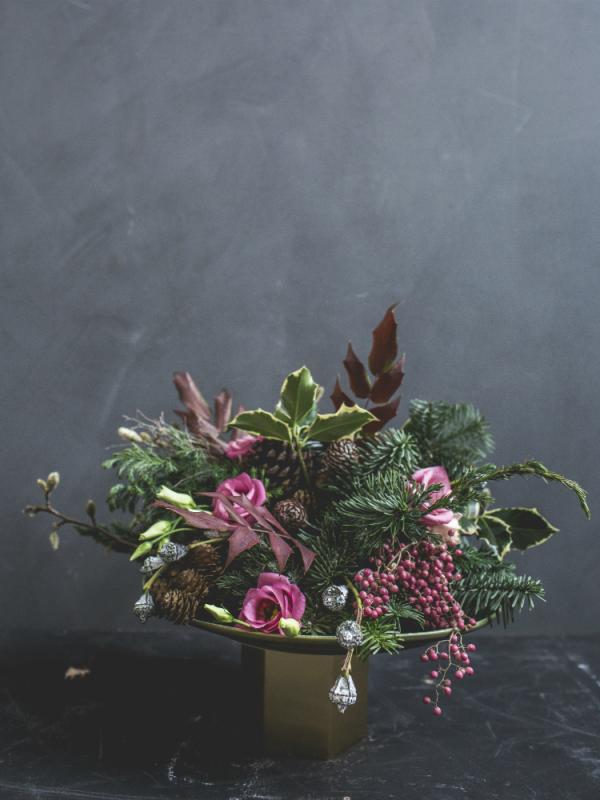 Get rid of the frills
Loose feathers, shining Christmas baubles and odd antennae that stick out of the arrangement. They don't help to create balance. Hang the baubles in the tree, and chuck the other bits and bobs in your craft box. They're bound to come in handy for a craft project some day. 
Add Christmas flowers
A Christmas arrangement is often based around plants. Add some classic Christmas flowers like Amaryllis, Orchid or Lisianthus. Not only does the transience of the flowers give the arrangement a richer look, but the colours also help to liven up the display!
Pop into the garden
You probably still feel it's lacking something. Try popping into the garden for a couple of pretty leaves, possibly withered and with unusual colouring. You might also find a couple of extra pine cones and other material that will work perfectly with your new Christmas arrangement. 
A touch of luxury
A wooden base is attractive, but a gold or copper-coloured etagere instantly gives that luxury December feeling. Suddenly the Christmas arrangement is no longer an ugly duckling, but is transformed into a beautiful swan. Partly your own work, partly a gift. Where will you display your beautiful ugly Christmas arrangement?