Urban Flower Co have been making their mark with experimental, bold designs that push the boundaries for traditional arrangements since 2007. We challenged them to design three show-stopping bouquets inspired the personal stories behind three of Katherine's very different friendships.
Matt himself is a firm believer in the power of flowers to visually bring to life the history and significance of any relationship. Matt explains: "When putting an arrangement together, it's really important for me to capture an element of the personality or character of the recipient and feed this into the design. I always hope to create something that I think they will love and connect with."
Bouquet 1
Katherine's friendship: former colleague, stylist and young mum
"For this bouquet, we decided to go for a fun and vibrant colour palette, using bold orange spider dahlias, purple peonies and pink caraluna roses. We created a bouquet that was unstructured, and a little wild and natural in style and shape, which represents her friend's natural artistic flair but also the lack of conformity that comes with having a young child."
Bouquet 2
Katherine's friendship: mentor who helped her start her freelance career
"This bouquet had a slightly more classic vibe to it, representing the professional relationship this friendship was born out of – we worked to one colour tone and kept to a simple variety of flowers, sticking mainly to peonies with just a few added elements to add intrigue. The slightly wilder nature of the fillers- astilbe, statis and black dill - made for a nice contrast against the bolder, rounder peonies."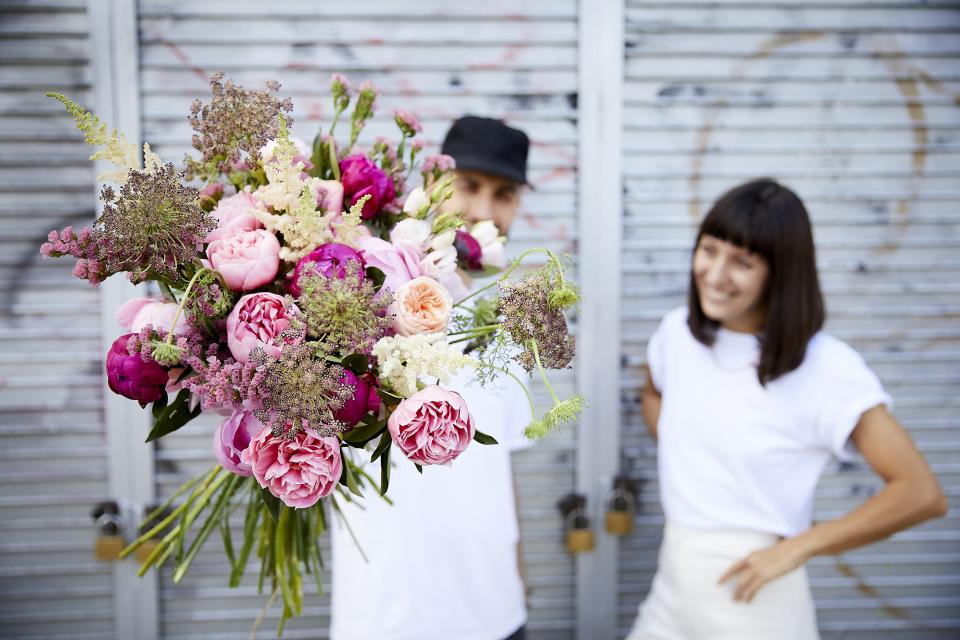 Bouquet 3
Katherine's friendship: yoga teacher, nanny and life guru
"With Katherine's friend being a California native, it seemed only right to keep the tone bright and fresh using an array of yellows – from the pale yellow bartzella peony, to the pops of brighter yellows of the craspedia and achillea, creating a real burst of colour. To finish the bouquet off with style and really make for a statement piece, we added a couple of stems of pampas grass, which dries quite gracefully and can be kept afterwards in a simple vase on its own."
Read more
about the power of flowers and how they help people make for more meaningful relationships. 
About our partners:
To find out more about Uran flower Co and their creative floral design, click here.
To be inspired by Katherine, visit her Instagram page.