Fill the distance with beauty
Give flowers as a gesture of love and support
The social distancing measures of Covid-19 have brought us all together in ways that were simply unimaginable twelve months ago. During lockdown, we came up with creative ideas for feeling close to our loved ones and showing our support for each other. From drive-by birthdays to clapping for key workers, shopping for those shielding, and flower bouquets for the NHS, the whole country pulled together to tackle the virus. We worked hard to fill the sudden physical and emotional distance between us with gestures of love and support.
Now that measures are easing, we find ouselves in a new, unfamiliar space. The things that we're allowed to do, the places we can go, and the people we can see are changing all the time. Depending on our circumstances, we all also follow the rules slightly differently. Some of us who are key workers cannot avoid leaving the house every day for work, while others who are shielding still hesitate to meet up with friends. Whatever your personal situation, there's no denying this new, socially-distaced way of living will take some getting used to.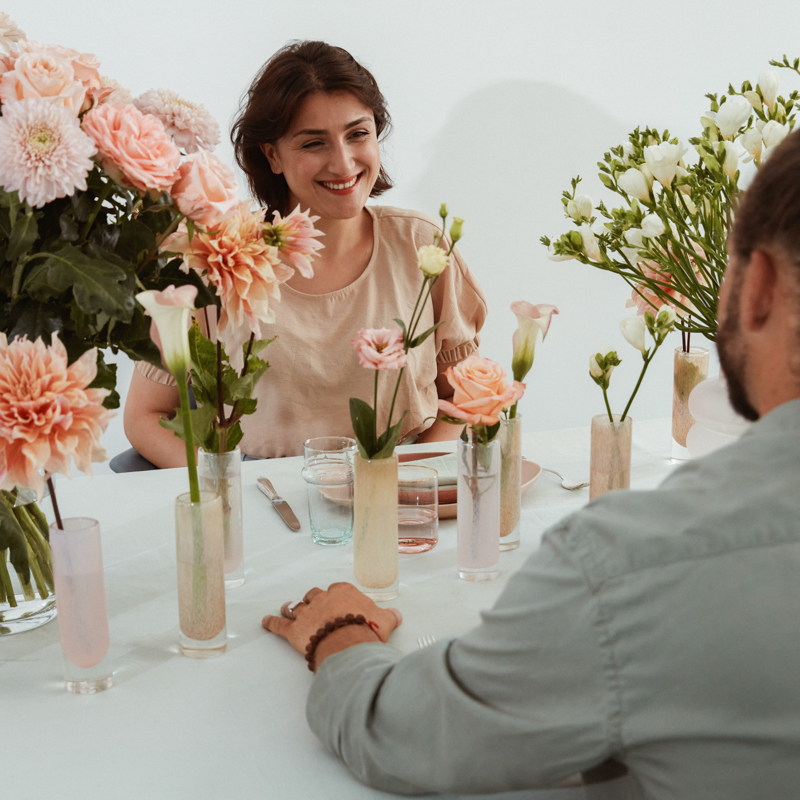 Stay alert and show support
Although we have to remain physically separate, let's fill the distance between us with beauty and give a bouquet of cut flowers as a gesture of love and support. Let's give flowers to grandparents who can't look after their grandchildren, to pensioners in care homes who may be feeling lonely, to friends who are shielding with underlying health conditions, to the local entrepreneurs trying to keep their businesses afloat, and to own mums, who we haven't hugged in months.
The positive effects of flowers
We know from research that flowers give the elderly an energy boost, that petals make people smile and that there is no gift more powerful than a bouquet when it comes to letting people know that you care. If you need any more reason to give flowers, their ability to lift spirits in the morning is a brilliant reason for us all to start a collection of bouquets around the house. 
Flowers with a message
Remember, it's all about the gesture. Ask your local florist to make up a bouquet then take it round to your neighbour's or to your friend across town. Instead of a hug, fill the distance with the flowers you've picked out specially for them, and watch their face light up with pleasure. If you can't see them, you can always arrange for the bouquet delivered and let them know you'd love to catch up once they're able to come outside again.
If you would like to give them some flowers that go with the season, check out our three majestic autumn bouquets. Or, give meaning to your arrangement with the language of flowers. There is a flower for every emotion, including blooms for love, pride and sorrow.
For a slightly different approach, make a floral garland for your front door that will lift the spirits of the whole street. Or, for an at-home activity, have your children make mini bouquets for grandparents, then give them as a present when you go round for a socially distanced visit.
Share your gesture
How will you fill the distance with beauty? Let us know via Instagram or Facebook with the hashtag #FillTheDistance.