Learn about the flowers
Take your kids, grandkids, nieces or nephews or your friend's children to your local florist to help them with their Mother's Day presents this year. Let them choose their mum's favourite flowers, putting colour pairings to one side and letting them have fun discovering all the different varieties. See if they know what the different flowers are called (and test your knowledge as well). If there's a flower they're particularly keen on, ask them why they like it, and look up its symbolism together. Before you know it, you'll both have learnt a lot and you'll be ready to build some fabulous mini Mother's Day bouquets.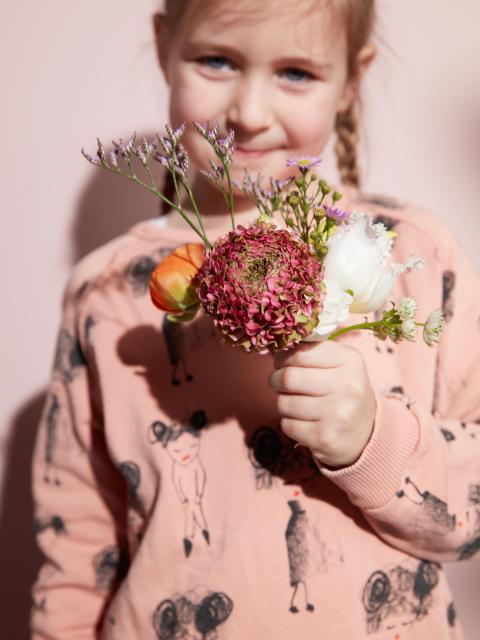 Maxi and mini bouquet
Spread the chosen flowers out on the kitchen table, then roll up your sleeves and get stuck in arranging them together.
One option is to make a maxi and a mini bouquet in the same style. The large bouquet can be a gift from you to their mother, and the small bouquet is the perfect child-sized present from your little ones.
Another is to give your budding florist free rein to create as many mini bouquet combinations as they can come up with.
---
Making up a bouquet
If you've made several small arrangements, you can use a nice drinking glass or a clean jam jar to display them.
Trim the stems diagonally with a knife or scissors before placing them in water. Watch out for little fingers in case of accidents. It's also a good idea to avoid using cut flower food in the water if your children are very young.
Finish off the creation with a beautiful ribbon in an elegant bow, tied around the flowers or vase.
---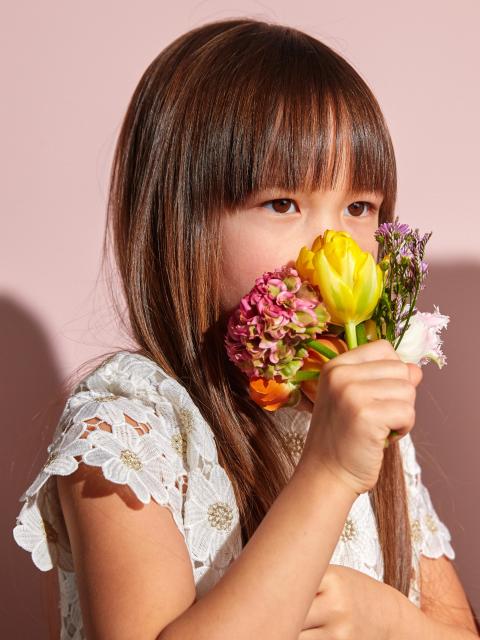 Regular outings
Your children are bound to have got the bug, and will no doubt be pestering you to build more bouquets once Mother's Day is over. 
These bouquets are great for any occasion and good for gifts for all kinds. We're sure mum would like to receive one of these miniature bouquets at any time of year!
MOTHER'S DAY INSPIRATION
Looking for more inspo on how to spoil your mum this Mother's Day? We've got plenty of floral ideas for you to consider. Why not make mum a DIY monogrammed flower arrangement, or discover this bouquet of heart-shaped blooms she'll love? We'd love to see your Mother's Day bouquets - share them with us on Facebook and Instagram with the hashtag #funnyhowflowersdothat.