Connecting through flowers
Floral inspiration for yourself and others
In times of uncertainty and fear, it's heartening to think of friends, family, strangers and neighbours, joining together for the benefit of the community. Although our social contact is now more virtual than physical, it doesn't stop us from thinking of and reaching out to others. When the door is closed, open your heart wide, embrace solidarity, and find strength and support through bringing joy to others. Send a card, applaud the caregivers who are working so hard, support a local business, organize a Skype supper party with friends, pick up groceries for your elderly neighbor, and send a meaningful bouquet of flowers.
Flowers with a message 
This is all about the gesture: the gift of a bunch of flowers will let friends and family know you're thinking of them, even though you can't be together. Flowers are full of symbolism, and a well-chosen message makes the gift even more meaningful. Pink roses stand for appreciation, the delphinium for protection, the gerbera brings joy, a lisianthus means gratitude and the gladiolus is for admiration.
---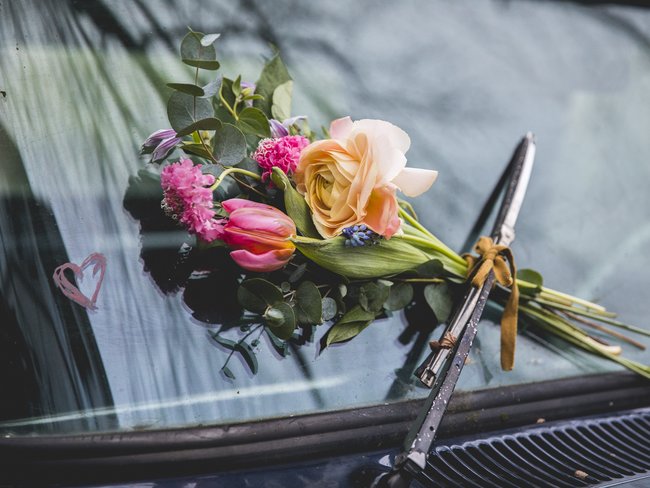 Pop-up flower presents
Exceptional times call for exceptional gestures. Surprise the people in your house with with pop-up flowers in special places and in unexpected moments. Hide them in the kitchen, thread them through the spokes of a bicycle wheel, or surprise with a bookmark in a favourite book. Choose a special place to leave the gift that will bring a smile to people's faces.
REMEMBER TO LOOK AFTER YOURSELF
Make the time to look after yourself. You'll probably be home a lot in the near future, or have long and difficult days at work. A bunch of cheerful flowers in the house is a welcome sight that will lift your spirits. We have a number of bouquets to inspire you, from the serene lily bouquet, to a soothing white bouquet, a colourful spring tulip bouquet, and a long-lasting dried flowers bouquet.
At home floral craft ideas
Flowers naturally look good in the vase, but they also make the perfect ingredients for natural and soothing DIYs. Learn how to frame dried flowers, make a tulip wreath for the door, upgrade your bedroom and bathroom interior, or bring the scent of spring into your home with a DIY room spray.
---
DIVE DEEP INTO FLOWER ART
Flowers aren't just beautiful in the vase, they also look gorgeous in photos. We've listed the best flower books of the moment for you to enjoy, curled up on your sofa. Read up on flower arranging with Amy Merrick's beautiful guide, and indulge your passion for tulips with Rachel Warne's beautiful photography.
You can also explore past editions of "Exposé", our video series that introduces you to a variety of people in the world of flowers. From growers to bloggers, arrangers, perfumers and stylist, all with one thing in common: a love of flowers and plants. Watch the video portraits Azuma Makoto, Barnabé Fillion, Mary Lennox and Katie Scott and learn all about their interesting work.
WHAT WILL YOU DO?
Do you have any ideas, tips or initiatives to share? Let us know via editorial@funnyhowflowersdothat.co.uk — we'd love to hear from you!